Having grown up under the controlling grip of her fame-hungry mother, played by the excellent Rebecca De Mornay, Janet Slate (Julianne Michelle) takes the opportunity to move into what looks to be a great high-rise apartment in downtown Detroit. Despite the strange neighbours and the depraved building superintendent, Janet unpacks her things and celebrates her new freedom, only to wake in the morning with strange bruises on her neck. Determined not to return to her mother's home, Janet stays in the apartment in spite of a series of inexplicable chilling encounters, until one night her boyfriend Mark finds her in the middle of the street, fallen from the balcony thirteen stories above.
Refusing to accept the investigators conclusion of suicide, Janet's sister Lara (Mischa Barton) becomes determined to reveal the truth behind her death. On learning the tragic story of the first tenants, Janet soon discovers the terrible reality of what happens in Apartment 1303...
Starring Mischa Barton (The OC, The Sixth Sense) and Rebecca De Mornay (The Hand that Rocks the Cradle, Mother's Day), Apartment 1303 confirms that American filmmakers are still in the business of remaking successful J-horror films long after we thought they'd moved on to reworking domestic horror cinema. It's based on the 2007 Japanese horror-thriller directed by Ataru Oikawa (who alos helmed 3 of the cult Tomie series). Whether the remake is any good is another matter – reviews are surprisingly thin on the ground.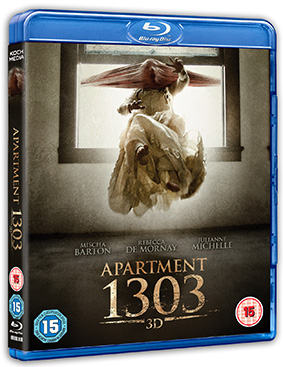 Apartment 1303 will be released on UK Blu-ray (in 2D and 3D – oh goody), DVD and VOD on 3rd June 2013 by Koch Media at the RRP of £24.99 for the Blu-ray (3D costs more, you see) and £15.99 for the DVD.
If there are extra features, the press release doesn't want to talk about them.