When a bulldog is shot, an improbable alliance develops between two very different men. We meet Pearl and Limun (Nikola Kojo), a couple about to be married, and Mirko and Radmilo (Milos Samolov), a couple involved in the Gay Pride parade. Mirko happens to be Pearl's wedding planner and Radmilo, his partner, turns out to be the veterinarian who saved Limun's dog's life.
Following a lover's tiff, Limun – who is less than accepting of Gay Pride – makes a deal to protect the participants in the parade in order to win Pearl back. Limun and Radmilo embark on a road trip across Croatia, Bosnia and Herzegovina, and Kosovo as Limun attempts to assemble a fearsome security team for the parade. As they gather Limun's old friends from the war, it becomes clear to all that so-called enemies are often your greatest allies.
The Parade (Parada) is homophobe-taunting comedy from Serbian director Srđan Dragojević, whose 1996 Pretty Village, Pretty Flame (Lepa sela lepo gore) is something of a favourite here at Outsider. It's lack of exposure in the west to date means reviews are hard to come by, but the IMDb user reviews, many of them from Serbia, are very positive.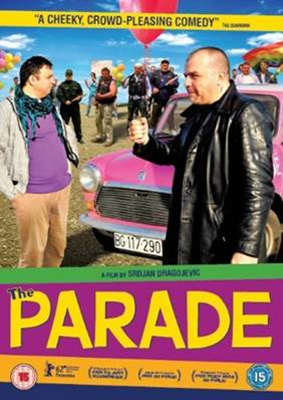 The Parade will be released on UK DVD on 24th June 2013 by Matchbox Films at the RRP of £15.99.
No extras have been listed.