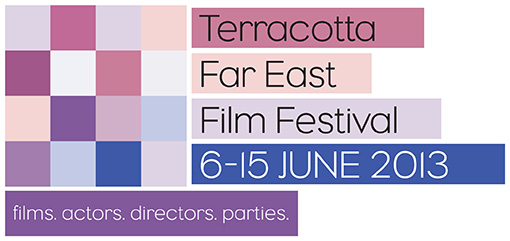 The Terracotta Festival, for its 5th year anniversary, will expand from the usual 4 days to 10 days from Thursday 6 June to Saturday 15 June 2013. The festival will increase the number of films and venues, and still remain in the heart of the capital.
To commemorate this special occasion, Terracotta Festival organisers are delighted to announce that more strands have been added to the line-up. The four strands of the festival are: CURRENT ASIAN CINEMA, IN MEMORY OF: Leslie Cheung & Anita Mui, SPOTLIGHT ON: Indonesia and the Terror Cotta Horror All-Nighter.
Terracotta Festival will continue to screen its usual selection of best contemporary films from any genre, any Far East country, at the Prince Charles Cinema from 6-9 June 2013. Like previous editions, guest actors and directors will attend the festival to introduce their film, host Q&A sessions, run Masterclasses and interact with festival goers. This will be the CURRENT ASIAN CINEMA section of the festival.
Two prolific and well respected Hong Kong actors, Leslie Cheung and Anita Mui, passed away unexpectedly, and in tragic circumstances, in 2003. Ten years later, their impression on film lovers around the world is still very strong. Terracotta Festival would like to take this opportunity to present some highlights of their screen legacy.
An additional five days from 11-15 June 2013 have been added for a new section entirely dedicated to an emerging territory. This section will be called "SPOTLIGHT ON:..." and this year the festival will shine the spotlight on contemporary Indonesian cinema. Taking place at the Institute of Contemporary Arts (ICA), this section will showcase the exciting breadth of genres, directors and subject matters from this country.
Whilst the Prince Charles Cinema is a perfect location (leading cult cinema in the centre of Chinatown), the new structure and the ICA will give a wider audience more opportunities to take part in the Festival.
Last but not least, the Terror Cotta Horror All-Nighter returns following the success of last year's event. Showcasing the diversity and ingenuity of horror from the Far East, expect a mix of ghosts, monsters, zombies, demons and cold-blooded killers from various East Asian territories.
What is Bobo are the official design sponsors of the Terracotta Far East Film Festival for the 3rd consecutive year, creating the festivals branding, on screen identity and all of it's promotional material.
Festival Director Joey Leung comments: "It is very encouraging for us to see the growth in audience numbers each year, and the appetite of audiences to explore deeper into this area of International Cinema. This year's enlarged festival will bring a depth to our programme, a wider range of entertaining stories and an exciting line-up of guests"
Full details of the festival will appear soon at www.TerracottaFestival.com