A former drug user Heidi is now clean and works as a rock DJ at the local radio station along with fellow DJs, Herman Whitey Salvador and Herman Jackson. Following one of their regular evening shows, Heidi receives a square wooden box containing a vinyl record, the only indication as to its origin is a note proclaiming "A gift from the Lords". Assuming it is merely a PR stunt by an ambitious band, Heidi gives the record a spin and immediately begins to experience bizarre flashbacks to a past, long-forgotten trauma triggered by the haunting sounds contained on the record.
Written and directed by Rob Zombie (The Devil's Rejects; House Of 1000 Corpses; that bloody Halloween remake), The Lords of Salem features a cult cast that includes Sheri Moon Zombie (The Devil's Rejects; House Of 1000 Corpses; The Toolbox Murders; Halloween), Bruce Davison (Willard, X-Men), Ken Foree (The Devil's Rejects; Dawn Of The Dead), Dee Wallace (The Howling; Critters; E.T.), Patricia Quinn (The Rocky Horror Picture Show), Maria Conchita Alonso (Predator 2; The Running Man), Judy Geeson (Inseminoid; Fear In The Night; Doomwatch), Meg Foster (They Live; Masters Of The Universe), Michael Berryman (The Hills Have Eyes, Deadly Blessing), Sid Haig (The Devil's Rejects) and Lisa Marie (Ed Wood; Sleepy Hollow; Mars Attacks!), guitarist and composer John 5 and Paranormal Activity and Insidious producers, Jason Blum, Oren Peli and Steven Schneider. There's also some striking cinematography by Brandon Trost, an impresive score by guitarist John 5 and songs by The Velvet Underground, Rush, Rob Zombie, Rick James and Manfred Mann's Earth Band.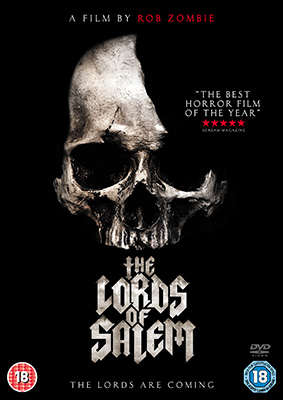 Described as "A brazenly bizarre work of art" by Dread Central and "A textbook study on how to do horror right" by Sound on Sight, The Lords of Salem lands on UK DVD and digital download on 22nd April 2013 from Momentum Pictures at the RRP of what looks like £15.99 for the DVD, but we've yet to confirm that. Download prices have also yet to be confirmed.
What, no extra features? On a Rob Zombie film? Certainly none have been listed. Madness.