Youth in Trouble is the ninth edition of Boys on Film, the world's most successful LGBT short film series. This compilation features a range of eclectic, innovative and genre-bending short films from across the globe, reelased on UK DVD and Video on Demand next month from Peccadillo Pictures.
Within these eight award-winning films, a friendship is tested in an ex-Nazi holiday camp, love and freedom wage war in an Australian boy's prison and Brokeback Mountain exposes secrets in a French high school toilet.
Short films like you've never seen before, Boys on Film 9 pushes the boundaries between danger and desire. Get ready for a dose of adolescent yearning.
The films included are:
Deep End (Canada) | Dir. Bretten Hannam | 11 mins
When Dane's older brother comes out, Dane doesn't react very well. But soon after he has to choose between siding with his homophobic classmates or fighting to support his brother.
Family Affair (Brazil) | Dir. Caru Alves de Souza | 11 mins
Rossi's family are no different from anyone else's but when he tries to fit in with his older brother's group of friends, he finds the outcome more than surprising.
Together (UK) | Dir. James Cook | 22mins
One month after moving in together David and Mark come home to find a key in the lock of their front door. They check the house and it all seems clear, until they slowly start to realise that they are not alone...
Easy Money (Spain) | Dir. Carlos Montero | 15mins
When a handsome rent boy shows up at a mysterious client's hotel room, the boy quickly learns that sex appears to be the last thing on his clients mind. Starring Spanish heartthrob Mario Casas.
The Wilding (Australia) | Dir. Grant Scicluna | 16mins | Iris Prize Winner – Best Short Film 2012
Juvenile inmate Malcolm is in love with his cellmate Tye, but their relationship is confined within their cell. When Malcolm is offered a shot at parole, he finds himself torn between his rare chance for freedom and protecting the one he loves.
Colonial Gods (UK) | Dir. Dee Rees (the director of Pariah) | 29mins
A complicated friendship between a Somali man and Nigerian man unfolds against the chaos of gentrification and displacement in the small immigrant community in Cardiff known as Tiger Bay.
This Is Not A Cowboy Film (France) | Dir. Benjamin Parent | 12mins
Last night, Brokeback Mountain aired on TV. Vincent watched it and found himself emotionally compelled by the story. Whilst chatting with a classmate in the school toilets, he takes advantage of the break to describe the film as only an adolescent can.
Prora (Switzerland/Germany) | Dir. Stéphane Riethauser | 23mins
In this deserted former Nazi holiday camp and communist military complex, teenagers Jan and Matthieu embark on an adventure that could change everything. Whilst exploring their surroundings they confront their identities and ultimately put their friendship at risk.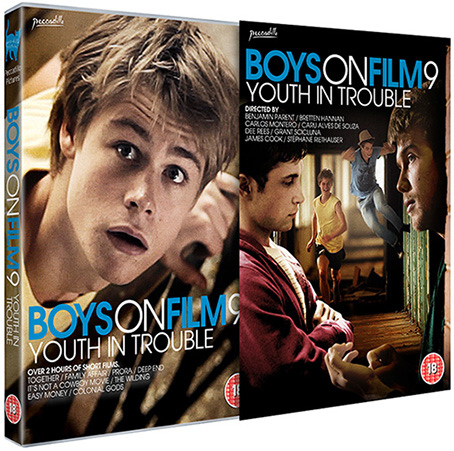 Boys on Film 9: Youth in Trouble will be released on UK DVD and Video on Demand on 26th April 2013 by Peccadillo Pictures at the RRP of £15.99.
The only listed ecxtra feature is: