For those of you who missed Metrodome's UK DVD release of the 2006 documentary Going to Pieces: The Rise and Fall of the Slasher Film, newcomer specialist horror distributor 88 Films have announced the upcoming DVD release of Slice and Dice: The Slasher Film Forever, which is waving the sunbtitle "The Complete History of Mad Maniac Movies". Complete? We shall see. With reliable Arrow horror regular Callum Waddell in the director's chair, we can at least get our hopes up.
The winner of the best documentary award at the annual South African Horror Film Festival, which was also given a competitive late night slot for its première at the prestigious Sitges Film Festival, Slice and Dice: The Slasher Film Forever has landed a number of accolades and was labelled "Essential viewing" by the good people at Twitch Film.
Filleting-up numerous facts, which will appeal to both the seasoned follower of shock-cinema, and the more passive fan of fear-films, and featuring interviews with Corey Feldman (Friday the 13th: The Final Chapter), Tobe Hooper (The Texas Chain Saw Massacre), Mick Garris (Masters of Horror), Tom Holland (Child's Play), Jeffrey Reddick (creator: Final Destination), Adam Green (Hatchet) and Scott Spiegel (producer: Hostel series) to name but a few, this is a documentary which aptly investigates the appeal of the ever-endurable stalk and slash trend. Slice and Dice: The Slasher Film Forever explores all of the genre's most famous features – including Psycho, The Texas Chain Saw Massacre, Halloween and Friday the 13th – as well as various cult obscurities and long forgotten flops.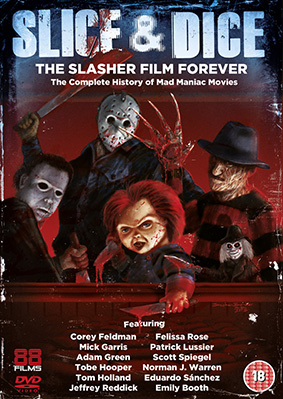 Slice and Dice: The Slasher Film Forever lands on UK DVD as a splatter-packed 2-disc set on 13th May 2013 by 88 Films at the RRP of £17.99.
There may be extra features, but if so, the press release is keeping quiet about them. On-line retailers seem tobe in agreement, though, and are suggesting the following:
Audio commentary with director/ producer Calum Waddell moderated by Justin Kerswell, author of Teenage Wasteland: The Slasher Movie Uncut

Additional 'outtake' interviews featuring Corey Feldman, Felissa Rose, J.S. Cardone, Kevin Tenney and more

Post-screening audience Question and Answer session from the Glasgow Film Theatre featuring Slice and Dice interviewees James Moran and Norman J. Warren

Footage from the Sitges Film Festival World Premiere

Footage from the USA premiere at San Francisco's Another Hole in the Head Festival


Footage from the Scottish premiere at the Glasgow Film Theatre

All Kinds of Twisted (Theme from Slice and Dice: The Slasher Film Forever) music video

Full Moon trailer park including trailers for slasher greats Tourist Trap, Puppet Master and Intruder.

Trailer Park of Legendary Slasher Titles

Optional audio commentary with Calum Waddell and Justin Kerswell