Studiocanal have announced upcoming restorations and theatrical re-releases of British classics. March 22 will see a beautifully restored release of Joseph Losey's The Servant (1963) for its 50th anniversary. Scripted by Harold Pinter (their first collaboration) and starring Dirk Bogarde and James Fox, it will be screening at selected London cinemas.
A disturbing tale of seduction, sexual and social tension and psychological control, The Servant is a stunning dissection of two men, the wealthy young playboy Tony (James Fox) and his new manservant, Barrett (Dirk Bogarde), and the shifting power dynamic in their initially cosy but progressively more fraught relationship. Winner of three BAFTA awards, it is still recognised as one of the best portraits of British class warfare ever committed to screen.
8th April 2013 April will see it released on DVD and as the latest Studiocanal Collection Blu-ray – its first ever Blu-ray release. Newly created extras include award winning director Richard Ayoade interviewing James Fox, a new interview with Stephen Wooley (a leading fan of the film) and new featurettes. The SCC blu-ray will come in the usual exclusive packaging with newly created booklet.
Also on 8th April 2013, Studiocanal will be releasing the second Losey/Pinter collaboration, Accident (1967), in a new restoration completed by the BFI and also as a Blu-ray premiere. New featurettes with film critics and experts have also been created for the extras.
Rounding out the week's releases will be a DVD release of Entertaining Mr. Sloane (1970), the film version of Joe Orton's black comedy starring Harry Andrews and Beryl Reid, focusing on the brother and sister pairing who become involved and increasingly infatuated with the sexy young amoral drifter with a mysterious past. The DVD features a new extra of Joe Orton's last ever chat show appearance, recorded a few months before his tragic death.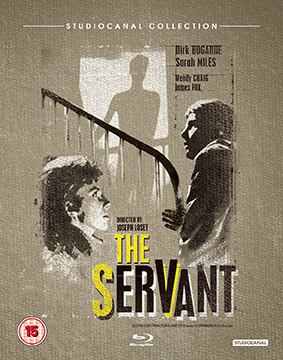 The Servant – 50th Anniversary Edition | DVD, Blu-ray and EST download
Tony (James Fox), a wealthy young Londoner, hires Hugo Barrett (Dirk Bogarde) as his manservant. Initially, Barrett appears to take easily to his new job, and he and Tony form a quiet bond, retaining their social roles. Relationships begin shifting, however, and they change with the introduction of Susan (Wendy Craig), Tony's girlfriend, who seems to be suspicious of Barrett and to loathe all he represents. Barrett brings Vera (Sarah Miles), whom he presents as his sister, into Tony's household as a maidservant, but it emerges that Vera is actually Barrett's lover. Through Barrett's and Vera's games and machinations, they reverse roles with Tony and Susan; Tony becomes more and more dissipated, sinking further into what he perceives as their level, as the "master" and the "servant" exchange roles
DVD extras:
James Fox interviewed by Richard Ayoade
Interview with Wendy Craig
Interview with Sarah Miles
Audio interview with Douglas Slocombe (director of photography)
Harold Pinter Tempo interview
Joseph Losey talks about The Servant
Stills gallery
Trailer
Blu-ray extras are as above plus:
Interview with Stephen Wooley (fan of the film)
Harry Burton (Pinter expert) on Harold Pinter
Joseph Losey and Adolfas Mekas at the New York film festival
John Coldstream (Bogarde biographer) on Dirk Bogarde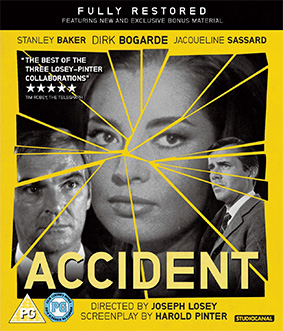 Accident | DVD, Blu-ray and EST download
The second of director Joseph Losey's collaborations with playwright Harold Pinter, The Accident is a taut, dark, brilliantly acted dissection of the emotional lives of the English intelligentsia. Dirk Bogarde stars as Stephen, an Oxford Philosophy lecturer, contentedly married to Rosalind but silently resentful of his colleague Charley, whose star is rising as a TV pundit. Among Stephen's students is the casually charming young aristocrat William (Michael York) who has his eye on another of Stephen's charges, Austrian princess Anna (Jacqueline Sassard). Motivated by a dangerous mixture of admiration and envy, Stephen facilitates a meeting between William and Anna. But Stephen's gently magnanimous demeanour conceals a rising tide of anxiety, self-centredness and sexual desperation. Over the course of one drink-drenched summer afternoon in the rolling English countryside, Stephen and Charley's unspoken impulses – charged up by the seductive presence of Anna – break the veneer of English civility.
Extra features:
Talking About Accident documentary featuring an interview with Harry Pinter
Joseph Losey and Harold Pinter discuss Accident (1957)
Dirk Bogarde biographer John Coldstream discussing Dirk Bogarde (NEW)
Harry Pinter expert Harry Burton discussing Harold Pinter (NEW)
Interview with feminist author and academic Melanie Williams (NEW)
Interview with film critic Tim Robey (NEW)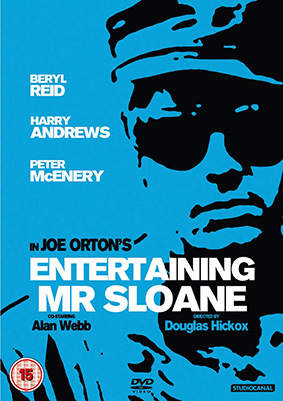 Entertaining Mr. Sloane | DVD only
A deliciously dark and humorous story about manipulation and repressed sexuality from controversial playwright Joe Orton. An attractive young charmer by the name of Mr. Sloane weasels his way into the lives of a middle-aged brother and sister, while trying to disguise the truth about his unpleasant past. Sexual tension drives the plot from the very beginning, when the lonely Kath (Beryl Reid) spots Mr. Sloane (Peter McEnery) in a cemetery and invites him to become a boarder. Despite the age difference, Sloane coyly plays along with her flirtations for his own benefit. Their fun seems over when Kath's brother Ed (Harry Andrews) shows up, but the prim and proper gentleman also takes a shine to Sloane, hiring him as his chauffeur and taking particular interest in the young man's tight leather uniform. Kath and Ed's elderly father, however, develops a strong hatred of Sloane, and accuses to him of being involved in an old, unsolved murder.
Extras:
Eamonn Andrews talks with Joe Orton (Eamonn Andrews chat show episode)
Trailer