Network Distributing have announced the upcoming UK DVD release the first volume of The Ealing Studios Rarities Collection. Featuring 4 films from the vaults of Ealing Studios and Associated Talking Pictures, this double-disc set consists of films by Basil Dearden, Harry Watt, Carol Reed and Leo Mittler. Unseen since their original cinema releases and presented as new transfers in their original aspect ratios, The Ealing Studios Rarities Collection Volume 1 is an essential addition to anyone interested in classic British films as well as long-forgotten gems from one of the UK's most iconic production houses.
Disc 1
Escape (1930) – Director: Basil Dearden
Based on John Galsworthy's 1921 play, Escape charts the experiences of Captain Matt Denant, sentenced to a term in Dartmoor after accidentally killing a plain-clothes policeman during a quarrel. Unable to bear the harsh conditions of prison life, Matt escapes across the moor – finding his freedom at the mercy of the various characters he encounters.
Starring Gerald du Maurier, Madeleine Carroll, Ian Hunter, Gordon Harker, Edna Best, Austin Trevor and Horace Hodges, written by John Galsworthy and with original music by Ernest Irving.
West of Zanzibar (1954) – Director: Harry Watt
Bob Payton learns that the Galanas, an African tribe he has befriended, are being forced by soil erosion to move from their homelands. He urges their Chief, Ushingo, to lead them into the hills where they will find fresh, fertile soil and peaceful living; but the young men of the tribe favour the attractions of Mombasa, which represent a new, exciting way of life. Payton knows that such a move would be fatal, placing the Galanas in the way of many temptations – not least the activities of ivory smugglers.
Starring Anthony Steel, Sheila Sim, Edric Connor, Martin Benson, Orlando Martins and William Simons, written by Harry Watt, Max Catto and Jack Whittingham, original Music by Alan Rawsthorne performed by the Royal Philharmonic Orchestra, and produced by Leslie Norman.
Disc 2
Penny Paradise (1938) – Director: Carol Reed
Joe Higgins is the captain of a Liverpool tug, with a pretty daughter, Betty, a forgetful Irish first mate, Pat, and a predilection for spending a weekly sixpence on the football pools. When Pat forgets to post Joe's coupon on the week a winning line is drawn, chaos and frantic comedy are the result…
Starring Edmund Gwenn, Betty Driver, Jimmy O' Dea, Ethel Coleridge, Maire O'Neill, Jack Livesey, Syd Crossley and James Harcourt, written by Thomas Browne, Basil Dean, W.L. Meade and Thomas Thompson, original Music by Ernest Irving, and produced by Basil Dean.
Cheer Up! (1936) – Director: Leo Mittler
A struggling playwright hopes to market a musical comedy that he has written in collaboration with another equally penurious composer. Anxious to secure the backing of a millionaire, the two composers only succeed in making him angry – until, following a chain of misunderstandings, they finally emerge triumphant. Comic situations and melody play important roles in the film, which includes several spectacular dance routines.
Starring Stanley Lupino, Sally Gray, Roddy Hughes, Gerald Barry, Kenneth Kove and Wynne Weaver, written by Michael Barringer and Stanley Lupino, music arranged and performed by Percy Mackey and his Orchestra, and produced by Stanley Lupino.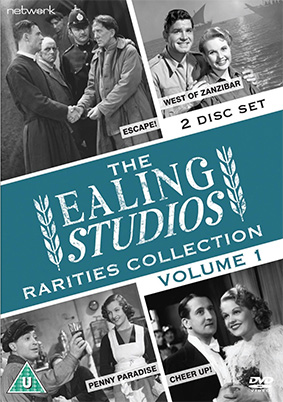 The Ealing Studios Rarities Collection Volume 1 will be released as a 2-disc set on UK DVD on 8th April 2013 by Network Distributing at a damned reasonable RRP of £14.99.
No extra features have been listed.