Having lost their mother, Mary, under mysterious paranormal circumstances at an early age, young Sam and Dean Winchester are raised by their father, who, driven by revenge, becomes an obsessive hunter and destroyer of supernatural creatures and entities. Years later, when their father mysteriously disappears and Sam's girlfriend is killed in similar circumstances as their mother, the Winchester brothers follow in their father's footsteps, travelling the back-roads, highways and byways of America in search of answers and vengeance. It is a journey that brings them face-to-face with unimaginable horrors, from demons and vampires to ghosts and shape-shifters, unites them with loyal allies and reveals their eventual and totally unexpected destinies.
Made with the blessing and creative input of the original show's creator, Eric Kripke, and featuring the vocal talents of the live-action series stars, this animated series brilliantly covers the events of the first two seasons of Supernatural by recreating many of the original episodes while also introducing a whole batch of brand new material that explores the Winchesters' previously unseen childhoods and expanding upon the stories of several secondary characters.
The series has certainly attracted its share of enthusiastic reviews, DVD Talk saying of it, Impressively sleek and efficient… the scale of the visuals is a lot more ambitious than anything live-action network TV could ever hope to match," and Fangoria had this to say: "Highly recommended. Don't waste a minute – get your hands on this must-have set! If you haven't watched a single episode of Supernatural, this is a perfect opportunity for new viewers to jump in."
The series was co-directed by Atsuko Ishizuka (Aoi Bungaku; Top Secret – The Revelation; NANA; MONSTER) and Shigeyuki Miya (Lupin III; Blade; Bleach; High School Of The Dead), and production studio Madhouse (Ninja Scroll; Paprika; Summer Wars; The Girl Who Leapt Through Time; Death Note).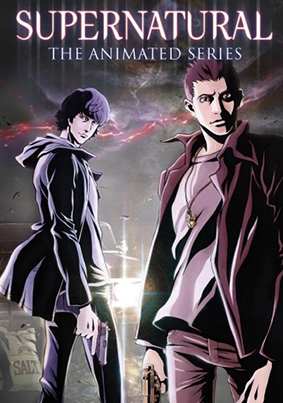 Supernatural: The Animeted Series will be released on UK DVD on 27th May 2013 by Warner Bros at the RRP of £29.99.
The episodes included are:
1. The Alter Ego

2. Roadkill

3. Home

4. Ghost on the Highway

5. Savage Blood

6. Till Death Do Us Part

7. Temptation of the Demon

8. Everlasting Love

9. The Spirit of Vegas

10. Moonlight

11. Nightmare

12. Darkness Calling

13. What Lives in the Lake

14. Reunion

15. Devil's Trap

16. In My Time of Dying

17. Rising Son

18. Crossroad

19. Loser

20. What Is and What Should Never Be

21. All Hell Breaks Loose Pt1

22. All Hell Breaks Loose Pt2
Special features in this set will be:
Making of Supernatural: The Anime Series Part 1: The Road to Anime Production

Interview with Supernatural Creator Eric Kripke

Episode Introductions with Jared Padalecki & Jensen Ackles

Interview with Directors Shigeyuki Miya & Atsuko Ishizuka

Interview with Actors Jared Padalecki & Jensen Ackles

Interview with Actor Jared Padalecki

Interview with Actor Jensen Ackles

Making of Supernatural: The Anime Series Part 2: The Road to the World

Interview with Voice Actor Hiroki Touchi (Japanese voice of Dean)

Interview with Voice Actor Yuuya Uchida (Japanese voice of Sam)

Original Japanese Trailer: Storyboard

Original Japanese Trailer: Shape Shifter

Original Japanese TV Spot