Beirut 1982: the First Lebanon War is in full force as the Israeli army clashes with PLO militants and Syrian and Lebanese forces. Living among the rubble and unexploded shells is Fahed, a young Palestinian boy who has recently lost his father in an air raid. When he captures Yoni (Stephen Dorff), an Israeli pilot shot down over his town, Fahed seizes the opportunity to use his prisoner as a way to get back into Israel and visit the town where his grandfather once lived. On the journey the two must overcome bitter differences if they are to survive and a tenuous friendship slowly begins to take root amid the barren debris of war...
Eye for Film said of Zaytoun, the latest film from Lemon Tree director Eran Riklis, "Even though the pieces of the Zaytoun puzzle do not slot together harmoniously, the whole remains more engrossing than a more cohesive but less ambitious picture," while Variety assures us it has an "all-but-unspoken subplot that haunts the entire production, and elevates its story above and beyond the mere romantic-political thriller many viewers will presume it to be." Oh really.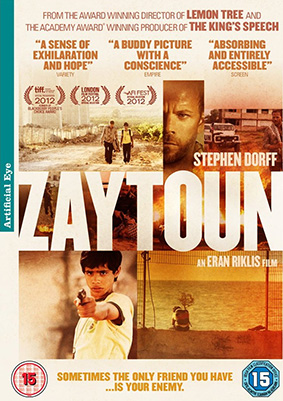 You can check for yourself when Zaytoun is released on UK Blu-ray and DVD on 8th April 2013 by Artrificial Eye at the RRP of £19.99 for the Blu-ray and £15.99 for the DVD.
The listed extra features are:
Theatrical trailer
Making-of documentary