One of the miost iconic horror films of the 1980s and a major breakthrough film for then up-and-coming genre master David Cronenberg (Cosmopolis, A History of Violence, The Fly), Scanners arrives on Blu-ray in the UK in April when it lands a release from Second Sight Films.
Drifter Cameron Vale (Stephen Lack – Dead Ringers) is plagued by incessant voices in his head, unaware that he is a Scanner – a person with extraordinary powers who can not only read minds but literally tear them apart. He soon encounters Dr. Paul Ruth (Patrick McGoohan – The Prisoner), a scientist trying to help his kind adapt to society. But another, underground movement of Scanners led by the psychotic Darryl Revok (Michael Ironside – Total Recall, Starship Troopers) have other intentions and the ultimate confrontation of minds awaits.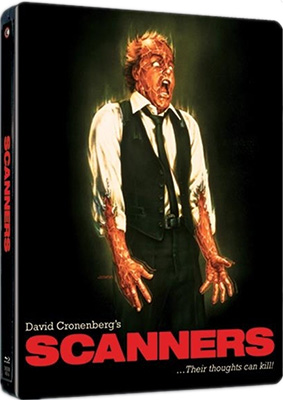 This cult classic horror/science fiction crossover somes to Blu-ray as a limited edition steelbook along with a DVD release on 8th April 2013 by Second Sight Films at the RRP of £22.99 for the Steelbook Blu-ray and £15.99 for the DVD.
New extra features for this edition are:
My Art Keeps Me Sane – Interview with leading man Stephen Lack
The Eye of Scanners – Interview with cinematographer Mark Irwin
The Chaos of Scanners – Interview with executive producer Pierre David
Exploding Brains & Popping Veins – Interview with makeup effects artist Stephen Dupuis
Bad Guy Dane – Interview with actor Lawrence Dane
You can read our review of the earlier Anchor Bay DVD release here.
Also to be released on 8th April by Second Sight for the first time are the two belated and seriously inferior sequels to Scanners: Scanners II: The New Order (1991) and Scanners III: The Takeover (1992). Both discs will retail at £15.99 each.
Scanners II: The New Order
A corrupt, power-crazed police official has high ambitions and plans to use the telepathic power of Scanners to achieve his goal. With the aid of a scientist and a new drug, he believes he can control their minds to do his bidding, but a rogue Scanner has other plans.
Scanners III: The Takeover
A Scanner named Helena takes an experimental drug that turns her into a psychotic killer. As she goes on a murderous rampage with visions of world domination, only one man can stop her, her brother Alex.
No extras have been listed for either disc.