Chris (Steve Oram) wants to show Tina (Alice Lowe) his world and he wants to do it his way - on a journey through the British Isles in his beloved Abbey Oxford Caravan. Tina's led a sheltered life and there are things that Chris needs her to see – the Crich Tramway Museum, the Ribblehead Viaduct, the Keswick Pencil Museum and the rolling countryside that accompanies these wonders in his life. But it doesn't take long for the dream to fade. Litterbugs, noisy teenagers and pre-booked caravan sites, not to mention Tina's meddling mother, soon conspire to shatter Chris's dreams and send him, and anyone who rubs him up the wrong way, over a very jagged edge...
The latest, critically acclaimed work from director Ben Wheatley, he of Down Terrace and Kill List, is a dark and wickedly funny black comedy written by and starring Steve Oram and Alice Lowe, and was described by Kim Newman in Empire as "A uniquely British blend of excruciating comedy of embarrassment and outright grue" and Peter Bradshaw in The Guardian as "a distinctive and brutally unsettling piece of work."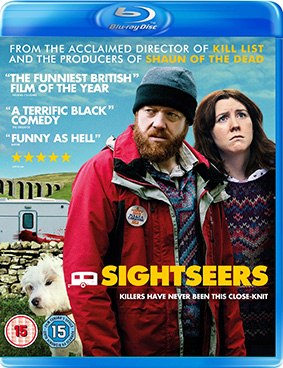 Sightseers will be released on UK Blu-ray and DVD on 25th March by Studiocanal at the RRP of £22.99 for the Blu-ray and £17.99 for the DVD.
Extra features on both will be:
Behind The Scenes
Outtakes
Trailer
Cast commentary: Alice Lowe, Steve Oram, Richard Glover and Ben Wheatley
Technical commentary: Laurie Rose & Ben Wheatley