On Monday 7th October 2013, London's Royal Albert Hall will be hosting an exclusive World Premiere – Danny Elfman's Music from the Films of Tim Burton celebrating the extraordinary collaboration between the acclaimed composer and visionary filmmaker.
This live concert features Danny Elfman's famous Tim Burton film scores brought to life on stage by the BBC Concert Orchestra, whilst being enhanced by visuals on a big screen from Burton's original production artwork, sketches and drawings. With a range of films from a fascinating back catalogue of classics such as Beetlejuice, Batman, Edward Scissorhands, The Nightmare Before Christmas, and Alice in Wonderland, this concert explores the collaborative relationship between music and storytelling and the process and importance that this has in filmmaking.
Loved by audiences and critics alike, these films have stood the test of time and now, for the first time, are to be celebrated in a highly unique and musical way. Conducted by John Mauceri and with an exclusive special guest performance by four-time Oscar-nominee Danny Elfman (making his first public singing performance in 18 years), this promises to be a once in a lifetime experience.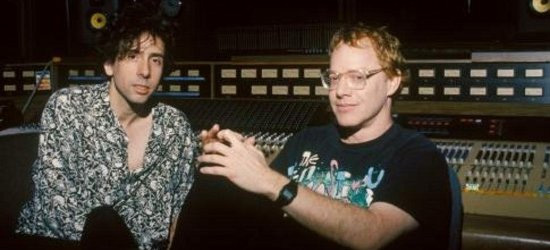 "I've always heard Danny's scores performed live during our recording sessions for the films we've collaborated on," says Tim Burton, "for others to finally be able to hear his music live, at such a historic venue as the Royal Albert Hall, is really something special."
Danny Elfman adds, "I really look forward to revisiting this body of work which has been such a huge part of my life and bringing it to the concert stage. And the idea of performing some of Jack Skellington's songs from The Nightmare Before Christmas live for the very first time is immensely exciting."
Jasper Hope, Chief Operating Officer at the Royal Albert Hall, said: "Throughout his career and particularly in his many collaborations with Tim Burton for more than 25 years, Danny Elfman has created magical compositions which have brilliantly complemented the stories audiences have enjoyed. The Royal Albert Hall has unquestionably become the destination for a variety of film related projects involving live orchestra and it is a genuine honour for us to be able to welcome Danny Elfman for this World Premiere performance of his incredible music accompanied by visuals from Tim Burton's extraordinary sketches and storyboards."
This event is part of the Royal Albert Hall's series in celebrating classic films with live orchestra. Over 50,000 people have now enjoyed sold out performances at the Hall of The Lord of the Rings Trilogy, The Matrix, the 50th Anniversary of West Side Story, Disney's Fantasia and the upcoming world premiere of Singin' in the Rain on March 8th and 9th. The Hall looks to provide memorable visitor experiences for all and, as a charity, these own-promoted events form a part of its extensive public benefit remit.
Tickets are £15 – £75 and will be on sale from Thursday 14th February at 9am from the Royal Albert Hall Box Office.
More information will available soon at: www.royalalberthall.com.