What Richard Did follows Richard Karlsen, golden-boy athlete and undisputed alpha-male of his privileged set of South Dublin teenagers, through the summer between the end of school and the beginning of university. Richard's world is bright and everything seems possible, until one summer night when love, pride and jealousy cause Richard to commit an act that will destroy it all and shatter the lives of those closest to him...
Featuring extraordinary performances from its mainly young cast, What Richard Did is a quietly devastating study of a boy confronting the gap between who he thought he was and who he proves to be. At least that's what press release assures us, but you won't have to go far to find critical support for this claim. Empire called it: "A tough, impactful film that offers a sometimes uncomfortable but always gripping examination of cause and effect" and The Guardian described it as "an engrossing and intelligent drama that throbs in the mind for hours after the final credits."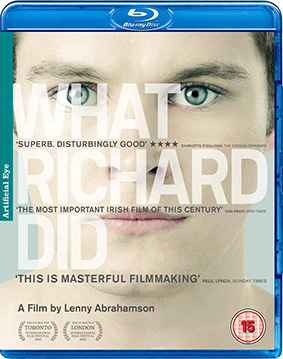 What Richard Did will be released on UK Blu-ray and DVD by Artificial Eye on 8th April 2013 at the RRP of £19.99 for the Blu-ray and £15.99 for the DVD.
Extra features will include:
Directors Commentary
Interview with Director Lenny Abrahamson
Interview with the Cast
Theatrical Trailer