Roman Polanski's critically acclaimed and triple Oscar-winning 1979 adaptation of Thomas Hardy's Tess of the d'Urbervilles stars Nastassia Kinski as the ill-fated peasant girl of noble origin, whose beauty is both her fortune and her undoing. Mastered from a stunning new 4K ultra high resolution digital restoration, it is presented in a Dual Format Edition (DVD and Blu-ray discs) with extensive special features including three documentaries covering the adaptation, the technical challenges and the filming experience.
Natassia Kinski gives a career-defining performance as Hardy's heroine, with strong support from Peter Firth (Equus, The Hunt for Red October, Spooks) as Angel Clare and Leigh Lawson (Being Julia, Casanova, Silent Witness) as Alec d'Urberville. The exquisite Oscar-winning photography by Geoffrey Unsworth (2001: A Space Odyssey, Superman) and Ghislain Cloquet (Au Hasard Balthazar, Love and Death) brings the author's Wessex setting vividly to life, painstakingly recreated in the French countryside.
The film was nominated for five Oscars and three BAFTAs, eventually winning Oscars for Art Direction, Cinematography and Costume Design (the latter won by Anthony Powell, whose original designs are seen here in a short film), a BAFTA for Cinematography and also a Golden Globe for Best Foreign Film.
This faithful screen rendering of the classic Victorian-era romantic novel, by Academy Award-winning director Roman Polanski (Chinatown, The Pianist), captures with compassion, the painful cruelty of love. Unavailable in the UK for several years, the BFI is proud to release Tess for the first time on Blu-ray, in a stunning new restoration (premiered at last year's Cannes Film Festival) that is the best the film has ever looked.
Hardy's enduring 1891 novel continues to sell strongly and last year booksellers reported a huge spike in sales after its appearance and significance in the 4 million­selling erotic novel Fifty Shades of Grey by EL James.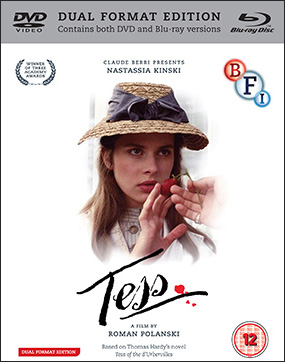 Tess will be release on UK dual format by the BFI on 18th March 2013 at the RRP of £19.99.
Presented in both High Definition and Standard Definition from a ne 4K digital restoration, the release will have the following extra features:
Tess: From Novel to Screen (Laurent Bouzereau, 2004, 29 mins, DVD only): Polanski on the adaptation of Hardy's classic novel, with contributions from Hardy scholars and cast and crew

Filming Tess (Laurent Bouzereau, 2004, 26 mins, DVD only): cast and crew discuss the technical challenges they faced

Tess: The Experience (Laurent Bouzereau, 2004, 20 mins, DVD only): those who worked on Tess discuss their experiences

Costume Designs (2013, 2 mins): Anthony  Powell's award-winning designs

Original theatrical trailer

Illustrated booklet with essays  and credits