Academy Award nominee Jennifer Lawrence (Winter's Bone, The Hunger Games) stars in her first role since The Hunger Games alongside Elisabeth Shue (Leaving Las Vegas, Back To The Future) in House at the Endf of the Street, an interesting-looking horror-thriler from Mark Tonderai, director of the 2008 Hush and produced by Peter Block (Saw I-VI).
Elissa (Lawrence) and her mother (Shue) move to a new town only to find that they are living next door to a house where a young girl murdered her parents. Locals claim that the girl mysteriously vanished after the incident, but as Elissa becomes close to the girls brother, Ryan, (Max Thieriot – Jumper, The Pacifier) she learns that a dark and terrible secret still lurks within those walls and this sinister story of murder is far from over. Weaver (Gil Bellows – The Shawshank Redemption), a local police officer, appears to be Ryan's only supporter, but soon the trust he has in Ryan will be called into question when some strange things start happening at – you've guessed it – the house at the end of the street.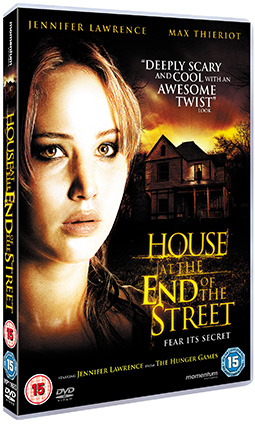 House at the End of the Street will be released on UK Blu-ray, DVD and digital download on 28th January 2013 by Momentum Pictures at the RRP of £15.99 for the DVD or the Blu-ray, and £13.99 for HD download and £9.99 for SD download on iTunes. Other vendors may vary.
No details of extra features have been provided. I wouldn't hold your breath. Seriously, you can suffocate like that.
Try a trailer.