Celebrated photographer Don McCullin worked for The Sunday Times from 1966 to 1983, at a time when the newspaper was widely recognised as being at the cutting edge of international investigative photo-journalism. During that period he covered wars and humanitarian disasters on virtually every continent: from civil war in Cyprus, the war in Vietnam and the man-made famine in Biafra to the plight of the homeless in swinging sixties London.
McCullin, a new documentary from directors David and Jacqui Morris and the producers of the award-winning Senna, uses rich, detailed archive footage and incredible in-depth interviews to reveal the truth behind McCullin's hard-hitting and controversial images, piecing together his remarkable story to create a film that was nominated for two BAFTAs (Best Documentary and Outstanding Debut by a British Writer, Director or Producer) and was hailed by Total Film as an "accomplished film full of integrity, dignity and empath," and by Peter Bradshaw in The Guardian as "Jacqui Morris's excellent documentary portrait of war photographer Don McCullin," while John Crawley at A Big Film Year said "This is a fine, fine film and I don't expect to see a better one all year."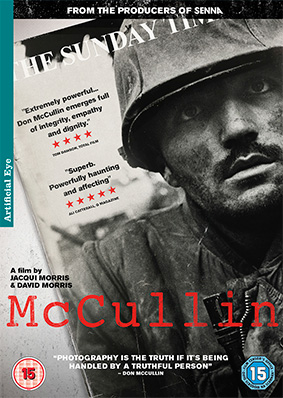 McCullin will be released on UK DVD and Blu-ray on 25th February 2013 by Artificial Eye at the RRP of £15.99 for the DVD and £19.99 for the Blu-ray.
As so often of late with Artificial Eye releases, news omn possible extras is being kept very secret.