Executive produced by Eduardo Sánchez, co-director of The Blair Witch Project, Midnight Son is the story of Jacob (Zak Kilberg, Zombie Strippers!, Lincoln Heights), a young man confined to a life of isolation, due to a rare skin disorder that prevents him from being exposed to sunlight. His world opens up when he meets Mary (Maya Parish – How I Met Your Mother), a local bartender, and falls in love. Tragically, Jacob's actions become increasingly bizarre as he struggles to cope with the effects of his worsening condition. Forced by the disease to drink human blood for sustenance, he must control his increasingly violent tendencies as local law enforcement narrow their focus on him as a suspect in a series of grisly murders.
Directed by Scott Leberecht, a former visual effects man whose credits include Spawn and Sleepy Hollow, Midnight Son is a twisting and terrifying tale of vampirism and humanity and how the two conditions can intertwine. Having proved a hit with audiences when it received its UK premiere at Frightfest, the film was recently screened to a packed audience at Horrorthon in Dublin. It's also found favour with genre critics, being described as "impeccable, daring and undoubtedly remarkable" by BloodyDisgusting.com and "a smart, intense, and unpredictable film," by Dread Central. Even some of the more mainstream critics have reacted positively, The Mail on Sunday cliaming that "Midnight Son takes an inventive detour into the after-dark world of Los Angeles, keeping one fang firmly in the realms of the plausible."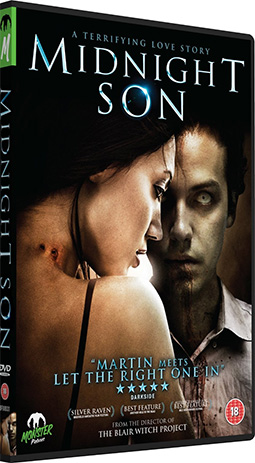 Following its limited UK cinema release on 11th January, Midnight Son will be released on UK DVD, just in time for Valentine's day, on 11th February 2013 by Monster Pictures at the RRP of £13.27.
Extra features will include:
Trailer
Audio Commentary with Cast & Crew
Deleted scenes
Cast and Crew interviews (Scott Leberecht, Zak Kilberg, Maya Parish, Jo. D. Jonz & Lyn Moncrief)