Sexual tension and unsolved mystery are in the air at an up-market cake shop in this comedy-drama from Min Kyu-dong (Memento Mori).
As an heir to family fortune, Jin-hyuk has money, the looks, the charm, everything except finding the love of his life. So he sets up a cake shop where women are sure to come. He hires Sun-woo, a talented patissier who had a crush on Jin-hyuk back in high school.
Along with an ex-boxing champion Gi-beom and a clueless bodyguard Su-young, the four unique and handsome young men stir up the quiet neighbourhood at their cake shop, Antique. Although seemingly careless and happy, each of the four men has an unforgettable past that they are afraid to face. But their secrets slowly begin to unravel.
Based on award-winning Japanese manga of the same title, this film is a fun and light-hearted frolic punctuated with brief musical set pieces, a colourful touch, mouth-watering delicacies and a dark undertone.
One of the most successful Korean gay movies ever made, Antique Bakery (Sayangkoldong yangkwajajeom aentikeu) played at Berlin International Film Festival (Official selection Culinary section), Austin Gay & Lesbian International Film Festival, New York Asian Film festival, Ghent International Film Festival (Belgium), Hawaii International Film Festival 2009 (USA),Festival Paris Cinema and Terracotta Festival (UK).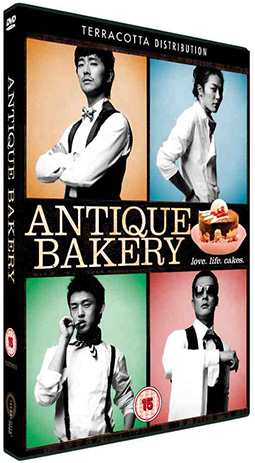 Antique Bakery will be released on UK DVD on 11th February 2012 by Terracotta Distribution at the RRP of £14.99.
Extra features will include:
Making of Antique Bakery
Korean trailer
Music video
Photo gallery