A small group of misfit friends and petty crooks are hired by a mysterious man to break into a derelict suburban house with the sole purpose of finding and stealing a rare videotape. Their only clue to identifying the tape in question is, "You'll know it when you see it."
However, on arrival at the house they soon realize the job isn't as straightforward as they imagined. In one room they discover the lifeless body of a middle-aged man sitting in an armchair, facing a wall of television sets and a stack of VHS cassettes. A similar bounty of tapes is found in the basement, none of which bears any obvious markings to suggest it is the prize they are seeking. As they search through the tapes, playing them in turn, they are treated to a succession of graphic and apparently genuine video recordings, each one more shocking and bizarre than the last.
The subject of considerable critical acclaim following screenings at various international film festivals this year (including Sundance, SXSW, Edinburgh, Toronto After Dark and London's Film4 Frightfest), V/H/S has been the source of a tremendous buzz amongst the horror fraternity and for very good reason. Highly original, brutally uncompromising, creative, diverse and, most important of all, genuinely creepy and enormously entertaining is a classic anthology horror movie is given a contemporary and visceral spin by directors Adam Wingard (You're Next; A Horrible Way To Die), David Bruckner (The Signal), Glenn McQuaid (I Sell The Dead), Joe Swanberg (Hannah Takes The Stairs) and Ti West (The Innkeepers; Cabin Fever 2: Spring Break; The House Of The Devil).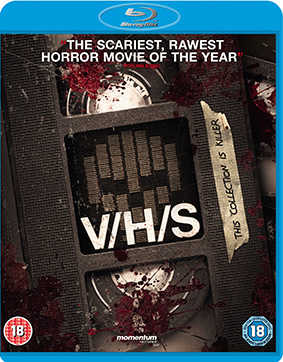 Described by Dread Central as "A phenomenal piece of work," and Twitch as "A great midnight movie experience," V/H/S will be released in UK cinemas on 18th January 2013 and on Blu-ray and DVD on 28th January 2013, all courtesy of Momentum Pictures. Both the Blu-ray and the DVD will retail at £15.99 apiece.
Extra features on both discs will include:
Trailer
Alternate Ending
Behind the Scenes on Amateur Night
Helen Rogers Interview
Simon Barrett interview
Outtakes from Tuesday The 17th