While driving eastward on Route 66, two rival car owners – The Driver (singer-songwriter James Taylor) and The Mechanic (Dennis Wilson of The Beach Boys) in a souped-up, drag-racing '55 Chevy, and a middle-aged braggart (Warren Oates) in a gleaming GTO – begin to race for each other's "pink slips" and the affections of the listless female hitchhiker (Laurie Bird) who joins them on the road.
With the melancholy open-road epic Two-Lane Blacktop, American auteur Monte Hellman (The Shooting, Cockfighter, and the recent Road to Nowhere) poeticised the beautiful, terrible rootlessness of his nation in the era of Vietnam. Funded by Universal in a bid to recreate the success of Easy Rider – by giving a number of filmmakers $1m and final cut – Hellman's effort is now regarded as one of the key films of the New Hollywood renaissance of the early 1970s.
Scripted by esteemed novelist Rudy Wurlitzer, and featuring the only screen performances of Taylor and Wilson, Two-Lane Blacktop remains a timeless, existential portrait of lives in transit and of a country questioning its identity.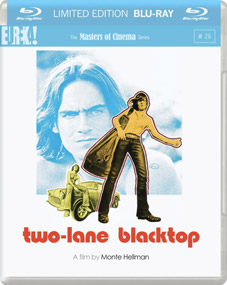 Described by Jay Cocks in Time as "...immaculately crafted, funny and quite beautiful, resonant with a lingering mood of loss and loneliness," Two-Lane Blacktop will be released on UK Blu-ray on 23rd January 2012 at the RRP of £23.48, and as a Steelbok Edition at the RRP of £30.63.
Featuring a new restored high-definition master, supervised and approved by Monte Hellman, the original mono soundtrack and optional newly remastered 5.1 mix, and optional English subtitles for the deaf and hearing-impaired, the disc will have the following extra features:
Audio commentary by Monte Hellman and associate producer Gary Kurtz;
On The Road Again: Two-Lane Blacktop Revisited, a 43-minute video piece in which Monte Hellman revisits the film's locations;
Somewhere Near Salinas, a 28-minute interview by Monte Hellman with singer-songwriter Kris Kristofferson;
Sure Did Talk To You, a 24-minute video piece by Monte Hellman, interviewing producer Michael Laughlin, production manager Walter Coblenz, and the director's son Jared Hellman;
Rare archival screen-test footage of James Taylor and Laurie Bird;
Original theatrical trailer;
Optional music and effects track;
A lavish 36-page booklet featuring rare production imagery, the words of Monte Hellman, and more!