Michel (Martin LaSalle) is a young man who picks a spectator's pocket at a horse race. Arrested but released for insufficient evidence, Michel falls in with a gang of pickpockets who teach him their trade. Meanwhile, while visiting his ill mother, Michel meets Jeanne (Marika Green)...
Robert Bresson (1901-1999, though some sources give his birth year as 1907), was one of the major filmmakers of the cinema's first century. Although his output was relatively sparse – one short film in 1934 then thirteen features between 1943 and 1983 – its impact and influence on other filmmakers has been profound. Not least of these was Paul Schrader, who contributes to the present disc's extras, of which more below. Pickpocket is one of Bresson's major works.
Bresson began as a painter, and made his first film in 1934, a comedy short, Les affaires publiques. He also worked as an assistant director. It's hardly representative of Bresson's later works, and he was given to asking for audiences' indulgence when it was shown as he had been a young man at the time. World War II intervened, and Bresson was a prisoner of war for over a year, an experience which may have informed one of his greatest films, A Man Escaped (Un condamné à mort s'est échappé ou Le vent souffle où il veut, 1956). However, that was his fourth film. His first was Les anges du péché, set in a convent which rehabilitates female prisoners. It was followed by Les dames du Bois de Bologne (1945). Both of these were studio productions with professional actors. However, this was a practice Bresson was soon to move away from. (Neither of these two features appear to have had UK commercial releases at the time of their making, with Dames appearing in 1967 and Anges not until 1987, presumably in the light of Bresson's later fame.)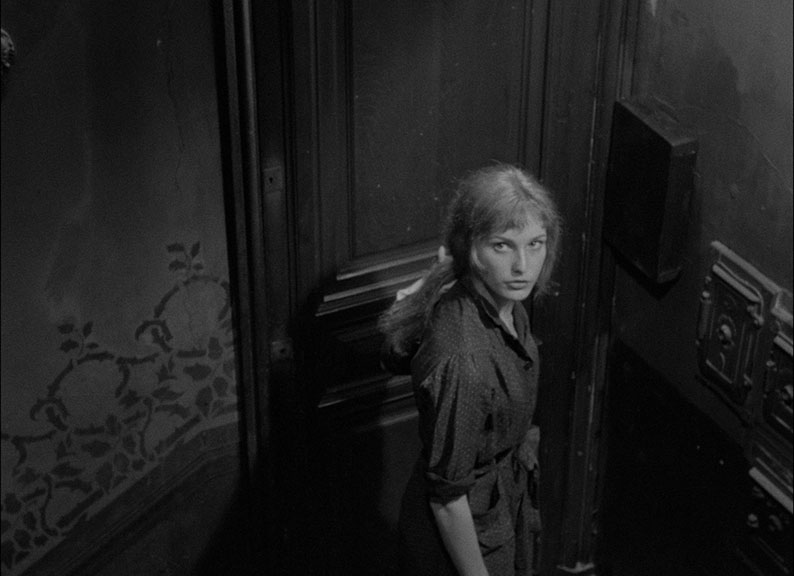 Bresson's next film was Diary of a Country Priest (Journal d'un curé de campagne, 1951). This was an adaptation of a novel by Georges Bernanos, another of whose novels Bresson would adapt in 1967 as Mouchette. Diary won the Grand Prize at the Venice Film Festival (along with an award for Léonce-Henri Burel's cinematography) and established Bresson's reputation. (It became his first film to secure a UK commercial cinema release, in 1953.) The story of the young priest of the title (Claude Laydu) who struggles to fulfil his duties in a small village, despite the indifference if not hostility of the villagers and increasing illness. Bresson's Catholic upbringing was on display here as it would be in his later films, exploring the possibility of grace in some at first surprising subjects. He also began to make changes to his filmmaking methods, paring down his visual style, and finding beauty in what he described as "necessary" images, often making the soundtrack do as much work as the visuals. He often elided scenes and details that other directors might well not have done without. More and more he and his cinematographers shot his films on one lens – 50mm, the spherical lens that most approximates human vision. Starting with this film, he more and more used non-professional actors (or "modèles" as he called them), rehearsing them extensively to produce a relatively uninflected vocal delivery and removing all traces of theatricality from them. Some of Bresson's "modèles" did go on to have professional acting careers, such as Laydu, Anne Wiazemsky (Au hasard, Balthazar, 1966) and Dominique Sanda (Une femme douce, 1969). One of the modèles of Pickpocket, Pierre Etaix, went on to a successful career as a comic actor and director.
Bresson continued refining his methods in A Man Escaped, one of his masterpieces, and in Pickpocket. While Bresson was too old to have been part of the New Wave (he was two decades older than Eric Rohmer and Alain Resnais, three decades older than other leaders of the Wave), you can see some of the same impulses here: the shooting on real locations (in real crowds), the documentary-like detailing of Michel and his fellow pickpockets' working methods. Their authenticity was due to the film's technical advisor, a real pickpocket known as Kassagi, who also plays the role of one of Michel's accomplices. After the film, Kassagi became too well known to return to a life of petty crime and he became a cabaret entertainer.
The use of voiceover (established from the start as Michel's writing in his diary) holds it together – something that Rohmer, who named Pickpocket as one his ten favourite films, used a lot in his own, rather different work. Paul Schrader saw the film in 1969 (while working as a film critic but before entering the film industry) and it was a lifechanging experience for him. He has drawn on Bresson's work more than once, this film especially, as mentioned by him in the extras for this disc, see below.
Pickpocket was released in France on 16 December 1959. It played the Berlin Film Festival (the Golden Bear winner was the Spanish/Italian film El Lazarillo de Tormes, which it's fair to say is not a verdict endorsed by posterity) and had a UK cinema release in 1960. Bresson made a further eight films in the next twenty-four years, including two others that the BFI will be releasing on Blu-ray. Pickpocket remains one of his finest works.
Pickpocket is released by the BFI on a Blu-ray encoded for Region B only. The film had an A certificate on its UK cinema release and is a PG now.
Although cinema had gone widescreen in much of Europe by the mid-1950s, clearly in France it was still feasible to use the old Academy ratio (1.37:1) for new films, and Pickpocket was shot in that ratio, in 35mm black and white. (Bresson went widescreen – 1.66:1 – with his next film, The Trial of Joan of Arc.) The Blu-ray transfer is from a 2K remaster from the original negative.  While Bresson's actors might have been non-professionals, his crews weren't, and Léonce-Henri Burel had had a career going back as far as 1915. The transfer is very solid, sharp and detailed with strong blacks and greyscale as it should be.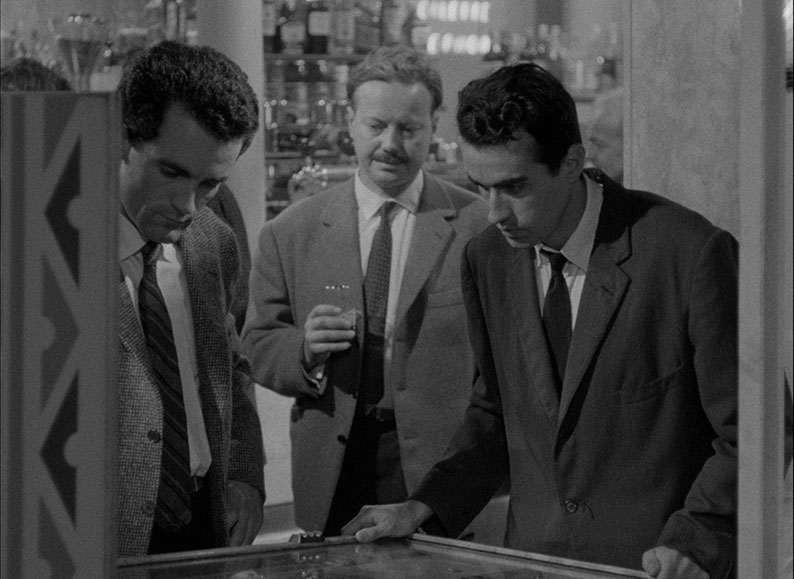 The soundtrack is the original mono, rendered as LPCM 2.0. As Bresson's career progressed, the soundtrack became more and more important to his work, often as pared-down as the visuals. However, he still uses non-diegetic music, often classical here from the French and German baroque repertoire (Jean-Baptiste Lully and Johann Caspar Ferdinand Fischer). The soundtrack is well-balanced and clear. English subtitles are optionally available for the feature, the trailers and the documentary The Models of Pickpocket.
Paul Schrader on Pickpocket (10:53)
Recorded in 2022, Schrader tells how he saw Pickpocket, ten years after its first release. It changed his life in more than one way. In 1972, he published a book, Transcendental Style in Film: Ozu, Bresson, Dreyer, examining the work of three directors raised in different religious traditions, Bresson Catholic, Dreyer Lutheran, Ozu Buddhist. One thing Schrader took from Pickpocket in particular was its use of the protagonist's voiceover and diary-writing – something he made use of once he became a screenwriter and director as that is a feature of amongst others Taxi Driver. The final scene of Pickpocket he made use of more than once, for example in American Gigolo.
The Models of Pickpocket (Les modèles de Pickpocket, 52:14)
Babette Mangolte's documentary dates from 2003, and she interviews three of the cast of Pickpocket: Martin LaSalle, Marika Green and Pierre Leymarie. They describe the experience of working with Bresson and his methods and generally seem to have found the film a positive experience. The first two went on to further acting careers, but Pickpocket was Leymarie's only film.
Robert Bresson Q&A (47:12)
It's the 1971 London Film Festival and Bresson is about the receive the Sutherland Trophy for his then-new film Four Nights of a Dreamer. He is interviewed, in English, at the National Film Theatre by John Russell Taylor, and at the end Stanley Reed presents the trophy. A shorter-than-usual interview still covers quite a range, though inevitably there's more about the film the audience has recently seen. At the time Bresson was in preparation for Lancelot du Lac, which, he says, he would have liked to make in English. Interestingly, the recent films which he had seen by other directors and which he talks about include A Clockwork Orange and the Andy Warhol/Paul Morrissey films, at that time presumably just Flesh and Trash, and is particularly complimentary about the latter two. He also discusses his use of improvisation and his literary adaptations. Four Nights was his second film from Dostoyevsky, after Une femme douce. Four Nights was based on the novella "White Nights", which had been filmed under that title in 1957 by Luchino Visconti, and Bresson talks about that version. By this time, Bresson had also adapted Georges Bernanos twice, as mentioned above. Four Nights was Bresson's second film in colour, though he says his previous use of black and white was due to budgetary restrictions as much as anything else, and nowadays he couldn't do without colour.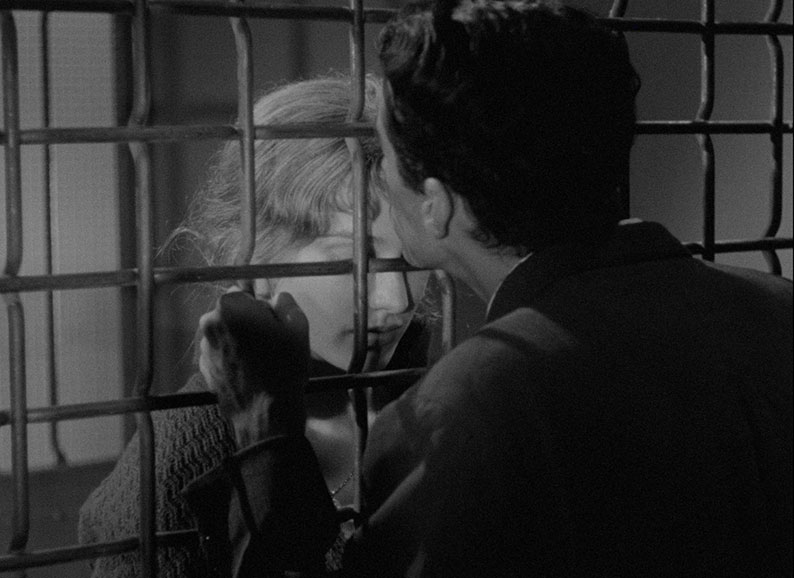 Original trailer (2:34)
2022 reissue trailer (1:19)
Once again it's interesting to see how a film is sold to the filmgoing public when it's brand new and when sixty-plus years later it's a textbook classic. The answer here is that the later trailer is over a minute shorter and contains several critical quotes.
Archive shorts
As usual on a BFI release, we have some short items from the archive which are nothing to do with the main feature, but are tangential to its themes. There is a Play All option.
Thefts from Handbags (0:56)
A brief item from 1961 made by the Central Office of Information. A rather of-its-time patronising voiceover warns women to be wary of thieves when out and about.
Snatch of the Day (1:05)
From 1975, this has much the same message but it's embedded in a spoof of Match of the Day. Where is a pickpocket least likely to operate? Wait for it – a nudist colony. (Mentioned but not illustrated, in case you were wondering.)        
Four Men in Prison (40:52)
Directed in 1950 for the Crown Film Unit by Max Anderson, Four Men in Prison follows four young men (all played by actors) in order to show the effects of a prison sentence on young, or not-so-young offenders, habitual criminals and first-timers. The film was shot partly in Wakefield Prison and partly in the studio. It was made towards the end of the Crown Film Unit's existence (it was abolished in 1952) and questions were asked on the cost of this particular film. It's not known to what extent it was actually shown or released: the Monthly Film Bulletin, then serving a purpose as a journal of record for everything released in the UK, never reviewed it.
Booklet
The BFI provides a twenty-page booklet with the first pressing of this disc. It begins with an essay by Adrian Martin (with a spoiler warning, though there isn't much to spoil in this film), "The Prince of Pickpocket". He begins with talking about the mysterious Kassagi, and discusses its central character as someone aiming to live outside the law, and his redemption through love. (An archetypal version of this would be Raskolnikov in Crime and Punishment, and we've mentioned Bresson's Dostoyevskian credentials already.) Martin also discusses the film's style and techniques, including its use of real street locations, influential on the New Wave.
Michael Brooke follows with an overview of Bresson's life and career, and this is followed by full film credits and notes on and credits for the extras, including an extended piece by Steven Foxon on Four Men in Prison.
Pickpocket is a key film in the career of its writer/director Robert Bresson, and one which has been highly influential on other filmmakers. The first of three Bresson titles to be released on Blu-ray by the BFI (The Trial of Joan of Arc and L'argent are to follow), it's well-presented on this disc.