| | |
| --- | --- |
| | "I love to gain a tremendous simplicity. I like to make it look as though it's tremendously easy, as though there wasn't a camera around very much. I don't love flashy work. I like to make it look like it just slid in and happened. I work very close to the actors, which a lot of directors don't." |
| | Director Richard Marquand, Archive Interview* |
I have a tenuous connection with Marquand, one I tried to exploit attempting to get a job on Return of the Jedi. He was born and grew up in the same suburbs as I did and while he acknowledged this, his returning letter (for nerds out there, printed on Revenge of the Jedi notepaper)** stated that he was sorry that he couldn't help. But I really respected the fact he replied. He got the Jedi gig after George Lucas saw Eye of the Needle, the intimate World War 2 spy suspense piece three hander with Donald Sutherland, Kate Nelligan and Christopher Cazenove. His promising Hollywood career had just taken off when he suffered a stroke and died a few weeks short of his 50th birthday. As someone has pointed out, in his relatively short film career, he worked with classic film composers Miklos Rosza, John Williams and on Jagged Edge, he got to work with Bond composer John Barry. His passing was quite a shock to us at the time. But his work lives on.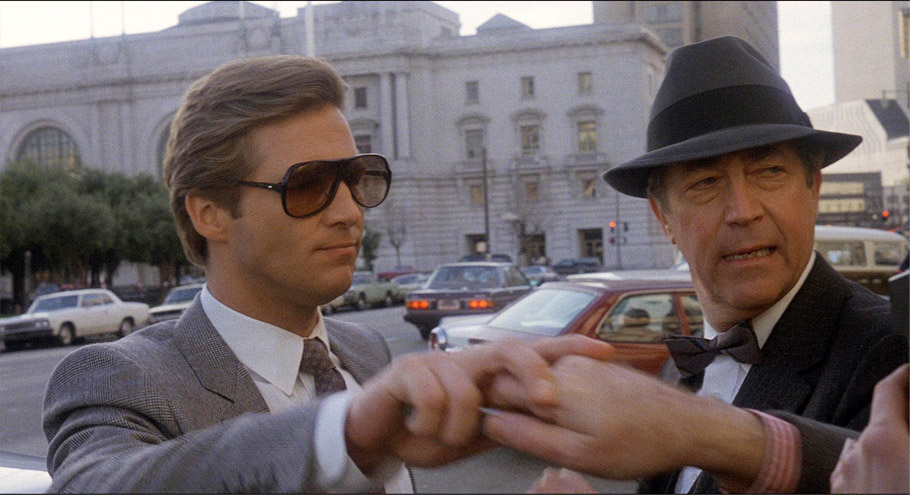 Jagged Edge was an original screenplay (remember those?) written by Joe Eszterhas, one of the very few 'star' screenwriters who proved his worth with a talent-attracting writing skill and is well known for fighting tooth and nail to preserve the integrity of his work. He's also famous for incurring the wrath of a certain Hollywood agent revealing that agent to be - at that time - Hollywood's very own Darth Vader. Eszterhas' letter to Michael Ovitz dated 3rd October 1989 has passed into Hollywood history. Whatever you may think of the resulting films, Eszterhas personally has integrity radiating off him and I was thrilled to see he's in the Extra Features. So what's the story? We're in San Francisco and the Golden Gate Bridge dips into crepuscular light as night falls. We are at an obviously luxurious beach house with heavy rainfall seemingly overlaid to give the light a different reflective quality indoors. Then, as we cut inside, John Barry's score tells us all we need to know about the intent of the person we – as the camera – will shortly become. The 80's signature synthetic drums leave you in no doubt. Bad guy approaching. Halloween style, we are put into the position of a person breaking into a house and presumably up to no good. The following scene has lost none of its power to shock but these days a scene like this would be difficult to present editorially. Its appalling threat and violence towards a woman may not wash in today's climate however carefully and swiftly cut (the film not the poor victim). She is named as Page Forrester, the wife of one of San Francisco's most important press barons, Jack Forrester. Page holds the purse strings providing her husband a very clear cut motive for murder. A hot-shot district attorney Tom Krasny, a man comfortable with withholding evidence for personal gain, views the bloody murder scene and because of past bad (ahem) blood between the two men, puts Jack in his sights as the possible murderer. The defence falls to Teddy Barnes, a divorcée and talented counsellor whose disgust at the antics of Krasny pushed her out of the business. However, it's a high profile case and Teddy is brought on board. Watching Jack like a hawk for any deceit or lies, she is slowly taken in with his charm and slowly her own walls begin to crumble. I would argue that ethically she crosses a major line by becoming romantically engaged with the chief suspect but she still has a job to do. All through the investigation, Teddy and her once washed up private investigator Sam Ransom are receiving terse letters written on an old typewriter with a distinct upper displacement of the letter 't' guiding them to seek out new witnesses and new clues… To say anymore would be unfair.
The strength of the drama (which one critic at the time described as 'commercially packaged abuse') is in the performances. As Jack, we have the Dude himself, Jeff Bridges, exuding all-American health and vitality, a blue-eyed leading man who is the very archetype Americans are taught to emulate. He's the 80s William Randolph Hearst, the citizen Kane without Xanadu, a character many would loathe for his good fortune, good looks and good grief. Alone on a boat, he emotionally unpacks and scatters his wife's ashes in the ocean, a scene that will both pull and push our emotional responses to the character depending on our sense of his guilt or innocence. Peter Coyote looks like he's really enjoying himself as Krasny, the determined prosecutor with a shady past. His is the honeyed voice of many a worthy documentary and he is also no slouch when it comes to his acting. Glenn Close as Teddy is two years away from her defining role as the bunny boiler Alex in Fatal Attraction. She's a sympathetic character falling in to professional misconduct,. Despite the positivity of her relationship with her ex and the investigator she hires to help with the case, she's also lonely. In some ways Sam, wonderfully played by Robert Loggia, is the break out role, a supporting one but he's such a loyal friend and support to Teddy that I suspect this was the reason for his Oscar nomination. Too often it's characters that are celebrated over the skill it takes to bring them to life. But whenever Loggia's onscreen, we're in safe hands.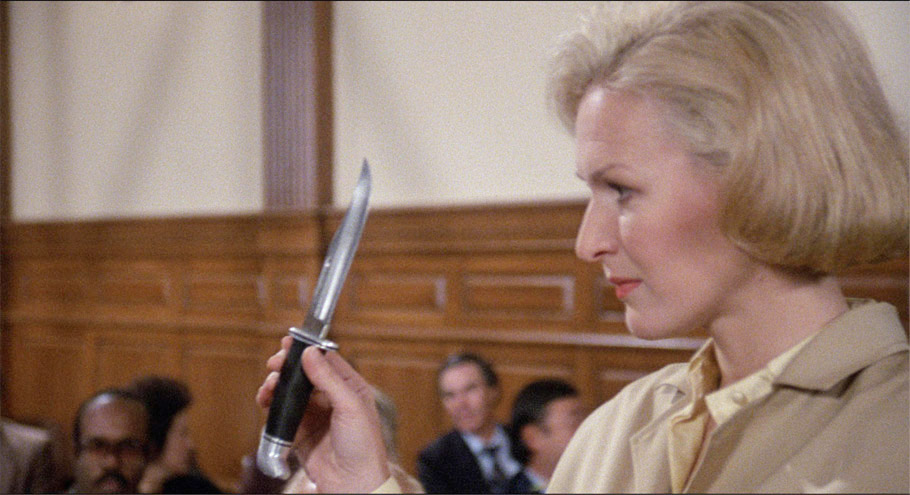 Jagged Edge also has a few other aspects of note. I was surprised to see the Columbia logo last for over 20 seconds. I'm still trying to figure out if that was aberrant or was it that I'd never noticed before? It's still shocking to see characters light up cigarettes on screen. However normal it was at the time, it's refreshing to know that the age of the cigarette may be reaching its end. There are no noticeable special effects in this mostly human drama although the L.A. Times printing-floor doubles for Forrester's fictitious San Francisco Times seen in the background of Forrester's office, presumably a bluescreen shot. It's always fun spotting Lance Henriksen in early roles. In one short scene, 35 minutes in, Dan Hislan presents the lie-detector test results on Forrester to Teddy. Sporting a fine moustache and mercifully free of a forehead full of prosthetics, Dan is played by Michael Dorn, Star Trek's best fleshed out Klingon, Worf. It was my pleasure and luck ten years later to work with Michael who did four commentaries for a series I directed. Fond memories. He was a sweetheart by the way. John Barry's score is quite interesting when the dodgy musical trends of the 80s are not impressing themselves on his own sensibilities. Sometimes the cues come in barely audible at first, something I noticed watching the film which was enlarged upon in one of the extra features. Luck is a big element in any creative enterprise and I do like noticing serendipitous things in movies, unplanned and in some cases completely off the wall. As the defence counsellor and client argue about the latter's withholding of an affair, the counsellor leaves and the client just stands there, his briefcase having slid off the bonnet of the car. Just as the car leaves frame, a seagull swoops in on the left and gives the client something to watch as it flies to the right out of frame. It's an extra element no director can plan for. And those happy accidents enrich films immeasurably. As per the quote before the review, Marquand's direction is pretty much invisible as is the work of editor Sean Barton. Both men serve the story and never pull the eye with vertiginous camerawork or flashy editing. They both know we're into the characters, desperate to find out what happens next.
Semi-Spoiler Ahead: Read after seeing the movie…
Hypothetical Situation: Murdering Successfully 101: A little thing but it bugged me when I saw this in the cinema in 1985 and it continues to bug me. If you do a crime and you use a prop and you get away with that crime and that prop can incriminate you, the minute you feel you got away with the crime, that prop should be at the bottom of the ocean… Just saying.
The feature is presented in a true 1.85:1 ratio with tiny black letterboxing on standard 16:9 TVs. I'm reviewing the film on a 4K TV so the grain is much more noticeable but again, never distracting. The colour palette is somewhat muted with pastel colours to the fore. There's nothing that calls attention to itself in terms of framing or technique. The rain over the night beach shot looks a little as if it's a composite as do the printing presses in Forrester's office. But overall, there's a pleasing naturalness to the photography with the contrast levels perfectly realistic.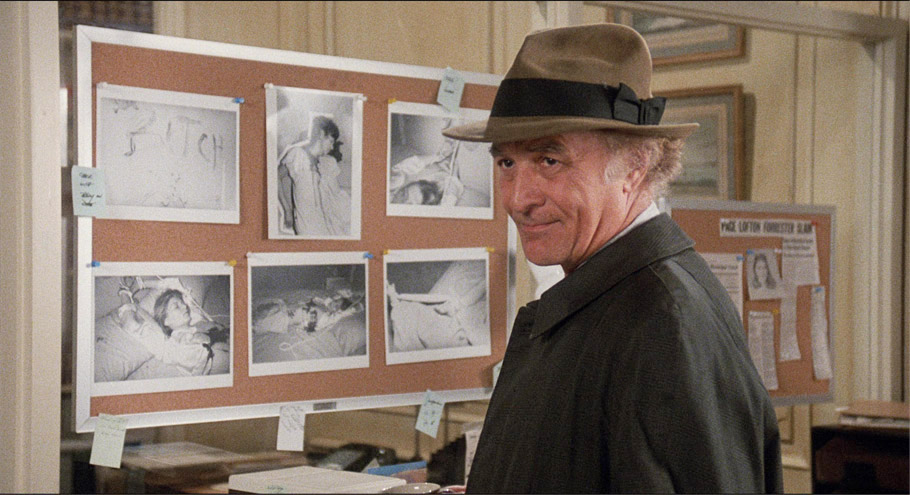 The original stereo audio mix is an option as well as a remastered 5.1 surround audio. Given the right kit, who's going to favour the stereo over the 5.1? Well, some of us purists might but that said, the heft of the 5.1 is more pleasing these days. It doesn't exactly improve John Barry's "Here's a murderer!!!" cue as the action starts but then I've very biased against synthetic drums. On both versions, the dialogue is crystal clear and as mentioned sound cues begin very quietly and slowly build.
There are new and improved subtitles for the deaf and hard-of-hearing.
The Guardian Interview with Jeff Bridges (1990): archival audio recording of the legendary actor in conversation with critic Geoff Andrew at the National Film Theatre, London (57' 17")
At the start after the sustained and very appreciative applause, something amusing happens between Geoff and Jeff which the audience laugh at and applaud again. If anyone reading this was there, please let me know what that was. Right off the bat, Geoff Andrew admits to nerves. We go into Bridges' acting career starting as a pinched-to-cry 6 month old baby. The John Huston Fat City acting lessons story is a doozy. They cover working with first-time directors and a big section on the making of Winter Kills, the bizarre, extraordinarily cast oddity I covered back in 2019. He compares working with Sidney Lumet and Francis Ford Coppola and happily reminisces working with his brother in The Fabulous Baker Boys. At the close, Andrew thanks brother Beau and Jeff so I guess Beau's been snipped out of this extra. The outgoing applause is just as enthusiastic as the opening's. Jeff Bridges seems to have very few pretensions and is straightforward and a gracious interview subject. Why does this not surprise me one bit?
Killer Business (2021): acclaimed screenwriter Joe Eszterhas revisits one of his favourite scripts (23' 01")
Wearing a gold skull and cross bones medallion and starting the interview with the words "Kick ass and don't take any shit from anybody. It's Hollywood. Bad stuff can happen there and does…" If Mufasa from The Lion King was suddenly turned into a man, he'd look as fine as Eszterhas does at 76. I assume the fall-out from his throat cancer has given an extra rasp to his breathing but this is still the Eszterhas I was brought up with. He's opinionated, defiant, honest and something of a hero to struggling writers everywhere. He fills in a series of details about the film and his early life arriving at Cleveland from Hungary when he was six. He also admits, getting through his cancer, that he embraced Christianity which, I have to say, shocked me. Oh, and the all-important typewriter was Eszterhas' own and it got lost in transit on its way back to him and the fact it's still missing seems to bug him still, and so it should.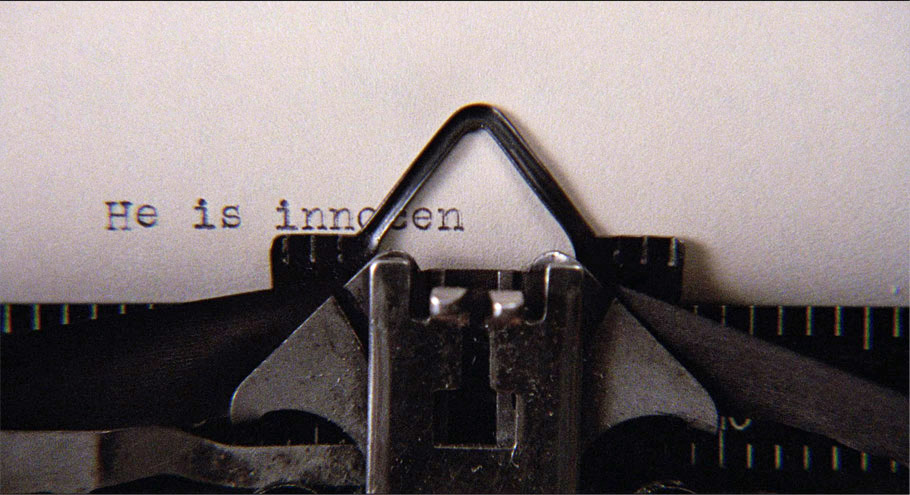 Cutting Edge (2021): editor Sean Barton recalls his time working on the film (16' 32')
Nice to see an editor in the limelight, the craft that if it's done well is almost always invisible. Barton, after cutting his first feature Quadrophenia, got on very well with Richard Marquand and the director stayed editorially monogamous all the way up to his final film Hearts of Fire, posthumously released in 1987. Barton points out the difficulties of securing the right documentation needed to work in the States and tells a few behind the scenes stories on Jagged Edge. The Saturday working story is charming. I also loved the idea that directors trust their editors and are only concerned with the emotional effect of the cut sequences not how long or short the shots or sequences should be. That's a breath of fresh air.
Music of Loneliness (2021): analysis of John Barry's score by author and musicologist David Huckvale (9' 11")
There's a very helpful spoiler warning at the start of this extra but who watches the extra features before watching the main feature? Huckvale certainly knows his stuff. There's a very odd cut from the US poster back to Huckvale who's on screen for the time it takes him to say "If, um…" and then a shot of composer Erik Satie. Surely just cut to the Satie picture and cut out the 'um'? Huckvale goes through the elements of the score (his piano rendition cuts to the relevant clip) and I would be very pleased to have this level of appreciation for other composers. As a rabid film music aficionado, I know nothing of the technical aspect of scoring but I am in awe of the composer's craft. Despite the synthesized drums, my appreciation of John Barry's work on this film has been significantly heightened by Huckvale's presentation. Bravo.
Original theatrical trailer (1' 58")
A standard trailer for its day, told mostly through dialogue extracts and very few words from the deep voiced narrator. The images are punctuated with a serrated edge wipe which today may seem tacky. But it must have worked, that and the word of mouth which sustained the film during its successful theatrical run.
Radio spot (0' 31")
"Straight to the edge of terror… the jagged edge!" This introduces the stars and characters with some fairly innocuous music underneath and one or two screams just to clue you in what to expect.
Image gallery: promotional and publicity material
This features 3 black and white movie stills, 9 colour stills, 3 black and white behind the scenes shots with 1 in colour. The Front of House stills number 12 and they are all in Spanish with a translated title as On The Edge of Suspicion. Ending the collection, there are 2 Japanese posters and the US poster.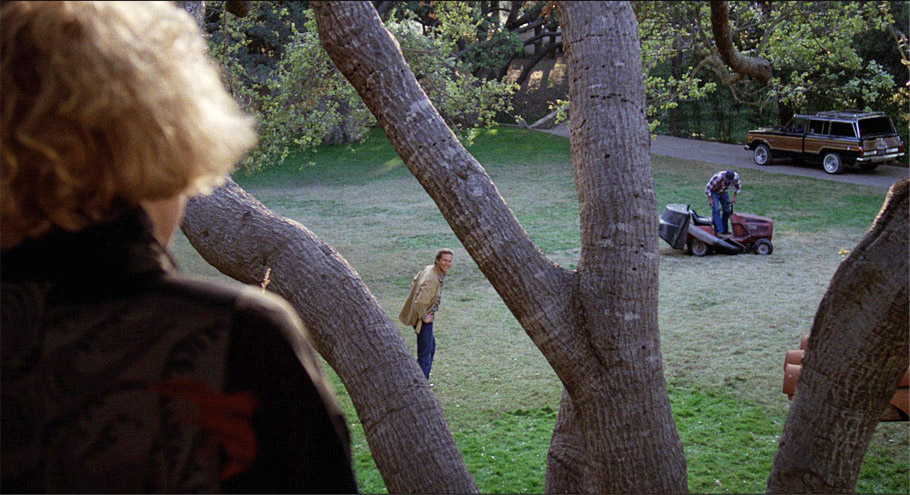 Limited edition exclusive 36-page booklet with a new essay by Maitland McDonagh, extracts from archival interviews with director Richard Marquand, a look at the making of the film, an overview of contemporary critical responses, and film credits
Cuts Like A Knife by Maitland McDonagh places the film in context giving it the cloak of respectability when a lot of the other examples of the genre around it were more crass than class. Yes, it was a violent/sexual neo noir but it was acted by respectable thespians who elevated the material. To be fair, the sex is not exactly front and centre and the violence is mostly implied but it gives a good stab at being the best of the rest.
Richard Marquand Profiles flits between the very few interviews the hard working director gave leading up to Jagged Edge. He comes across as a journeyman director in the most positive sense and this aspect of him reminded me of an interview John Cleese once gave while promoting his book Families and How to Survive Them. He mentioned that given the choice between being a staid Victorian portrait painter or a driven, tortured artist of great repute, celebrated after his/her death, he'd chose the Victorian portrait painter every time. Directors who can get actors where they need to be emotionally and editors who aid their ambitions are what film is really all about.
Glenn Close, Jeff Bridges and Joe Eszterhas on Jagged Edge is a series of extracts from various publicity interviews with the leads and writer. It was heartening to hear both stars made a pact that they both could be open about a way a scene might be improved. That trust and openness creates a very fertile atmosphere on a movie set.
Critical Response draws from three sources with Roger Ebert even suggesting the reveal of the killer was unnecessary which is an interesting take on a whodunnit… Reviews of the film were not overwhelmingly positive but the mighty voice of the public made their voices heard to produce a sizeable hit for Columbia Pictures.
Jagged Edge is a character driven murder mystery which twists and turns allowing you to make up your own mind as to the accused's guilt or innocence as the information stacks up for and against him. The performances are top notch and the movie is edited and directed with as little fuss as possible allowing the narrative to dominate proceedings. As 80s neo noirs go, Jagged Edge was probably the most stylish of the decade and well worth a look.
---