| | |
| --- | --- |
| | "When I met Jessie, I was just incredulous that this was Rose-Lynn Harlan sitting across from me. Then I heard her singing. That was a whole other level of just sheer relief that this character that I loved so much and felt so real to me – as real as my own family – was going to find voice in this electrifying presence of Jessie." |
| | Screenwriter Nicole Taylor* |
Note: I've been unsuccessful in finding a synopsis of the film that enabled me to identify the actors who played certain characters. Wikipedia has let me down for the very first time. I took an educated guess at the name of the nasty husband and Rose's children. If I am wrong I will be thrilled to be corrected. Thank you.
It happened to me in 1979, 1981, 2010 and now in 2019. These experiences convinced me that some performers are blessed with a talent and charisma that has to be intrinsically natural. Their performances are never less than blindingly authentic. They sort of stun you with how unforced they appear and the idea of them appearing in a film loses any meaning. You are watching them as the character and suspending disbelief is itself suspended as you are mesmerised by another human being whose presence the camera simply accepts as real and adores. You wonder how that magic is achieved, how they manage to entrance the lens so bewitchingly. Here's the role call of very special actors whose work I saw in those earlier listed years and was stunned by; Rosanna Arquette in Baby, It's You, Mickey Rourke in Body Heat, Sally Hawkins in Made in Dagenham and now I give you Jessie Buckley in Wild Rose. Yes, she's that good and having frequently wiped away a few tears, I'm here to tell you that the film showcasing her immense talent is an absolute knockout that puts not a toenail clipping wrong in the story of a young woman tripped up early by life's inequities (jailed on a trafficking drugs charge when she was off her head on booze, having two children before she was eighteen and having a ludicrous idea that she was born to be an American country singer).
I'd seen ex-Den of Geek's administrator Simon Drew singing Buckley's praises from his new film magazine Film Stories. In print form it has the same mission as Outsider – championing the independents, the misfits, the outsiders despite my own mainstream film reviews. In fact I can't recall the word 'Marvel' in his latest issues, which for a film magazine these days is quite an achievement. He put a smiling Buckley on the cover a little while back and then reprinted the same pic about four more times inside the pages.
I now know why. Oh boy.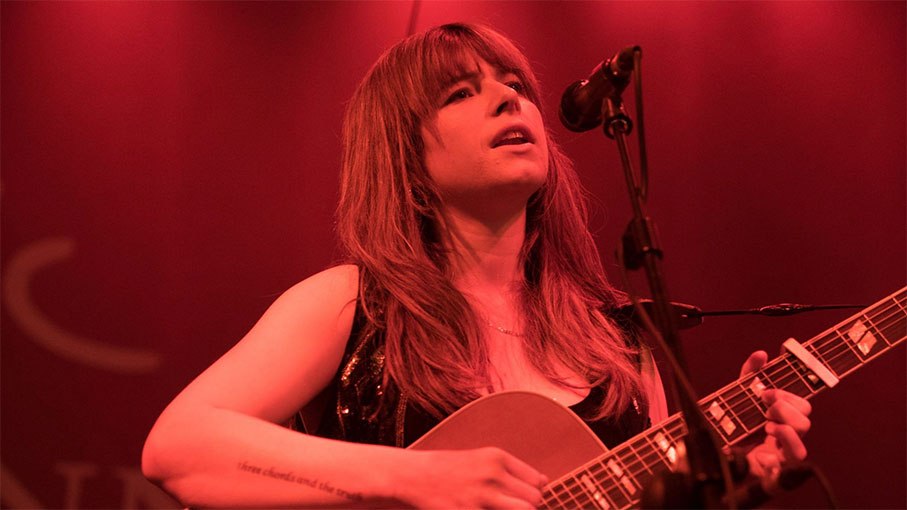 OK, let's dispel a few stupid assumptions. You do not need to be a country music fan to appreciate this gem of a film. It's about people, their insecurities, their frailties, hopes and dreams…  Its lead character has more flaws than a multi-storey car park but that doesn't mean we shouldn't care. In fact we should probably care more. Released from prison after a year, Rose-Lynn Harlan returns to her previous life reuniting with her two young children who have been in the care of their grandmother, Marion. Rose has a dream, to become a genuine American country singer. But she has an ankle tag that effectively keeps her under evening house arrest until enough time has passed to appeal to have it removed. Her country band in a Glasgow club has recruited a male singer so she has to find another way to make ends meet. She becomes a cleaner for a rich family and proves to well-off Susannah that she has a real country singer's voice. Rose sets out on the path for recognition…
Now, there is nothing new in the story of singer makes good. You could argue that Wild Rose ticks a few over-ticked narrative boxes but when it presents Buckley in those boxes, it simply doesn't matter. She carries the film along like a cloak wafting behind her. The fact you're familiar with the cloak makes absolutely no dents in her sheer power. Again, there is no attempt to redeem her excesses. She's constantly frustrated by her unwanted maternal duties and farms the kids off to friends and neighbours when it suits her needs. While she's cleaning on day one, Susannah, in a clumsy way of saying "I don't trust you," says "I'm off now but may be back in half an hour or an hour or two hours…" or something like that. It's a small misstep in a film with great dialogue and a concrete analogue structure. What's lovely is that Rose abuses that trust as soon as Susannah's car engine sound recedes, raiding the drinks cabinet… But her relationship with Susannah deepens once she proves she has a voice (three chords and the truth, and what a wonderful voice). The scene of her recording a song to post online to get people's attention is astonishingly moving. One twenty-six year old Scottish** redhead and a spirited and earnest sound and I'm jelly as are Susannah and her own two children. Singing emotionally and being truthful at the same time is very difficult. It's even more so to actually move an audience. Rose/Jessie does it as a matter of course. I'm in awe.
Jessie Buckley has a world-class ensemble to bounce off. Most sympathetic is Sophie Okenedo whose Susannah suddenly falls hard for country music amid no little opulence in her Glasgow townhouse. Okenedo manages to be both genuinely supportive and moved by the skill shown by her home help. Brooding in the background for reasons of his own is Sophie's conservatory salesman husband, Sam played by Jamie Sives. He has his own emotional moment with Rose, a scene initially undercut with a bit of healthy defensive cynicism. The two children who have to go on a few emotional rollercoasters are perfect in the parts, both utterly convincing in their defiance and vulnerability. Bravo Daisy Littlefield and Adam Mitchell. The most famous face in the cast is the irrepressible Julie Walters. Playing Marion, Rose's mother, she is exasperated by her daughters lack of commitment to her children. Walters is another actress who leaps head first into her characterisation and here she's a woman who has worked at a bakery all her life and starts to regret the fact that she never took a chance and went after a personal goal. She lives vicariously through Rose, a life that broke once Rose was convicted and jailed. Of course there are tender moments between mother and daughter and times when you feel you know what might be coming but the ending of the film has a very specific satisfaction and it's a subtle one, so well earned.
Tom Harper's direction is unfussy and quite classic but this is because when you have Jessie Buckley, you just follow her. It's what Christopher Nolan was smart enough to do when he realised just how extraordinary Heath Ledger's Joker in The Dark Knight actually was. It's like the performance makes the director's job almost superfluous. Just keep the camera on the actor. This isn't to say that Harper's direction doesn't have its moments of terrific creativity. We dispense of a sexual encounter from on high so even the most prudish viewer could not complain. In fact that drone reveal is a lovely early moment.
I would like to think that Wild Rose – aside from being a wonderfully entertaining movie – is the launch of a great talent. How Buckley now chooses her projects will be a great test. There are very few roles of a working class Glaswegian** would-be Loretta Lynn. I can't wait to see what she does next.
---