| | |
| --- | --- |
| | "Fear is my fuel and confidence is my enemy. If I'm on my heels, I get better ideas than, let's say, coming in to do the sequel to Jurassic Park. It's a lot better for me not to make the sequel to Jurassic Park." |
| | Director Steven Spielberg* |
Given the rather idiotic and frankly 'made-for-money' mess that was The Lost World: Jurassic Park, I can't say I disagree with the justly revered filmmaker. But how does even the mighty Steven Spielberg, Hollywood's most successful director, put his own signature on a film that is so well-known, based on a similarly well-known and successful musical? I would say it's not exactly Shakespeare but in a way it is. The narrative is based on and follows the same beats as Romeo and Juliet complete with warring 'families', needless deaths and a balcony love scene. Whatever the version, the story is densely packed with several thousand overdoses of testosterone, callow minds with childish ideas and tribal behaviour that's all too modern and it breaks my heart to say that, the world being mired as it is in identity politics. It's reported that Spielberg was moved to remake it as a warning against racial divides given how much animosity and division has been and continues to be stirred up by a certain ex-President. Robert Wise's hugely successful 1961 film adaptation clocked in at 2 hours, 33 minutes and change. Spielberg himself once said (less relevant these days, alas) that "…movies have to have a damn good reason to pass the 2 hour mark…" His own West Side was 3 minutes over the original (end credits these days are tortuously long) but the length was a problem for me for one very obvious reason. I knew the original film too well and the score and the lyrics. Spielberg's staging, while vigorous and entertaining, was not enough of a departure from Robert Wise's version to make me respond with unqualified enthusiasm despite its evident quality. While Spielberg's is more authentic, Wise's is more neon-soaked theatrical. That's not to say there weren't things to celebrate and the talent on display was more than worthy of the material, no question. But the poignancy and reason for this review from my personal perspective is the recent death of Stephen Sondheim who penned the lyrics to this particular story at the age of 27. Who knows anything at the age of 27? Yes, he subsequently criticised his own work (no Puerta Rican teenager could realistically reel off "It's alarming how charming I feel!") but as the man said, it was his big debut, his baby picture and no one retroactively airbrushes baby pictures. If this review makes you ask "Who is Stephen Sondheim?" I envy the journey you may take to find out.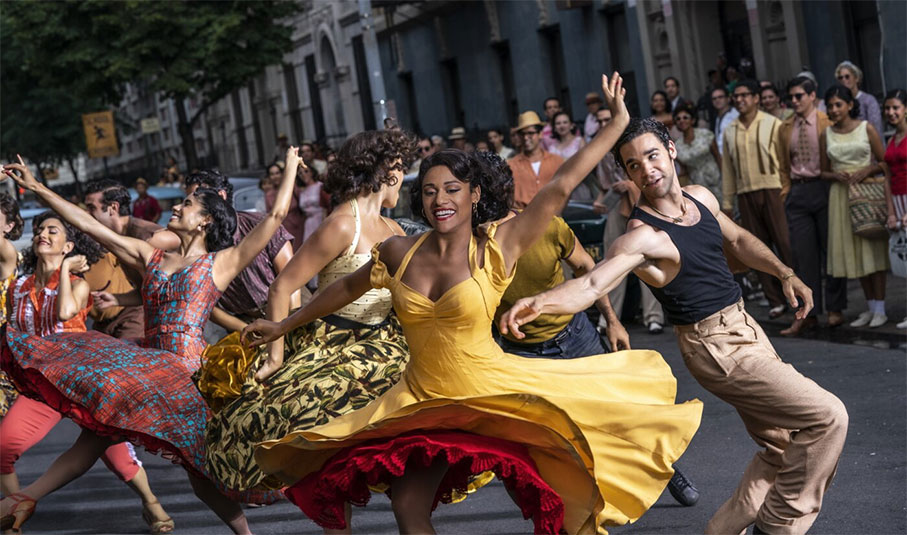 West Side's story is easy to summarise. A vast slum area of New York is being demolished to make way for what will eventually be the Lincoln Centre. The native inhabitants live uneasily side by side with Puerto Rican immigrants who came to the US after World War II seeking better futures in the 'land of opportunity…' It's fair to say that multiculturalism didn't quite work in 50's Manhattan. A gang of local New York youths, 'The Jets', prowl the streets and every bit of their individual self-worth is poured into devotion to the gang, as members are easily summoned with a click of the leader's fingers. After defacing a giant Puerto Rican flag wall mural Jackson Pollock-style, their rivals for turf and respect, 'The Sharks', violently intervene. The Puerto Rican gang is led by Bernardo, a legitimate boxer and a man fiercely passionate about his wife, Anita and sister Maria. The police are represented by an ulcer-suffering street cop, Officer Krupke and his boss, Lieutenant Schrank. Their wisdom and common sense are washed away by young male hormones as the boys yearn for an illicit, definitive rumble. Meanwhile, ex-Jet leader Anton (or 'Tony') is just out of jail for almost killing another gang member. Valentina, an elderly shop owner is giving him a second chance by employing him and providing moral guidance. Tony's best friend Riff wants Tony back in the game and invites him to a social dance organised to bring locals and immigrants together. Yeah, that'll work. At the dance, Tony is utterly smitten by Maria, a meeting that starts an interracial romance that will have devastating consequences. Now if you know Romeo and Juliet, you'll know what those last two words mean but I honestly think to enjoy Spielberg's West Side, you should be as spoiler free as you can be. My spoiling started the moment my sister walked in with the 1961 soundtrack album when I was very young. Go in cold and I'm sure you will be moved and entertained. If you are familiar with the material as much as I am, well, it's a different (West Side) story…
Steven Spielberg is 74 and his father, to whom West Side is dedicated, died last year at 103, months before the film was finished. I cannot imagine Spielberg ever wanting to retire and as far as I know, he's never smoked, doesn't drink and takes good care of himself. Having won the genetic lottery already, it wouldn't surprise me if he becomes the first 100 year-old film director still shooting on his feet. So is mentioning age relevant to judging his work on this film? Well, yes if only to marvel at the man's staying power. He's either so well culturally informed that he stays plugged in to the zeitgeist or he has an extra-large team of advisors. Stark evidence that Spielberg was itching to do a musical is front and centre in both the dance hall fight in the overlooked, overcooked and softly shot 1941 and of course his soon to be wife Kate Capshaw's 'Anything Goes' rendition from the opening of Indiana Jones and the Temple of Doom. Both sequences are manic delights and I remember one reviewer (was it Pauline Kael?) saying that the former was the best scene the man ever directed. Well, it's not just the show-off numbers that Spielberg's camera can barely contain and keep up with. The low key and higher emotional scenes also have an assuredness about them. The director sometimes gets out of the way and lets his stars take the weight. There's the 'smitten by a thunderbolt Tony sees Maria' scene which contains a Spielberg staple used here with grace and power. To prove why this technique works, let me go slightly off topic. In a 'Making of' programme about Gladiator, the TV crew cover the chariot whizzing out into the Roman Coliseum. Shot from a way away, it's singularly undramatic and frankly dull. Look at the shot in the movie and it's breathtaking. Why? Because Ridley Scott's camera bullets sideways with the blurred bodies of the spectators in front of the camera creating this whoosh of adrenalin as if you have to work hard to see what you are presented with. You only just glimpse the chariot itself. In a softer but no less dramatic way, Spielberg puts dancers moving left to right in the way of both potential lovers' eyelines. In following Roy Scheider running to the pond in Jaws, he employs the same technique, that dazzling rush of figures that invest the shot with so much more energy and urgency. Long-time collaborator, editor Michael Kahn (and co-editor Sarah Broshar) have cut this film in a delicious interlocking partnership with Spielberg's direction. Like most great work in the cutting room, the editing seems completely invisible. The choreography contains more than a whiff of the original 1961 choreography which is hardly a shock. Why fix that which… etc.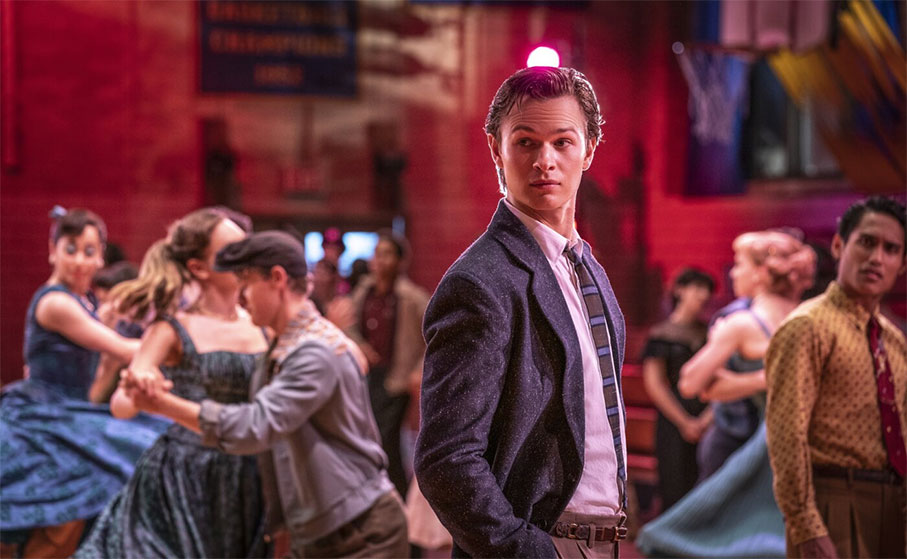 Despite my familiarity with the story, I have to give the cast credit for re-investing the drama with urgency and very real emotion. Standing tall, though not as tall as her co-star, is Rachel Zegler as Maria. She's a gentle revelation with a terrific voice and an innocence sometimes belied by the confidence that bursts out of her as a lovestruck teen. Baby Driver himself, Ansel Elgort, acquits himself with great gusto, totally convincing as a young man trying so hard not to repeat the harm he has done and finding himself in love and momentarily and horrifyingly out of control. Who'd have thought Elgort had a voice that represented Tony so well? The actor is carefully managing a fleeting Twitter-born scandal that some say may affect the film's performance.** Covid must be a bigger concern, surely? Initial box office has been reported as disappointing. I always felt in the original that Tony (Richard Beymer) looked more (what's the correct nomenclature? 'Latinx' has just been denounced…) 'Latin-American' than the gangs he was supposed to be fighting. It was such a thrill to see Rita Moreno, the original Anita, as Valentina. At a staggering 90 years old, she's sharp as a tack and as convincing as ever. Playing her role in the original is Ariana DeBos, delivering a big hearted, passionate performance aided immeasurably by dresses that could twirl for their country. The two gang leaders are also notable. Mike Faist as Riff, erstwhile leader of 'The Jets' is so much more sensitive than his role dictates but he cannot get past the need to dominate, a need shared by his counterpart, Bernardo played by David Alvarez. Alvarez is perfect in the role, pugnacious, passionate and he holds the screen with ease. He glowers as if pissed off with the actual camera shooting him. More due to their scant minutes of screen time, the other gang members never stand out except perhaps for Anybodys (that's the character's name played by Iris Menas) a trans character who works all through the film trying to prove themselves as an equal gang member. They get their moment.
Perhaps 2021 is too far away from 1961 for West Side Story's message and entertainment value to be embraced as lustily as it was. The film's quality is undeniable and its social message is always relevant. Leonard Bernstein's score is as punchy and muscular as ever and Stephen Sondheim's witty and smart lyrics elevate the material but it cannot be denied that cinema struck a Covid shaped iceberg early last year. I'm not sure massive blockbusting hits can ever knock on the 'Billion Dollar Club' door anymore which I'm sure may be on a certain James Cameron's mind as he gears up to release his first Avatar sequel in a year's time, a sequel to a film he made 12 years ago… It would be nice to be back to normal by then but I suspect Covid has irrevocably changed 'normal'. Stay safe, everyone.

Postscript:
After working with Anthony Perkins on Psycho II (a good friend of Sondheim's), director Richard Franklin had tapped into a line of communication with a man who impressed him greatly. Sondheim's replies to Richard's letters in the mid-80s were always terse without rudeness and I was always amazed at how communicative you could be with just a smattering of words. Richard passed that enthusiasm for the composer/lyricist down to me exposing me to his work via CDs and long chats about his genius in between camera set-ups. Sondheim had just won a Pulitzer prize for the extraordinary Sunday in the Park with George and was riding high. While he never reached the exalted heights of financial success by a certain Mr. Webber, Sondheim was an artist who examined the human being through a myriad of eclectic productions and created quite profound work illuminating aspects of that particular crafty ape's character that most would not choose to stage. He was like Heineken, refreshing the parts that other musical theatre composer/lyricists cannot reach. The great man has left the theatre at the age of 91 but his work will live well beyond him. If you're unfamiliar with the man and his body of work, I invite you to take a look at this as an introduction. Bless you, SS.

Why Sondheim's Music is So Addictive.
https://www.youtube.com/watch?v=HDEAYJcenI8
---