An older sister is a friend and defender – a listener,
conspirator, a counsellor and a sharer of delights.
And sorrows too.
Pam Brown
In Ursula Meier's latest, the titular sister played daringly by Léa Seydoux proves herself to be an expert conspirator who commands rather than consoles, and takes rather than shares.
Louise lives with her younger brother Simon (Kacey Mottet Klein) in a barely furnished tower block apartment at the foot of the Alps, scarily similar to the concrete prison Isabelle Huppert transformed her family house into in Meier's debut Home. This time it's not madness that sees them holed up in such depressingly barren quarters, but hand to mouth poverty.
Louise doesn't protect or defend her little brother at all, dumping him whenever some jerk comes along for whom she can spread her legs, leaving him to fend for himself. As little man of the house, it's Simon who does all the cooking and cleaning as well as providing his sister with food, clothes and gifts (including the seasonal winter jacket she wears throughout), while Louise makes a conscious decision not to seek work.
Simon has acquired a season pass to a luxury ski resort up in the mountains and while the tourists are out on the slopes he rummages through their belongings, stealing sandwiches, fruit and whatever he can find for dinner. He pays the bills by swiping unattended skis and other gear, which he stockpiles in secret hiding places at the back of the resort before selling it on at marked down prices to the next influx of newly arrived guests. He also does a roaring trade at home, pawning 'like new' skis off to the young boys in his building, careful to sufficiently dent and scratch them so that they don't look like stolen goods.
He takes all this risk just putting food on a table for two in the hope that he might catch the attentions of his sister over dinner, right before she's off out with the latest boyfriend. In their scenes together which have the sense of being on a timer, Simon desperately attempts to create moments of emotional intimacy and physical tenderness between them, but Louise cuts him short whenever he draws too near or gets off topic about what he's brought her or might bring her next time he treks up to the mountain.
Conversation being in short supply outside of his entrepanurial transactions, young Simon continually asks questions whose answers might provide even a shred of evidence that his sister loves him anywhere near as much as he does her. "I'm almost as tall as you. What will you do when I'm as tall as you?" he asks, plying her for acknowledgement or maybe even a loving tussle of his hair. Instead, his observations are coldly ignored and reasonable requests to spend quality time together are flatly denied.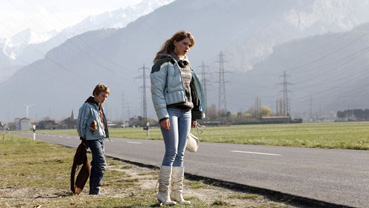 Louise's revolving door of boyfriends mystify Simon, how each of them make her smile in a way he's never been able to, and so he starts taking bigger risks for bigger finiacial reward. Cashing in a momentary display of affection after he tells Louise to go out and treat herself to a nice pair of designer jeans, the smile he's been waiting for has barely left her face before she's ditched him for her next fling. A scene in which Simon barters obscene amounts of money just to spend the night in her bed show just how love-starved the child is, and for all his street smarts and fierce independence, it's a stinging reminder that he is just that – a child. The fact that he's allowed to go on at some length, continually uping his price, exposes his sister for a user of the first order, obviously considering taking his money, before pretending to be offended by his offer. Laying bare the full extent of Louise's gauche cruelty, the camera observes rather than implicates, with a lack of sentimentality that Michael Haneke would be proud of. As in Home, Meier shrewdly intellectualises emotional attachment at its most warped, yet it's a scene the rest of the film never quite recovers from or lives up to.
No matter how much Louise spurns him, Simon just won't quit her. Even when Gillian Anderson appears as a fairy godmother of sorts who instantly takes a shine to the boy, our hopes that she might whisk him away to a better life are never entertained by Simon. The resort itself is something of a fairy tale dream, wide open spaces and clear blue skis allowing protagonist and audience alike to inhale deeply, away from the suffocating grey of the cramped industrial complex down below. Despite his formative years and his aching to have someone as caring in his life as Anderson's Kristin, Simon is all too aware that they're from different worlds and hers is one he can never be a part of. Instinctively he knows he belongs with Louise and will have to make do with what he has. It's this sense of purposeful dignity that stops the film short of Dardennian kitchen sink misbralism, though the similarities are immediately apparent, not least in the way the camera hangs so closely on the shoulders of actor Kacey Mottet Klein to whom the film belongs.
As Louise, this is the kind of darker leading role that fully deserves Léa Seydoux and her thousand yard stare, but it's Klein who is unforgettable here, taking the psychologically rich complexities of a very adult role in his stride and equally as impressive a child performer as Beasts of the Southern Wild's Quvenzhane Wallis, hotly tipped for Oscar next year. No doubt, when it came to being pushed into emotionally compromising positions, it helped having worked with Meier on her first film, but his achievement here is no less remarkable for it.
While nowhere near as dangerously unhinged as her debut, Sister is equally concerned with the extreme behaviour of characters in desperate circumstances and firmly establishes Meier as France's first lady of family dysfunction, peering through the cracks of the most cracked families.
---

Interview with writer-director Ursula Meier at the 56th London Film Festival, conducted by Timothy E. RAW. The video has been optimised to be watched full screen at 720p or 1080p, which can be accessed via the comntrol bar when the video is played.
My thanks to Natasha Unalkat at Premier PR for setting up the interview.
---
Sister is on selected release in (London only) this week a≠t the Ritzy Picturehouse, Odeon Covent Garden and the Curzon Renoir.
The number of locations and cities will expand throughout the next two weeks and full listings can be found HERE.