Note: This is a reposting of a review from the 2012 London Film
Festival to co-incide with the film's UK cinema release
It was no surprise that Mike Leigh was in the audience for the UK Premiere of Scott Graham's debut feature, Shell, during the 2012 London Film Festival. There is an element of improvisation about the film that can only have appealed to him. The film clearly appealed to Festival programmer Michael Hayden too. He introduced the film, in glowing terms, as one of his Festival favourites. Like Dominga Sotomayor, Scott Graham is unafraid of probing the darker, deeper currents of human relations and of denying the audience a neat backstory; like her, he displays a mature grasp of landscape and character; and, like her, he drew on his own experience for the film. Shell was developed from Graham's 2007 short of the same name, partly at the Binger Filmlab in Amsterdam; and co-funded by the UK Film Council, Creative Scotland and ZDF-Arte. It is a study in isolation that explores transgressive love, the ties that bind, and, ultimately, another watchful woman's journey to maturity and independence. It is another deft film about growing up, the steady collapse of a relationship, and about seeing: seeing through female eyes, through windows, and through relationships.
Scott Graham has described his film as, "a kind of road movie . . . a roadside movie," For Shell, he constructed a garage near Dundonnell, deep in the Western Highlands, and the film often feels like a windswept Western. The film's heroine, Shell (Chloe Pirrie), lives and works at the garage with her taciturn, damaged father, Pete (Joseph Mawle). As in Thursday Till Sunday, back-story information is released sparingly, allowing us space to think for ourselves. We learn that Shell's mother left them many years earlier, that Shell left school early and was subsequently taught at home by Pete, but little else. Pete's accent betrays his Yorkshire origins, but beyond that we are left to guess as to what lead to his retreat from the world. The claustrophobic intimacy of the family car in Sotomayor's film is replicated, here, by Graham's decision to locate his story exclusively in and around the remote garage. The magnificent mountains that encircle and enfold the garage intensifies the sense that the pair are trapped, and we, to our riveted delight, are trapped with them.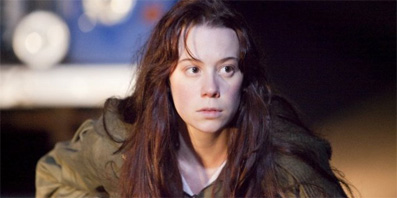 Although Shell's isolated life at the garage is unexciting, she seems content to serve occasional regular customers such as lonely divorcee Hugh (Michael Smiley), and to serve her father's meals. As the story unfolds against a backdrop of daily domesticity and a ruggedly beautiful landscape, it becomes apparent that father and daughter need each other in unusual ways. Shell is always on hand to help Pete when he has one of his occasional epileptic fits and is determined to stand by him, not least because her mother had deserted him. A local likely lad, Adam (Iain de Caestaker) takes a shine to Shell, but she initially keeps him at arm's length, because her father is the unwilling and unwitting focus of her awakening sexual desire. Graham treats that daring incestuous undercurrent, which arises naturally as a logical possibility from his script, discreetly, without descending into prurience. Graham's treatment of landscape is similarly discreet. He worked for the Scottish Forestry Commission while awaiting the green light on his debut, and, although his love of landscape is evident, he doesn't descend into mawkishness. The Highlands are a howling presence in the film, and German cinematographer Yoliswa Gärtig renders it beautifully in a series of wide-angle,fixed-position shots, but, to Shell and Pete, it's just home, a symbol of their self-sufficent isolation. 
As the tension in the father-daughter relationship increases, a couple of Edinburgh day-trippers, Robert (Paul Thomas Hickey) and Claire (Kate Dickie, star of Andrea Arnold's Red Road) call at the garage for help. They have collided with a deer, which lies twitching in its death throes on the road. Pete matter-of-factly cuts its throat to end its agony. Pete subsequently skins the deer and its flesh goes in the freezer. Shell later cooks the venison but cannot bring herself to eat it. In a deft touch, she tells Pete: "It would be like eating my own flesh and blood." When the couple return to the garage the following day, to take photographs of their wrecked car for an insurance claim, Claire shows genuine maternal concern for Shell, suggesting something of what has been missing from Shell's life. Claire leaves her a copy of Carson McCuller's novel of alienation and isolation, The Heart is a Lonely Hunter. It is a smart, knowing touch that made me wonder if Shell doesn't contain multiple cinematic allusions, perhaps to Bill Douglas's My Childhood, Graham's favourite film, perhaps to Wim Wenders' Paris Texas, perhaps, even, to Frantisek Vlácil's Marketa Lazarová. It certainly recalls the edgy quasi-documentary style, as well as the tautness and toughness of Perry Ogden's Celtic gem Pavee Lackeen.

Graham's film is enriched by flawless performances from all the actors involved. Pirrie's is yet another astonishingly accomplished debut. She  perfectly captures Shell's complexities and contradictions; her self-possession and vulnerability, her naivety and durability; while Mawle delivers an understated but compelling performance as the garrulous but gentle Pete. The supporting cast are equally convincing. Sound Editor Douglas McDougall, too, plays an important part in the film's success. McDougall has previously made telling contributions to Peter Mullan's magnificent Neds and Duane Hopkins' brilliant debut Better Things; his craft and experience is evident in his work on the whispering winds and staccato dialogue that punctuate Shell. It is, though, Scott Graham's assured direction, his vision and his daring that deserves greatest praise. The film's redemptive climax ensures that this occasionally dark film ends with a smile on its face, and there'll be a smile on many a face when Scott Graham returns, the sooner the better, with his second feature.