Jason Reitman's follow up to Thank You For Smoking (2005) is a touching comedy about a 16 year old girl who gets pregnant and her subsequent way of dealing with the situation. Juno stars Ellen Page in the title role, who was wonderful in the very different Hard Candy (2005) and it was her inclusion in the film that got my attention.
I saw this film in the new local Vue multiplex, and if filling the pockets of a company that is systematically killing independent theatres wasn't uncomfortable enough for me, the audience for Juno were hardly appreciative. The wit and subtlety of this rather endearing movie was completely lost on the bunch of whispery, fidgety, humourless individuals sitting around me. I suppose that's what happens when an independent film is thrust upon the mainstream.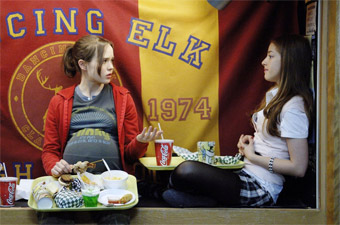 But never mind, Juno is a romantic comedy unlike all the Hollywood nonsense over-saturating the screens this Valentine's time of year, and rarely not totally redundant of intelligence. It has real heart and in its understatement conveys a believable, if a little quaint, story of a girl not only with the bothersome hurdle of adolescence to overcome but must do so 'with child'. As well as the tomboy humour of Juno herself (it's nice to see another side to Page's acting talent after her dark portrayal in Hard Candy) there are some great supporting characters – J. K. Simmons and Allison Janney are great as Juno's father and stepmother, and Jason Bateman is equally convincing as Mark Lorring, one of the couple who want to adopt Juno's baby when born. He does the Peter Pan complex thing with an earnest vulnerability, and his scenes with Juno are at once touching and slightly uncomfortable.
Yet it is Jennifer Garner who surprised me the most with her appearance as Mark's wife Vanessa. As a woman who so desperately wants to be a mother, she stifles her husband's independence without realizing. There is such a tenderness to her performance it is hard to imagine this is the same actress who has appeared in some of Hollywood's most vacuous films in recent years. One scene in particular when she speaks to the baby in Juno's stomach in a crowded mall is especially heartrending. Juno's object of affection, Paulie Bleeker played by Superbad's Michael Cera is innocent and almost adorable, yet anything but a potential father. Although Cera plays the character well I still cant help wondering what Juno sees in the drippy kid (then again, I've never been a hormonal 16 year old girl!)
The culmination of understated performances and simple although assured direction create a film that had an unexpected effect on my usually unsentimental countenance. Admittedly, this is not a film for everyone, it's inclusion in the major awards ceremonies as the indie wild card has fostered a false impression of the film as a mainstream pleaser when in actuality the film bears more resemblance to the more optimistic side of European cinema. Which is just fine by me, and, I would think, by the majority of patrons of this site, but obviously not the audience I was part of when viewing it at the cinema. Also the music, a minimal acoustic guitar/voice line up of songs by the indie, lo-fi cult singer Kimya Dawson, is an acquired taste, and I found myself wincing at its cutesiness on the odd occasion, although on the whole it provides a refreshingly offbeat soundtrack well in keeping with the general tone of the movie.
I recommend Juno to the open-minded but can't help feeling that I wanted to like it just a little more than I actually did, despite its heart-melting effect on me!