Often some of the best films around are the independent ones that can slip under the radar of the unvigilant cinephile, and one of the main agendas of this site is to catch such films and give them the exposure they deserve. Although you can never get them all, and one such example is the fantastic Hard Candy, released over here in the early summer of 2006, yet something I only viewed for the first time last Autumn. I probably would never have seen it if I wasn't snared by it searching a local DVD rental for something interesting and a distant bell rang when reading the film's blurb. I was expecting something more in the horror genre, but no such generic categorization can be easily applied to this intelligent ball of tension.
This is independent American cinema at its best and most fiercely un-Hollywood but without any arthouse pretension or narrative absence or otherwise complexity. The story is simple. A thirty something man meets with a fourteen-year-old girl after a few weeks of chatting on the internet. After a drink in a café they go back to his apartment, but the predatory emphasis soon shifts when the girl proves not to be as innocent as she first seems.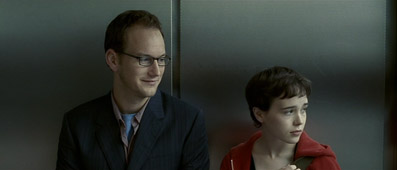 If you have not seen this movie and don't want it spoilt I strongly urge you to watch it before reading on. To bypass the spoilers click here.
This simple premise is the key to the film's success but could so easily have been its failure if not handled so perfectly from those involved. A largely debut affair, Hard Candy was the first feature for producer David W. Higgins and TV writer Brian Nelson, not to mention director David Slade and his team, who cut their teeth on commercials and music videos. It is this freshness that translates over to the film, creating something made to show off the multitude of new talents present on the production and put their particular stamp on the film.
Slade crafts a beautiful and clean mise-en-scene that reflects the simplicity of the narrative, whereas Nelson's script fills the scenes with biting visceral dialogue, brilliantly performed by the two lead actors, Ellen Page and Patrick Wilson (both unknowns at the time, but are now climbing the Hollywood ladder – check Page out in Juno, released in February). What really comes over and makes these characters work so well in such a claustrophobic atmosphere is both actors honesty. Where Wilson plays the suspected paedophile and possible murderer with an admirable humanity and vulnerability, Page juxtaposes this with an equal performance that transcends her age in a reflection of her role. The girl, Hayley, the heart of the movie, is as intelligent, beautiful, resourceful and enigmatic as the film itself. Wilson's Jeff is so raw and human one finds it a struggle to not sympathize with this man who we know to be despicable.
It is in this uncomfortable grey area that the real force of the movie resides, and splits audiences. What Hard Candy does, which is the job of any respectable art form, is to ask questions of the viewer, and asked here is nothing less than the challenging of what it is to be human. Should we sympathize with someone of bad morality as our culture has forbidden us to do? But Hayley too subverts what we know to be right. Should we invest emotion in either character at all? And what is so clever about the film is that the form and content work so well together, and the performances spring out so agonizingly, that one cannot fail to invest emotion in these people, even if it happens to seem misplaced. As if that is not enough there is the argument of it as a feminist picture, with its overt emasculation sequence and female antihero.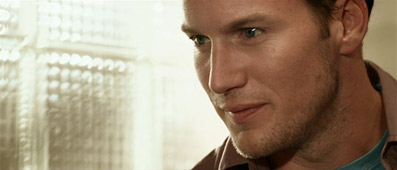 Technically David Slade has made an arresting debut. A two-hander like this could so easily become stale and uncinematic, but here there is always something visually striking to compliment the performances. The stark and simple palette of the film is so firmly European looking as to evoke the visual style of Krzysztof Kieslowski's Three Colours trilogy in its uniformity, its bold use of colour could at times seem to come out of a Pedro Almodovar movie, although its matching of foreground and background colours is something so rarely seen I can't place a comparison (Jeff's skin pigment with the bedroom wall, Hayley's juice with the yellow of the photography screen). There are also obvious similarities to Michael Haneke's wonderful Funny Games (remake out soon, would you believe!). Lack of music and an inspired use of the jump cut cements Hard Candy's style so far from a mainstream picture one could even make the leap to categorise it with certain elements of the French New Wave in favour of American indie such as Jarmusch, Lynch or the Coens' early work. Much of this European influence in style no doubt comes from having an English director and editor, but kudos to the American Higgins and Nelson, who began the project, for striving to make such a thematically 'difficult' film.
Coming back to technique, on Hard Candy Slade was one of the first to bill a digital colourist in the opening titles of a movie, due to the huge amount of digital work that went into early post production. The man in question is Jean-Clement Soret, who did similar work on Danny Boyle's 28 Days Later and later Sunshine. The process begins with the film negative and is then digitally manipulated to create a second and reworked negative to be lab processed. It is a relatively new method and gives the opportunity to shoot on film and reap the benefits of digital correction at an earlier stage of post production. It is subtly applied in this film, giving texture and adding atmosphere by draining or pronouncing colour, something that works as an undercurrent to the cinematography and lends a further dimension to the tone of the film. This works with the sound to heighten tension, for example when Hayley becomes angry, sounds in the room are amplified and colour is drained from the frame. All this enhances the great performances.
In fear of never ending this review I will conclude. What has been made here is an independent film with an independent soul, and one which I feel is a crime to have been overlooked by many. The culmination of many fresh voices in their craft and a thoroughly thought through execution makes for a film to get fans of clever, provocative and marginalized cinema excited. See my review of David Slade's second feature 30 Days of Night to see where he went from here. A man who has so far made interesting decisions in what films to direct, and has kept his team close by, could Slade make us Brits proud and become a prominent and distinctive voice in the thinking man's American cinema? Lets just hope he doesn't go down the same path as his Hollywood buddies Tony and Ridley Scott!
A fine anamorphic 2.35:1 transfer with difficult material, the widespread use of single colour walls a common problem for DVD transfers but coped with very well here. The colour graded picture looks excellent throughout, with a sharpness and richness not readily associated with independent cinema.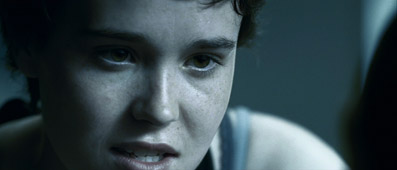 There are two audio options, Dolby stereo 2.0 and surround 5.1. Apart from differences in sound placement and an occasionally fuller sound and bass on 5.1, there is not a lot to choose between them.
There are two audio commentaries on the region 2 disc. The first is with director David Slade and writer Brian Nelson. This is a good commentary track with interesting comments from both director and writer. They talk passionately about the project which brought them together and has now grown to a two film collaboration (as Nelson also penned 30 Days of Night). The subject matter, performances and technical areas are all covered here, although a little too much time is taken praising Sandra Oh, whose cameo as Jeff's neighbour is not as marvelous as they seem to think.
The second commentary is with the lead actors, Ellen Page and Patrick Wilson. They provide an insight into their own experiences on the three week shoot and generally come across very well. It is Page's intelligent observations that stand out and make you realize just how talented the young girl is (although younger then, but still only 20), as much of the time Wilson is playing catch up to her remarks. It is good to find out how much Wilson physically threw into the film – this is mentioned on both commentaries, but rather humbly dismissed by Wilson himself.
Creating Hard Candy: Making of Documentary is a methodical and thorough insight into the film from producer David W Higgins' initial concept through to screenings and distribution. There are interviews with producer, writer and director peppered throughout the feature as well as a breakdown of some of the sound and editing techniques used and even advertising and marketing is covered. The polemic reaction the film caused on its release is also mentioned, but this theme has its own featurette named Controversial Confection, which is really a spin off from the making-of documentary. You know how it is, create a separate feature to make the DVD package look more impressive when in fact all the interview footage was clearly shot at the same time as the main documentary. Yet its silly layout and presentation does not take anything away from the material. Everything said provides an intimate insight into the picture which, although occasionally repeating what was detailed on the commentary tracks, is still of some value. Look out for Slade's interview clips, the way he moves around is a sure sign the man is not used to being interviewed (I pity the sound recordist)!
There are deleted scenes and outtakes as well, a couple referenced in the actors' commentary. It is always interesting to see what was left out of the finished article, and most of these scenes just serve to underline narrative aspects that benefit from the absence of these scenes. For example the scene where Hayley phones her mum to say she will be spending the night at a friends, if included in the final cut, would have broken down Hayley's enigmatic persona. There are also a few where the dialogue differs from the definitive.
Lastly a nice DVD-ROM feature allows you to pop the disc into your PC and read the entire script, together with directors notes and storyboards! There are even a couple of examples of prior drafts. As one with a special interest in writing and pre-production artwork this was an unexpected delight for me, and it serves to wrap up the neat little package rather nicely.
An unexpectedly well stocked disc, although the one thing I would criticize which is most out-of-character for me is a lack of trailer(s). I usually find these additions woefully pointless, but my appetite was whet for the trailer in the making-of feature where they discuss how good it was and show tantalizing glimpses of it, to sadly be left out of the extras. This is the only thing that makes this edition incomplete for me and would probably not have even crossed my mind if it had not been mentioned in one of the other features.
A damn worthwhile addition to the collection of an independent cinema fan or someone who just likes good, intelligent films. Also it is now available almost anywhere at a bargain basement price, so there really is no excuse to not get your hands on a copy!