"I had this chat with a journalist from The New York Times the other day and something resonated when he said to me he'd seen the movie and he'd liked it very much – he said "I can't wait to take my twelve year old daughter, it'll make her feel like the world is safe again." And I thought, 'Crikey, we must be doing something right.'"

Director, David Yates acknowledging the very odd world

we now live in.

*

(and did he actually say "Crikey!"?)
Penned a few months before we were all lurched by force in to the post 9/11 world as a money spinner for the BBC's Comic Relief, was the small, red, faux-clawed tome Fantastic Beasts And Where To Find Them. It was an off-narrative piece of Jo Rowling's imagination set apart from the immediate Hogwarts based Potterverse, a compendium of magical creatures that was as far from a movie idea as a tone poem is from a full Wagnerian opera. It's a charming read dotted with Harry and Ron's handwritten scribblings and addendums on the creatures listed. Considering their own first hand experience of the number of beasts they've had to deal with during their time at school, they are both uniquely qualified to add their bit. There's no narrative as such, just a charming trip through the creative, playful and witty mind of a singular author. Ms. Rowling seized upon the character of Newt Scamander ('the author' of the textbook) as a starting point for a new series of Potterverse movies. She was spurred on, no doubt, by Warner Brothers executives' understandable lust for anything this remarkable woman can adapt into a story and she has created a rich, multi-layered fantasy which is entertaining, exciting, full of terrific characters, allegorically political in places and so good natured without being sentimental or cloying. I had one issue (OK, two) but these hardly got in the way of a really fun night out.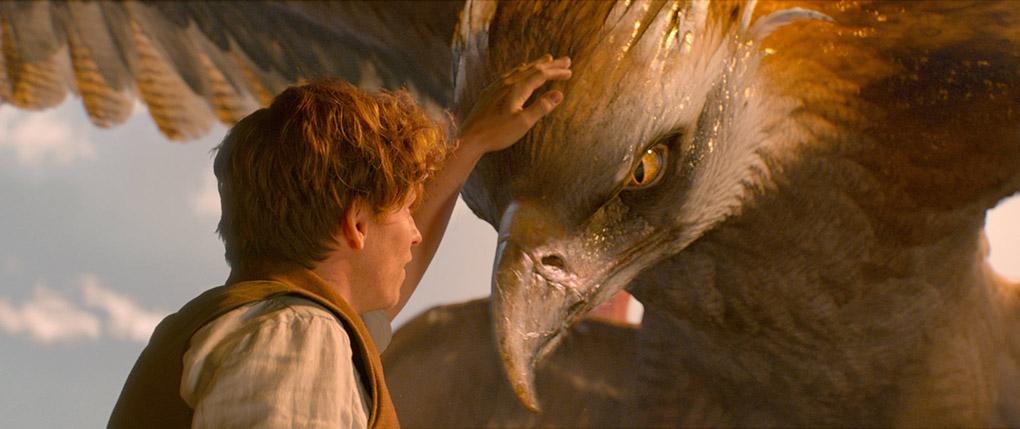 It's 1927, New York City. Newt Scamander (a dizzy and delightful Eddie Redmayne) has come to America with a suitcase full of magical, misunderstood creatures needing a little more research before he completes the work he becomes famous for. Ravaging the island is an explosive and mysterious force no one understands and the American magical community is trying to keep it contained. Over a mix up of suitcases, a few of Newt's creatures escape and he is compelled to get them back into his care with some wide eyed muggle help from a down on his luck would-be baker, Jacob (a really heartfelt and touching turn from Dan Fogler). God, it's refreshing to have a heavier set man in a movie. Yes, he's the startled muggle throughout and the comic relief at times but he steals the film's most emotional moment. After an incident at a bank, the mismatched pair is taken in by witch-sisters, one of whom, Tina, an anxious and nervous Katherine Waterston, is a recently demoted Auror, a dark arts investigator, working for the Magical Congress of the United States of America (MACUSA). Anyone familiar with the Japanese underworld will smile at the acronymic wordplay. It also gives the organisation a quasi-villainous sheen. Lisa's sister Queenie, a bold, good time girl (Alison Sudol channeling Marilyn Monroe) also happens to read minds and falls for the pudgy Jacob. Playing what amounts to the villain narratively speaking is Perceval Graves, a director at MACUSA who tracks down Newt but is also involved in finding a magical creature for himself. Colin Farrell seems to be having a ball even though he did say, and with good reason echoing Gary Oldman's similar sentiments shooting Order of the Phoenix, "You can only twirl your wand in your hotel room for three or four minutes before you feel completely ridiculous." Scamander is arrested and called to account despite having nothing to do with the strange force ripping Manhattan apart. To reveal more of the plot would seem mean-spirited.
So, to the titular beasts; one, claws down, steals the show. While the huge ones are impressive and get a full musically epic introduction, with sound effects playing a crucial role in selling their reality, the smaller ones still shine. But for me by far the most entertaining was the squirrel-sized Niffler. Is it a coincidence the BBC posted a story on its web site on Beasts' opening day about the birth of echidnas in Australia? Nick-named 'puggles', a very Potter word to start with, they are the spitting image of the mischievous beastie. This animal loves shiny objects and stuffs them into what seems like an infinitely deep, magical, marsupial pouch. The funniest moments in the movie often involve this duck-billed little creature. The humour is drip-fed throughout and as much as it should be a ridiculous cliché, we all seem to still find a muggle's gawp at the magical really entertaining. It's not as if we've not seen screen magic before. It almost feels like we love having people join our club. It's part of the initiation process of a new companion for the Doctor. We just so enjoy seeing them react to the Tardis. "But it's so small…" There is a moment in the film that I actually found shocking. It's the end of an interrogation where part of me was "Woah! You can't do that!" but they did.
I must admit to a mental fist pump when I fond out that the great James Newton-Howard was scoring the movie. From the first trailers of Philosopher's Stone on hearing that children's tinny motif, I thought "Oh, that's not the main theme, is it?" I've never liked it, not in the way I used to embrace Williams' dazzling output. Due to the success of the franchise, we have to have it to identify the Potterverse but Newton-Howard's brief or his own choices were spot on this time out. We hear, with a slight minor key change in one note, the familiar music box twinkle and then Newton-Howard signs his name writ large with a triumphant exultation over the title, an orchestration bearing a strong link to one of my favourite scores of his, Signs. It's a thick, lush and exciting score, atmospheric, adrenalin-tickling and celebratory. And it remains uniquely tied to the Potterverse because Newton-Howard is a sensitive artist who can channel Williams, or certainly a flavour of his early scores for the franchise. I have to admit, to my partner's disbelief, that I've had it on for hours on a loop. Yesterday too. A new James Newton-Howard score is like an emotional gift and I can usually glean one or two moments from them that make the heart soar. There are two cues on his score to After Earth, a not-great movie, OK but what utterly sublime music.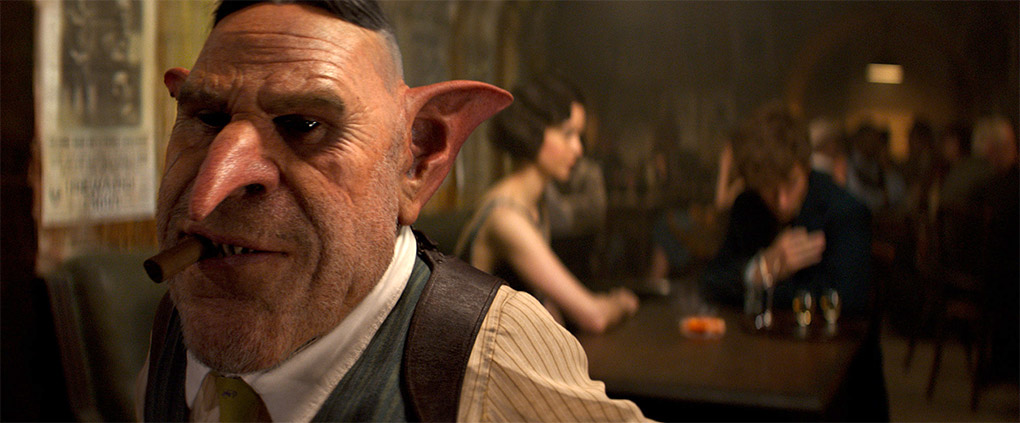 So, to those two issues; the first is petty and remarkably tiny. Ms. Rowling went to the trouble of really thinking about the wizard world's different language requirements and riffing on old words and unearthing real unused, old world terms ('Dumbledore' is an archaic term for a bumble bee). With all of her demonstrable fertile imagination and wit, all she could come up with as the American version of 'muggle' was 'No-maj'? No-maj, 'No Magic'. Uh. It's been suggested by my significant other that this word would have been coined by an American wizard... OK. So it's analogous to a bad pop group in a movie, one that is supposed to be perceived as a bad pop group. It just doesn't sit half as comfortably as 'muggle'. My second issue has more to do with the monkey climbing out of the well. Remember the riddle? It climbs three feet but slips back two? Well after Alice Through The Looking Glass and Doctor Strange, I wrote a prologue in my review of the latter praising narrative with CG over computer-generated excess. Well, I was prepared for the fantastic beasts to be CG animated and they were terrific (I particularly loved the giant dung beetles pushing their giant dung balls in the background never referred to, just there – lovely). But the parasite, a rage monster of fluid form vents destruction on a huge scale and its style was so reminiscent of a certain Zach Snyder, it seemed he'd stepped in to direct momentarily while David Yates wasn't looking. There are many moments in the movie saddled with over produced destruction CG that had this audience member sighing with frustration. Rowling's gift is with sharply defined and thumpingly satisfying narrative, oodles of wit and full-bodied characters but David Yates was probably contractually obliged to deliver CG destruction by the square mile. To be fair to the creatives, they signed off on the script before that turgid grind of overblown destruction, Batman vs. Superman took this sort of action to a tipping point.
No matter. Minor carps aside this is a delightful addition to the (Chudley?) canon, a whimsical and idiosyncratic hero, a whole slew of extraordinary creatures, friends in need and the jumping off point for what promises to be a solid five part series. It also comes along at a time when we most need our popular entertainment to point out that just because something is different, exotic or unusual doesn't mean we have to build a wall to keep it away or legislate against it. 2016 has been a singular and grim time for the human inhabitants of Earth and Fantastic Beasts And Where To Find Them is a twinkle of light in what seems like a much darker world. Take its message to heart and let's make 2017 the first step against those who would spread fear and intolerance as if the world doesn't have enough of those. Bravo Jo.
---
* http://www.denofgeek.com/uk/movies/fantastic-beasts-and-where-to-find-them/45383/david-yates-interview-fantastic-beasts-and-where-to-find-them