| | |
| --- | --- |
| | "The seventh art, that of the screen, is depth rendered perceptible, the depth that lies beneath the surface; it is the musical ungraspable." |
| | Germaine Dulac |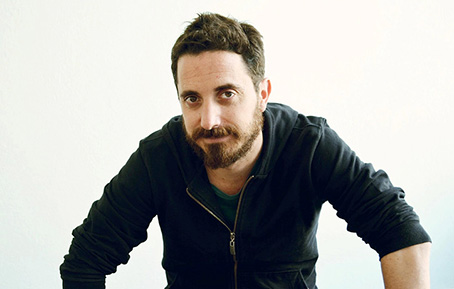 Pablo Larraín is a surprisingly amiable and charming chap with a terrific sense of humour and a winning smile. I say 'suprisingly' because his films tend to be sombre and cynical. They are, in the choice Scottish phrase, a wee bit dreich. One might expect him to be an irascible misanthrope. His critically acclaimed Pinochet trilogy [Tony Manero (2008), Post Mortem (2010) No (2012)] may sit alongside the work of his compatriot Patricio Guzmán among the great achievements of modern cinema but, despite a turn towards the light in its upbeat final instalment, it is dark, often very dark That is just as it should be, for its downright downbeat subject, as with most of Guzmán's work, is one of the more barbarous tyrannies of the late 20th century: the 17 year-long military rule of the infamous Chilean dictator who betrayed and destroyed Salvador Allende in 1973 – with a little help from his equally infamous American pals Henry Kissinger and Richard Milhous Nixon.
Jean-Luc Godard famously said that filmed stories "should have a beginning, a middle and an end, but not necessarily in that order." Larraín's Santiago-set trilogy tells the story of the Pinochet era in chronological order, but is, otherwise, far from conventional. Tony Manero revolves around Raúl Peralta, a pallid sociopath played with staggering conviction by Alfredo Castro – one of several actors who've accompanied Larraín on his journey to international renown and grown in stature alongside him. Raúl's fatal obsession with the nifty dancer immortalized by John Travolta in Saturday Night Fever (1977) operates as a telling metaphor both for cultural imperialism and the psychosis that engulfed Chile under Pinochet. In Post Mortem, Alfredo Castro plays another murderous nihilistic loner. Mortician Mario Cornejo, like Raúl Peralta, turns a blind eye to evil and looks after number one while the corpses pile up around him. The mood brightens in No, which delights in the 1988 plebiscite that removed Pinochet from office, but even this sunnier film insinuates unease through the ambiguous form of its mercenary hero, ad man René Saavedra, and ends on a cynical note by suggesting the status quo and resilient power structures of society will, ultimately, emerge unscathed.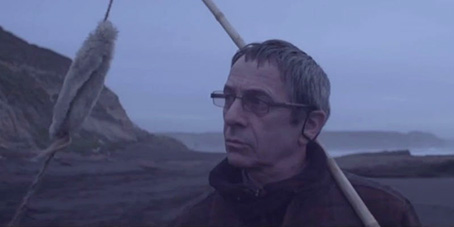 In presenting dark portraits of damaged individuals in thrall to pathological obsession, those three films pass collective comment on a society gone mad and incapable of resolving its own inner conflicts. Larraín's latest film, The Club, tackles subject matter no less urgent and nauseating: the sexual abuse of children within the Catholic Church and attendant abuses of trust and power. Larraín's beach house in a sleepy fishing village south of Valparaiso, here, plays a grisly role as a dingy safe house for four paedophilic priests. Squirreled away by the church in a systematic cover up operation, the priests are efficiently contained and controlled by their sinister caretaker, Sister Mónica (played by Larraín's wife, Antonia Zegers). They even have a hobby, bless them, to relieve their boredom: greyhound racing. Their peaceful existence and the church's damage limitation strategy, though, are soon imperiled; first when a new priest, Father Lazcano (José Soza), joins the club, and then when one of his victims, Sandokan (Roberto Farías) arrives to remind him of his crimes.
After a shocking act of violence, a machiavallian church inspector, Father García (Marcelo Alonso), is dispatched to contain the situation, prevent unwelcome publicity, perhaps even close the safe house down. Thereafter, Larraín take us ever deeper into the heart of darkness. Working from a compelling, extensively researched script (co-written with Guillermo Calderón and Daniel Villalobos), he gradually builds up a pulsating atmosphere of suspense and a compassionate portrait of this complex community of sinners. He is, once again, aided by the incomparable Alfredo Costa, whom Larraín has called "the Antonin Artaud of Chile" and who convincingly plays Father Vidal as a combination of steely resolve and distressed vulnerability. The subtlety of each and every one of the performances in the film enable Larraín, a lapsed Catholic who knew priests now languishing behind bars, to probe theological and psychological depths beyond the reach of most director's, to reveal the church's psychic recesses as only an insider can.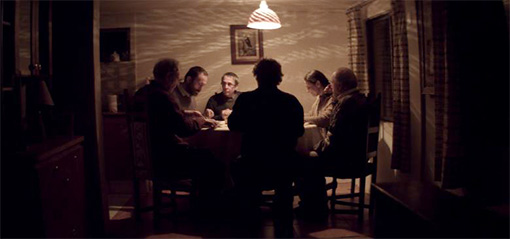 The Club, of course, was designed to lift the lid not only on local incidents of sexual abuse within the Catholic Church and the global scale of problem but also on the Vatican's unforgivable attempt to silence victims and safeguard criminals. Pablo Larraín isn't the only director determined that justice be done and that Catholism atone and acknowledge its skeltons. His film joins a long list of films highlighting the problem: notably Pedro Almodovár's Bad Education (2004), Colm O'Gorman's Sex Crimes and the Vatican (2006), Amy Berg's Deliver Us From Evil (2006), Alex Gibney's Mea Maxima Culpa (2012), John Michael McDonagh's Calvary (2014), and, most recently, Tom McCarthy's Spotlight (2015).
The apocalyptic tone, psychological complexity, and sly gallows humour of Larraín's film positions it closest to John Michael McDonagh's tar black riff on Hitchock's I Confess (1952). There is even a direct parallel in the forlorn figure of Father Silva (Jaime Vadell), a former army chaplain who's seen a thing or two and heard things about military torture centres in the confession box that church and state would rather weren't made public. The film's smoky textures and tints, though, most obviously recall the work of Russian masters Andrei Zvyagintsev and Alexander Zukorov, and, by inference and chain of influence, Andrei Tarkovsky. Another parallel: that between Zvyagintsev's Leviathan (2014), a parable about revanchist capitalism and kleptocratic power clusters in Putin's Russia, and Larraín's The Club, a parable about the cultures of silence that unite the priesthood and Pinochet.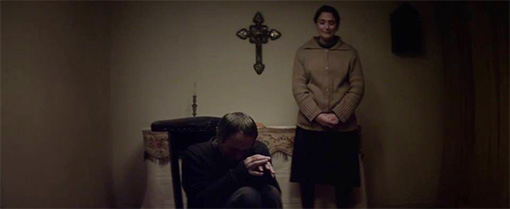 For Post Mortem, Larraín and cinematographer Jean-Pierre St-Louis achieved a blanched, low-luminous light by using the antique, anamorphic Soviet-era lenses used by Tarkovsky. For No, Larraín and Sergio Armstrong achieve an equally appropriate washed-out, hazy look by filming in 4:3 Academy aspect ratio and deploying 1983-vintage Ikegami U-matic video cameras. In The Club, Larraín and Armstrong, again, work optical magic with those same anamorphic lenses and a set of overcast filters, creating a murky look in keeping with the dirty secrets exposed in the film. The film is a perfect fusion of form and content.
These optical effects are not mere tricks for their own sake. They draw out the film's windswept coastal setting and contribute to the menacing atmosphere that makes the film tick. They are, as Larraín implies in the interview below, what gives The Club its personality and sets it apart from so many of the shiny characterless films we see today. His acute awareness of film's relation to movement and stillness and its ability to absorb, distort and transmit light set him apart from, and in this reviewer's opinion, above the bulk of his cinematic contemporaries. Certainly, few directors have more consistently resisted the loss of depth, texture, tone and temporality attendant upon the digitisation of film, 'analogue obsolescence', and loss of the sites in which flickering images have historically been screened.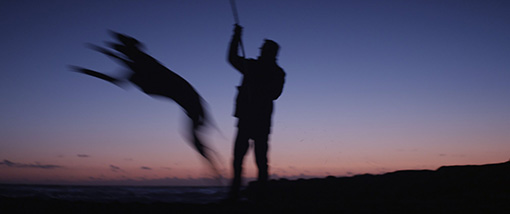 The passing of cinema's traditional forms and spaces and the marginalisation of photochemical film has combined with the arrival of cheap digital cameras and an explosion of home viewing platforms to change the audio-visual landscape forever, for good and ill, with great leaps forward and many steps back. The look of high-resolution, no-pain-no-grain digital film appeals to many. It's all a matter of taste others say, catholic taste perhaps. In the 1967-68 Charles Eliot Norton Lecture series at Harvard University, Jorge Luis Borges quoted Emerson quoting Bishop Berkley on the subject of apples to make a telling point about taste. "I remember he wrote that the taste of the apple is neither in the apple – the apple cannot taste itself – nor in the mouth of the eater. It requires a contact between them." To paraphrase Borges's conclusion, transposing a view of films and images onto Berkley's talk of books and readers: "The same thing happens to a film. For what is a film in itself? A film is a physical object in a world of physical objects. It is a set of dead symbols. And then the right viewer comes along, and the images – or rather the poetry behind the images, for the images themselves are mere symbols – spring to life, and we have a resurrection of film." Pablo Larraín, to this viewer, seems to resurrect film. The Club feels and looks like a film shot on film. It isn't, but it might just as easily be.
Godard stakes out the issues surrounding the nominal 'democratisation' of the production, distribution, and exhibition of film with characteristic bluntness and overstatement: "The so-called 'digital' ('numerique' in French) is is not a mere technical medium, but a medium of thought. And when modern democracies turn technical thought into a separate domain, those modern democracies incline toward totalitarianism." Be that as it may, his formulation is consistent with Paolo Cherchi Usai's view of digitisation as a physical, philosophical and political process intertwined with consumer capitalism's tendency to acceleration, rapacity, waste, and in-built obsolescence. In an introductory note to the catalogue for her Tate Modern exhibition FILM (in which she turned the Turbine Hall into a strip of film), Tacita Dean says: "Culturally and socially, we are moving too fast and losing too much in our haste. We are also being deceived, silently and conspiratorially."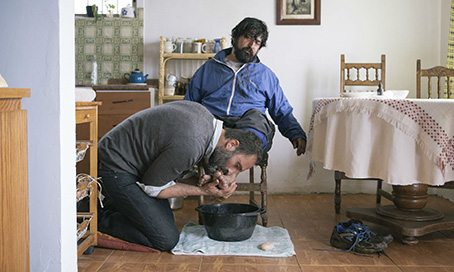 Dean is referring explicitly to the much-vaunted 'post-medium condition' but might just as easily have been talking about Chilean society. Larrain slows things down merely by paying attention to the look of his films. Creating an atmosphere and texture of desolation that so perfectly reflects the inner desolation of the priests took time. He also took time for the meticulous research into his subject that, equally, underpins the film's force and authenticity. Reminders of the grim realities of sexual abuse within the Catholic Church rub against Father Silva's reminder about the barbarisms of the Pinochet years. Like Patricio Guzmán, Larraín fights Chilean amnesia, its lies and denials. In The Club he does so by delving beneath the benign surface of the priesthood and exposing, with Christian compassion and contained anger, the rottenness running right through Catholicism to its culpable core.
In the run up to the 40th anniversary of the Pinochet coup, academics at the Catholic University in Santiago conducted a nationwide poll in which nearly half of all those surveyed said it was time to turn aside from that past. In The Hour of the Furnaces (1968) – Octavio Getino & Fernando Solanas's incandescent classic of Third Cinema and dialectical montage – bold intertitles rush from the screen crying 'Impunity'! Pablo Larraín has crafted yet another majestic film that breaches silence and refuses to accept impunity for either predatory paedophiles and pederasts or Pinochet's hit squads and paramilitaries. We eagerly await his imminent film on Pablo Neruda (currently in post-production) and leave the last word to the great poet himself: "You will ask: But where are the lilacs/And the metaphysics petalled with poppies/And the rain repeatedly spattering his words/filling them with holes and birds . . . You will ask why his poetry doesn't speak to us of dreams/of leaves, of the great volcanoes of his native land?/Come and see the blood in the streets/Come and see/The blood in the streets/Come and see the blood/In the streets."
---
The following interview with writer-director Pablo Larraín was conducted by Jerry Whyte at the 59th London Film Festival and facilitated by Alex Rowley at ARPR.