I don't know anyone who doesn't have a thing about eyes. No matter how involved they are in a film, the moment anyone is threatened by having something sharp waved in front of their eyeballs, they're looking around for the quickest route to the exit. It's this particular phobia that has prevented one of the reviewers on this very site from ever going near the film version of Equus, and why the opening of Buñuel and Dali's surrealist masterpiece Un Chien Andalou retains its power to startle even a hardened audience over eighty years after it was first screened. So when I encounter a horror-thriller with a title like Julia's Eyes, I can't help but get just a little bit nervous about what it might have in store for me. With good reason, as it turns out. But I'll get to that.
Julia's Eyes (an accurate enough translation of the original Spanish Los ojos de Julia) is one of those films whose second viewing is never going to be quite as effective as the first, at least not unless you own an amnesia machine. It's really well made and tensely plotted, but much of what makes it work as well as it does relies on us not knowing what's going on or what will happen next.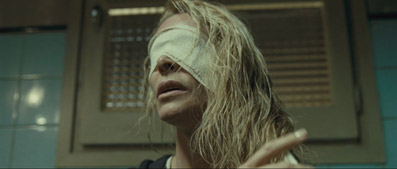 So how much to reveal? Best stick to the basics. After blind Sara is tormented into hanging herself by an unseen assailant, her twin sister Julia, who is slowly losing her sight due to the same degenerative eye condition, refuses to accept the official suicide verdict. Following an uncanny encounter at Sara's funeral, Julia thus launches her own investigation into the days leading up to her sister's death, despite the increasing frustration of her husband Isaac, and soon finds herself being stalked by a figure that everyone else believes is the product of her fertile imagination.
It seems doubtful that director and co-writer Guillem Morales intended his busy surface material to smuggle a serious message about the marginalisation of the disabled in modern society, and a couple of times he's even guilty of exploiting the image of white-eyed blindness as inherently creepy. Morales obviously has only one goal here, to grab and repeatedly wind up his audience, and this he achieves with a degree of aplomb. Breaking little new territory in the mechanics of fear, he still puts a string of tried and tested techniques to effective use, from the comforting hand on Julia's shoulder that turns out not to belong to the expected person, to the blurred figure in the background that darts out of shot before any of us can get a clear look at its face.
Where the film does break new ground is in it's handling of Julia's blindness following her eye transplant, capturing her need to recognise people solely by their voices through a framing technique in which the faces of others are constantly hidden from view. It's a neat approach, though Morales goes out on a limb by employing it for an unbroken half-hour of screen time, a quarter of the film's overall length. Towards the end of this intriguing stylistic diversion it comes perilously close to wearing out its welcome, but as a way of isolating and prompting audience empathy for Julia, it's devilishly effective. It also transforms just about everyone she meets into a potential threat, robbing them of their facial identity in the very same way the opening scene did with our unseen killer.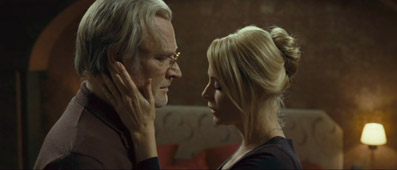 As the pace hots up, Morales throws twists at us like a hyperactive pundit at a coconut shy, bouncing the increasingly terrified Julia from one threat to another with barely a pause to allow her to get her bearings. Almost no-one is quite whom they appear to be, and the killer seems able to shadow Julia's every move and materialize and vanish without making a sound, even when there are windows and doors for them to navigate. Some play is made on the physical and social invisibility of this stalker, which briefly shows signs of developing into a socio-political subtext and nudges the film towards supernatural territory. You can prod holes later in the logic of how this plays out, but it does reverberate nicely at the climax.
Given our collective horror of anything nasty involving the organs of the title, it's a relief that we're spared the graphic details Julia's eye transplant surgery and that our patient keeps her new peepers firmly bandaged. But one look at the killer's collection of pointy syringes and we know in our hearts that someone is probably going end up being at the sharp end of one of them. I'm saying no more, but if you do have a real phobia of ocular harm, I'd keep something handy to hide behind during the final twenty minutes.
Lead actress Belén Rueda has already made her mark on the international circuit in The Sea Inside and The Orphanage, and she's on excellent form here. There's not a scene she isn't in once the main story gets going, and for that sightless half-hour she effectively has to carry the film with the most expressive part of her face under wraps. In spite of some flag-waving red herring work by Boris Ruiz as sleazy neighbour Blasco, there are also some solid performances from the supporting cast, notably old hand Luís Homar (he of Bad Education and Fermat's Room) as Julia's increasingly impatient husband Isaac. There's also a suitably creepy turn from the individual who plays the killer – I'm not about to reveal their name when a quick look at the cast list might spoil the surprise.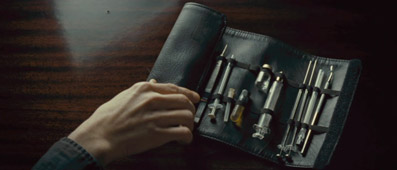 At times the film does play like a busy compilation of recycled components, which include a climactic collision between the finales of Wait Until Dark and Rear Window, but all are put to spanking good use, and the sheer density of incident leaves you little time to start picking holes in the plot. It's also refreshing to watch a horror film in which a mobile phone is not waved in the air in search of a signal, but used as a torch to search for and locate a figure whose existence has repeatedly been called into doubt. It may lack the slow build and more pronounced socio-political layering of some other recent Spanish genre works, but if it's unpretentious thrills you're after and plenty of them, then Julia's Eyes will fit the bill nicely.
A clean and detailed if not reference quality transfer, one whose variable contrast is sometimes at the mercy of a earthy or blue biased colour scheme, and light levels that suggest Julia lives in a region that is constantly cloudy and starved of electricity. The black levels in particular, though solid enough for much of the time, do soften in some of the gloomier interiors.
A solid Dolby 5.1 surround track is also available in far less inclusive Dolby 2.0 stereo. Ambient and weather sounds make rather good use of the full sound stage, but are at their best in a lively thunderstorm (come on, there had to be a thunderstorm), where thunderclaps crash at a enjoyable volume from all around the room. Oddly enough, one of the best bass rumbles comes from a boiling kettle in the killer's apartment.
The English subtitles are clear, but not removable.
This is one of those discs where the special features menu suggests there's enough to keep you busy for a couple of hours. Wrong! This really is a case of quantity over quality, with the four interviews here amounting to no more than brief and largely insubstantial snippets (one runs for a mere 49 seconds) designed to promote the film, but offering little for those who've already seen it.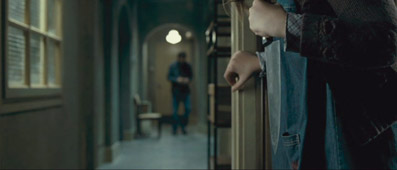 Interview with Guillem Morales (2:11)
Morales tells us what the film is about – having just watched it, this was not exactly news – and spends the rest of the time pouring praise on actress Belén Rueda.
Interview with Belén Rueda (3:05)
A slightly more useful chat with lead actress Rueda, who talks about the script, her character, and working with director Morales and co-star Lluis Homar.
Interview with Lluis Homar (0:49)
Actor Homar is only on screen long enough to tell us that he was attracted to the love story element, and that lead actress Rueda is an angel.
Interview with Guillemo del Toro (2:13)
The mighty del Toro, who acted as one of the film's four producers, once again explains what the film is about, though does tell us how the became involved in the project and what he thinks of director Morales. He likes him.
B-Roll (7:23)
A ragged collection of behind-the-scenes footage that includes a surprisingly high number of shots of actress Belén Rueda having her lip makeup applied. They are nice lips, though.
Trailer (2:18)
A reasonably effective trailer with no real spoilers, which makes a nice change.
Not the most complex or layered Spanish horror in recent years, but as a no-nonsense thriller, Julia's Eyes delivers in spades. It's involving, exciting and intermittently nail-biting, and for the final forty-five minutes it just doesn't let up. Optimum's DVD promises more than it delivers, but save for some contrast softening in darker scenes, the transfer is solid and the 5.1 soundtrack is up to the job. For the film itself, recommended.