| | |
| --- | --- |
| | "Yes, women are stronger than us. They face more directly the problems that confront them, and for that reason they are much more spectacular to talk about." |
| | Pedro Almodóvar, in Interview magazine, 1996 |
The first Almodóvar film I ever saw was Hable con ella/Talk to Her, showing in cinemas at around the same time was being taught Spanish cinema as a student. It was then going through something of a renaissance, thanks to the very same filmmakers that were introducing me into the output: Alfonso Cuaron's Y tu mamá también /And Your Mother Too, Alejandro González Iñárritu's Amores perros/Love's A Bitch, and Pedro Almodóvar's Todo sobre mi madre/All About My Mother. It was the poster that caught my eye in the otherwise quite blank little lobby. Its primary blue and red sprang off the billboard, piquing my interest and drawing me into the unknown. I have since learned that colour is one of Almodóvar's many trademarks, the primary palette in particular. Had I known at the time it was an extended meta-referenced nod toward his output, I would have been impressed, mainly because I like the satisfaction that comes with recognising the meaning of the reference when it is presented, sitting there waiting to be discovered. Once inside, I soon forgot the poster; the impact it made, would be, very quickly, usurped by the film itself.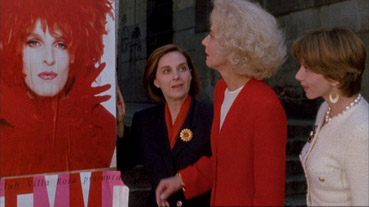 I had never seen anything like it before. It was fresh, new and intriguing, the perfect antidote to the current mainstream Hollywood output, appealing to my growing admiration for film aesthetics and melodrama. Curiosity piqued, Almodóvar's films were – and still are – a voyage of discovery, a gift, complete with a shiny bow. Over the years, my appreciation for Almodóvar's complex, emotionally-driven and vividly-rendered films grew as I sought out more of his work. The more I looked, the more I saw.
The only gap in my Almodóvarian 'Grand Tour' of visual delights was Tacones Lejanos/High Heels, absent from any boxed set of the director's work, previously unavailable on DVD. This month, coinciding with the theoretical release of Almodóvar's latest film, Los abrazos rotos/Broken Embraces on August 28; High Heels makes its long-overdue DVD debut this month thanks to Optimum Releasing, and provides a prime opportunity to look back on an earlier piece of the director's work, and an exemplary one at that, carrying the artistic flare and emotional potency which would come to define his work and cement his reputation as an auteur, one of Spain's greatest filmmaking exports.
This would be the first of the director's mother-daughter films, and explores the strained relationship between famous singer Becky del Páramo and her TV news anchorwoman daughter Rebeca (played by Almodóvar regulars Marisa Paredes and Victoria Abril respectively). Its first act is framed by flashbacks, as Rebeca waits in Madrid airport for her mother's return to Spain for a concert, after fifteen-year stay in Mexico. From the outset, it is clear that Rebeca's need to define herself and gain her mother's approval are the source of her pain – one that will only increase as the film progresses, as she struggles to reconcile her fragmented family, constantly held back by the weight of their shared history. Though this story is the journey of one woman, in Almodóvar's work the relationship between self and nation are inextricably linked. Rebeca's tug of war, a fight which many of the director's protagonists took on is analogous to the process of reconciliation and regeneration in the post-Franco years.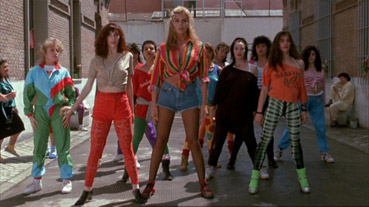 The inherent contradictions in both Almodóvar's persona, his approach to filmmaking; construction and reconstruction of generic conventions only makes his work enjoyable and the experience of watching them more pleasurable. Almodóvar is a unique figure who creates films which both traverse and transcend the boundaries of art and mainstream cinema, itself a unique feat. In Almodóvar, we have a celebrated art auteur who in turn celebrates popular culture, once a part of Spanish youth, culture's la movida (the movement), whose work remains firmly rooted in Spanish culture, thus depicting a definite sense of Spanishness – in a way which questions the very foundations of that cultural identity – whilst somehow reflecting the golden age of Studio era Hollywood; two worlds that I had previously considered to be poles apart, with little or no room for crossover. Filmmaking rules are not so much broken in his hands, more appropriately, they grow malleable, give and breath, allowing for unexpected, enjoyable surprises. Things that should clash did not, instead working together in a kind of odd-coupled harmony.
While the director's work may not be autobiographical in the explicit sense of telling his life story, one cannot fail to see the deeply personal elements of style and thematic motifs which recur throughout his work. The most prominent of these are art of performance and the art of cinema itself. The former is reflected in characters which impersonate others, such as Letal's (Miguel Bosé) tribute act to Becky in High Heels, a precursor to Zahara (Gael Garcia Bernal) in La mala educación/Bad Education – one or both of whom are a clear reference to Spanish singer-actress, Sara Montiel. This doubling and sometimes tripling of characters, such as Letal, Zahara and their off-stage personas, often play an additional role in terms of the plot, their existence and duality setup as a coincidence that we are often given the privilege of knowing ahead of the characters onscreen.
The latter is which are often explored through visual and/or spoken references to other art works, specifically other films. These moments are indicative of Almodóvar's obvious passion for art and culture – as in Bad Education, where we simultaneously watch filmmaker Enrique Goded (Fele Martínez), bring his factious film, 'The Visit' to life whilst we are watching Bad Education itself unfold. They also act as an expression of those that he admires or have influenced him – the echoes of classic Hollywood melodramas such as Michael Curtiz's Mildred Pierce, Irving Rapper's Now, Yoyager and King Vidor's Stella Dallas in the narrative and style of High Heels. Most intriguingly of all, but they also allude to the film's aesthetic and narrative construction, and actually add to the meaning of the entire film.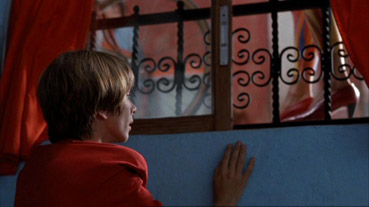 One such case comes at a pivotal moment in the film, where Rebeca gives her own take upon the plot of Ingmar Bergman's Höstsonaten/Autumn Sonata, comparingthe fraught relationship of its mother and daughter protagonists, Charlotte (Ingrid Bergman), a famous pianist, and neglected daughter, Eva (Liv Ullmann) to their own. The reference is a kind of essayistic support statement for the intricacies of Becky and Rebeca's relationship, the ocular proof for what we and Rebeca always sense. This is one of the most dramatically complex and memorable moments in the film, where Rebeca finally makes herself heard. Becky, tragically, misses the point of her argument. In itself, this a further reflection of the differing levels of depth present within the director's work.
In addition to his complex detailed narratives, the quality I admire most about his work, beyond his distinctive style, are the characters he chooses to represent. Voices and stories so often marginalised, left at the edge of society and the frame, are suddenly front and centre, like opening a trapdoor to another world, or if less brave, peeking through the keyhole. The immense freedom and fluidity one feels when watching his films, especially in regard to the depiction of desire, sexuality and social mores and morality is undoubtedly a reaction to the constraints of the Franco regime. It is no coincidence that Almodóvar's cinematic world is one without borders. Transvestites, prostitutes and drug addicts are shown without pity and judgement, but with honesty. His cinema is one which presents people in their purest and truest forms, flaws and all. High Heels stands as testament to such an approach, and Rebeca is perhaps his most intriguing and fully-rounded character for that very reason.
There may be moments of glamour and camp on display here, including a showstopper dance sequence that would make Bob Fosse and Gene Kelly proud. However, High Heels and Almodóvar's films are not as shallow or throwaway as such sequences might suggest. High Heels is a multi-layered, multi-faceted and deeply affecting film, perhaps even more so because of how the story is presented to us. The gloss and glitter performer characters like Letal don to disguise themselves do not hide the cracks beneath the surface. If anything, the director purposefully scratches away, unmasking them to reveal the fragile soul underneath. There are few more fragile than Rebeca.
The film's location in Almodóvar's ouevre is marked in some ways by the picture quality, having more visible grain than you'll find in the polished visuals of his post La flor de mi secreto/Flower of My Secret period and being one of the last in which he shot in 1.85:1 (which has here been slightly trimmed to 1.78:1), the scope frame being the aspect ratio of choice from Carne trémula/Live Flesh onwards. The director's famed use of colour is well served by the transfer, though, with the primes in particular standing out without looking over-saturated. Contrast is well balanced and the detail good – sunlit exteriors have a particularly nice quality to them.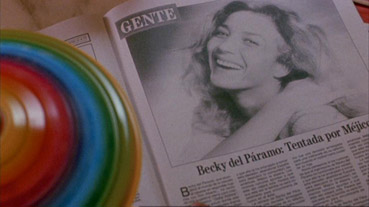 The Spanish Dolby 2.0 stereo soundtrack is a good one, displaying a strong dynamic range and clarity that really showcases the music serves the dialogue well. Stereo separation is distinct in places.
Unfortunately, this is a barebones release, and there are none to speak of. Previous Almodóvar releases have frequently contained film introductions by Spanish cinema and film aesthetics academician José Arroyo. A similar treatment here would have been welcome.
Coming roughly midway through Pedro Almodóvar's output, it is easy to overlook High Heels in favour of his bigger, bolder, critically lauded siblings. It showcases the director at his experimental height, and this DVD will give it much-deserved wider recognition. After this film, his aesthetic would settle, so it stands as an interesting marker on his ever-changing evolutionary filmmaking scale. Almodóvar once said that he felt he was "born at a bad time for Spain, but a good time for cinema," I could not agree more. This is timely treat for his fans, and something of a standout exhibition piece for the uninitiated, with a rather luscious print which brings the colours of Almodóvar's famous palette to life. Highly recommended.