| | |
| --- | --- |
| | "It's difficult in times like these; ideals, dreams and cherished hopes rise within us, only to be crushed by grim reality. It's a wonder I haven't abandoned all my ideals, they seem so absurd and impractical. Yet I cling to them because I believe, in spite of everything, that people are truly good at heart." |
| | Anne Frank's The Diary of a Young Girl, 21st July 1944 |

I'm staring at her face right now. The smile is natural and relaxed, as if her father had just complemented her on the prettiness of her blouse. More than anything, the photograph shows a young life nestled in the thumping heart of nascent childhood. The stark black and white image has the heavy weight of hindsight and history on its back and so you convince yourself this single iconic image of a young girl also radiates hope, an abundance of curiosity and all the other qualities that her famous diary revealed about its writer. Who knows what the future would hold for her? We do. Hers is the most recognisable, the most famous face of the Jewish experience during the Second World War. Speaking from an absurd, celebrity-image conscious 2008, hers is also the perfect face; a 13 year-old German girl, sweet, pretty and given her fate, achingly pathetic (in the true sense of invoking profound pity). She received a clothbound autograph book from her father for her birthday and began writing probably the world's most famous diary (with a respectful nod to Samuel Pepys). But then again, Pepys wasn't hiding for two years from the inhumanity that was Nazi occupied Holland in cramped conditions with seven other people.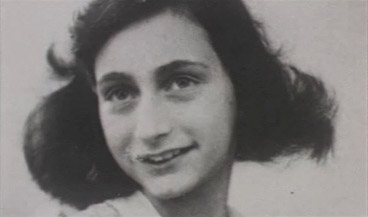 Anne (pronounced Anna) Frank's only method of escape was to pour out her hopes, moods, dreams and day to day events onto paper in Dutch, despite her first language being German. Her diary reveals a precocious intelligence anchored to an optimism which, for that time and circumstance, was as misplaced as it was tragically dashed at a concentration camp. Her fate was sealed just weeks before the Allies drove the scourge of Nazism out of Europe. It is one of literally millions of stories of the racial rout that dug into and rent innocent lives and a rout that had one ghastly ending for all. When I first heard of the diary in my teens, I didn't go to a library and find out what actually happened to Anne Frank. My reasoning was that if I didn't know, like Schrödinger's cat, Anne Frank both survived and fell in the Second World War. This was the mid-seventies and research would have entailed much effort. What is now a few movements of the wrist and fingers was then a fifty minute bicycle ride, a studied search for several small cards in amongst many hundreds of thousands and a hunt for the correct volumes. Now, a few clicks later and Anne Frank's fate is known to me. Suffice to say, her story is heartbreaking as I suspect are the other six million stories at present and in the future likely to pass untold. For the poisoned taste of the darkest places a human being can go, and to put Anne Frank's fate in context, you should hunt out the epic Shoah, the cinematic account on the Holocaust featuring those still alive to bear witness.
Remembering Anne Frank is a sober, workmanlike (meant as a compliment) Dutch documentary which centre stages one of the incredibly brave team of four who kept the Franks and their three friends safe, fed and connected to the outside world. Miep Gies was a worker at Anne's father's small business located on the Prinsengracht (one of the streets that runs horseshoe-parallel to a canal) in the heart of Amsterdam. It soon became clear that the societal cancer that had prompted the Franks to move from Germany to Holland had reached Amsterdam. This, of course, was the gross anti-Semitism of non-Jewish Germans driven to fever pitch by Hitler's rhetoric and irrational revulsion. The documentary is very precisely crafted in what I now must regrettably call the 'old school'. It was made in 1998 and has none of the ramping, white flashes and gaudier aspects of today's short attention spanned cries for attention. Just as well. The dignity inherent in the subject matter lends itself quite comfortably to classic documentary film-making.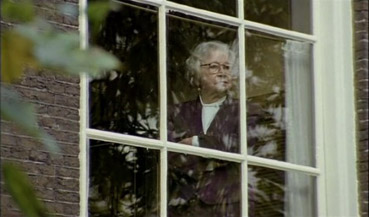 The style of the film is reserved and quietly revealing. Use of old photos is very effective and both enforces and upholds the often difficult task of believing that what you are seeing could actually have happened. As with Shoah, in terms of your response to the material presented to you, you find yourself staring at images of Nazi occupied Amsterdam – in my case a city I know quite well – and not quite 'getting' it. It is as alien a sight as it could be given the relative freedoms we enjoy in the west. To see the double triangle star sign badge of the Jews and signs forbidding them normal amenities is to see the slippery slope slowly upend letting no Jew survive the fall. In the Amsterdam City cinema in 1942 (where fifty seven years later I first saw The Matrix) there are signs up forbidding Jews entry. It's scarcely believable. It is interesting that the only colour archive footage used was that of the day Amsterdam was liberated. When Miep Gies says "We embraced complete strangers," I felt a lump in my throat thinking about how relieved and happy any occupied people would feel on the day of liberation. The very sparse use of music by Alexander Scriabin (a simple but haunting piano piece) again shores up the classical approach and suits the mood in a precise fashion.
Miep Gies, who takes her own time and the film allows her to do that, is very moving and disciplined on camera. She is either a very cool and gifted broadcaster or she has been well directed by Wouter van der Sluis. I suspect a mixture of both. Through newsreel and stills, she tells the story of the occupation of Holland made easier by the Nazi's levelling Rotterdam in a sustained aerial bombing campaign and the announcement that Amsterdam was next. For two years, Amsterdam ticked over as relatively normal and then in 1942 Nazi anti-Semitism leaked into the public streets and soon the Dutch Jewish community would be herded off to be exterminated. Some fled, some, disbelieving, did what they were told and some chose to hide. Otto Frank and his family and a few select friends set up a living area (an annexe) behind his workplace. When news came via British radio that the Jews were being exterminated, Miep Gies remembers simply not believing it. How could people do such a thing?
To wax obliquely for a second; one of the arguments religion throws up against atheism is that Hitler was an atheist. For a start, Hitler was no atheist (if you read 'Mein Kampf', you conclude that he was often deluded into thinking he was doing God's work). Secondly, you may as well invoke the fact he was a vegetarian or a painter or the son of a civil servant and blame those attributes for six million deaths. "Atheists have no moral code without the Bible!" No, they have something better – common sense. We're social animals and happiness is sought and worked for. Suffering is something inflicted by perverse ideology, bad luck or individual vendetta. Hitler was damaged and even before he pulled the trigger in the Berlin bunker doing the world an immense favour, he still didn't acknowledge his own failures. It was everyone else's fault. Imagine a world without the easy divisions religion creates; a world in which you were not able to group and discriminate against anyone beyond the broad headings of "Dutchman", "German", "American" or even down to "Man" and "Woman". That's a world I'd like to see. Anne Frank was born to Jewish parents and became a target for fanatic, abyss-deep ignorant and deadly idiots. In terms of religious identity, fate couldn't have dealt the Franks a worse hand.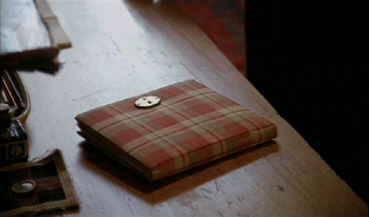 One of the family's support group of four, Miep Gies, walks us through the famous city, the local shops and the Frank house that of course has been preserved as a tourist attraction. This makes it sound gaudy. It's not. I used to walk past Anne Frank's house each day when I worked in the centre of Amsterdam a few years ago. All I saw were people who were interested in a quiet and dignified way. It's a tourist attraction but not in the sense those words usually mean. This is an important story, a small event signifying the cruelty and barbarism of a skewed ideology and while the diary's fame rests on very small shoulders, the bigger story needs to be continually confronted. Documentaries like these are vital in interpreting, illuminating and underlining the terrible human conduct of the past so we can avoid our violent excesses. Long may they continue to do just that.
Presented in letterboxed 4:3, the 16:9 film features a mixture of modern stock, period stills and black and white newsreel. I honestly cannot tell if the modern stock is tape, 35mm or 16mm film and have had no luck researching this but the credit of 'Scanning' in the end titles tell us some film was involved if only the newsreels. This extraordinary footage of Europe under Nazi occupation is suitably creepy as it is so hard for someone born well after the cessation of hostilities to easily accept what actually happened in the mid 1940s. The 1998 shot tape/film has hardly any damage which leads me to suspect it's tape with a film filter on it.
The Dolby 2.0 soundtrack is both clear and unobtrusive. There are no subtitles, no hearing impaired additions and the English commentary (not a DVD Commentary you understand) and a pleasing voiceover translation of the Dutch leading lady is all you get. Apart from some interesting attempts at some very Dutch words, this is fine for the film's purposes. As long as you can understand English...
The Short Life of Anne Frank – 28' 00" (16:9 anamorphic).
There is a moment of glee in this short documentary re-telling Anne Frank's story from a broader point of view. It is of an exploding Swastika at about 25' 24" in. After the darkness of Anne Frank's tale, it's very encouraging to see the symbol of depravity wiped off a building with a very satisfying bang. Jeremy Irons narrates with some gravitas and all in all, it's a very nice bit of dovetailing with the principal film on offer. The director and editor, Gerrit Nettin, also cut the main feature so must have been instrumental in marrying the two. Both benefit enormously from each other's inclusion.
Web Link
A simple click of a link on the DVD takes you to Eureka's home page.
Remembering Anne Frank is an impressive if light package covering one of the most moving stories of the Second World War. To be fair, you'd have to be Ed Wood to screw up the inherent drama and pity DNA'ed into Anne Frank's story but the film-makers have done a very worthy job and I mean that in a complimentary way. Well recommended.