So why a watermelon? My reasoning for the following explanatory quote is that this old fashioned trope may not be known to younger readers… those under fifty-nine!
| | | |
| --- | --- | --- |
| | "The trope came in full force when slaves won their emancipation during the Civil War. Free black people grew, ate, and sold watermelons, and in doing so made the fruit a symbol of their freedom. Southern whites, threatened by blacks' newfound freedom, responded by making the fruit a symbol of black people's perceived uncleanliness, laziness, childishness, and unwanted public presence. This racist trope then exploded in American popular culture, becoming so pervasive that its historical origin became obscure." | |
| | William R. Black writing in The Atlantic, December 2014* | |
It has to be one of the worst examples of racist marketing (is there a good example?), making a staggeringly clean, refreshing, colourful and extremely good-for-you super-fruit denote anything other than a symbol for health. But the negative connotations have stuck. I have a dim memory of seeing Watermelon Man on TV as a child. Its glorious insanity didn't chime with me as a child although the lead actor's energetic performance stayed very much in my memory. As an adult, the film strikes at specific understandable targets and I was surprised at how technically ragged it is. There is a certain confidence and bravery exhibited by filmmakers who place contemptible characters front and centre in their movies. Protagonist Jeff Gerber is a prize boor, an insurance salesman whose interminable bluster makes you want to slap him. OK, this was the early 70s so the casual, insistent sexism and racism is built in by default. Yes, you have to set up the white protagonist to be such an asshole so that, Kafka-like, when he turns black the next day (as opposed to waking up an insect), his previously held attitudes have to have some ironic resonance. But did Gerber have to be this much of an asshole? In the Asshole Olympics, he'd take all three medals.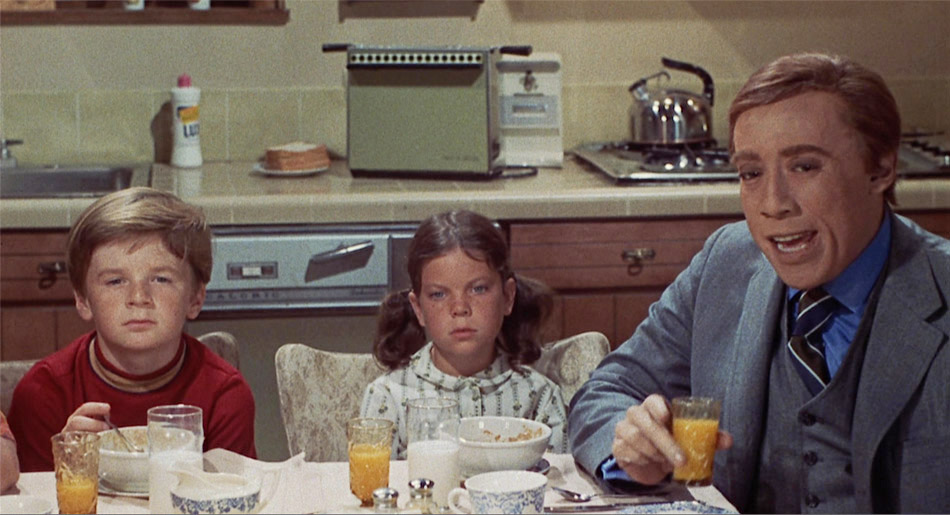 Gerber (as a white man) is played with a manic and arrogant exuberance by stand up comedian Godfrey Cambridge. He's a strangely overweight fitness fanatic who drives his long-suffering wife, played by an exasperated Estelle Parsons, slowly crazy with his workout regime. He races a bus every morning to work, an accomplishment that winds up his colleagues. He is creepily flirtatious with the women in his office and thinks he's the cat's PJs when it comes to his work and his attraction to the opposite sex. He has what passed for a normal middle class, white life at the beginning of the 70s in suburban America; he has two kids, a cook and a cleaner (both known as 'a wife') and about as humdrum a home you could wish for aspired to by people with little imagination. Going to the bathroom one night, he is stunned to find out that he has become black and now this bigoted 'sum beach' has to navigate his new life while consistently being judged by others by the colour of his skin. Gerber tries every which way to reverse the process with no luck but a surfeit of genuine idiocy. Eventually he goes through every experience concomitant with his skin colour (he can no longer get into Gentlemen's clubs, he is falsely accused several times of stealing and falls into like-skinned company to try and assert his own individuality in organised, rebellious numbers). All of this is played against the race riots of the time so had more pertinence in its own era. Oh boy, do I wish that were true… Of course, race in the US is about as toxic a subject you'd care to take on. The African American experience is not something this white Brit can effortlessly empathise with or write knowledgeably about so I'm not even going to try.
But for a film with such a weighty theme, Watermelon Man is remarkably and ironically light. It is also a heady soufflé compared to what Van Peebles directed next, the 'sticking it to Whitey' polemic and avant-garde shocker that is Sweet Sweetback's Baadasssss Song. I cannot believe the balls of the man who claimed his subsequent gonorrhoea from all the movie's supposedly unsimulated sex scenes was a work related health issue that could be compensated for. That's commitment. Of course, he bought film stock with the money. That's reel commitment. Every tired canard and aspect of casual racism is touched upon in Watermelon Man and the list is long; in the 70s African Americans (whom I believe were simply titled 'black' fifty years ago) 'had rhythm', ate watermelon and fried chicken, could not be told apart, had racially evolved physical characteristics including large penises ("an old wives' tale," says Gerber after he peaks into his pyjamas) and a tendency for presidential names. There is also an off-colour marketing campaign that suggested this film was 'An Uppity Movie', a riff on that searingly colour-attached word that was added to an even worse one to pigeonhole black people so that white people could ignore them. You could say that only a black filmmaker could get away with all this in a comedy no less in the same way that a woman could direct Holiday with all its graphic sexual violence, her sex being a sort of extra thick critic-proof vest. In the act of having his cake and devouring it with relish, Van Peebles plays with these ridiculous stereotypes but to his own character's advantage in his next film. Racism is an umbrella term for ignorance, stupidity, fear of  'the other' and simple tribalism that takes many forms throughout many races. The fact in 2020 it is still a problem says something profound about being human and none of it is particularly positive.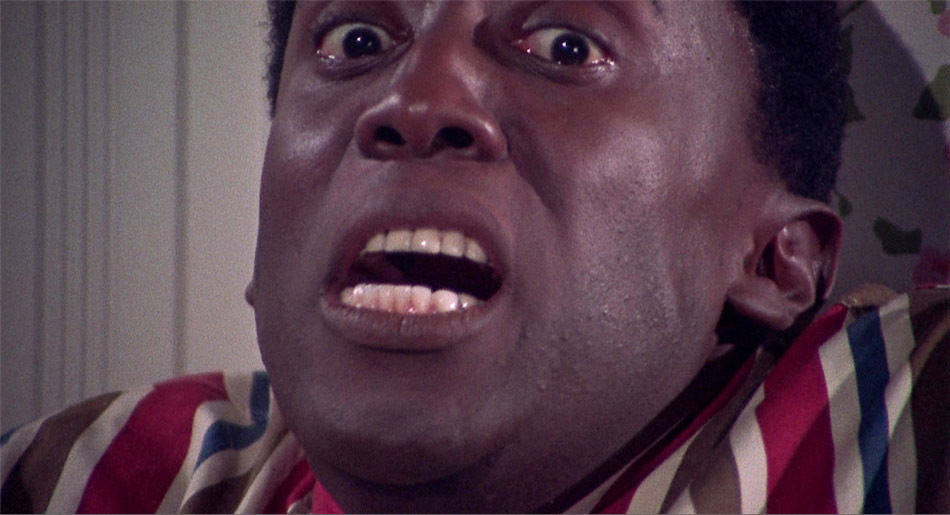 Watermelon Man is a very technically slapdash film. At first I was lulled into thinking its choppy editing at the start was a new wave of American Europeanism but as the film went on, it appeared that some of the editing took in really awkward camera movements (screw ups in the negative cutting?) and sometimes displayed an hysteria the frame could barely cope with. Being charitable, you could say the film was 'rough and ready'. It was certainly rough. If there's one aspect of the film that had me reeling it was the score. How do I describe this? The responsibility lies at the director's feet and those feet also belonged to the composer of the score. The jazz riffs that seemed to come in at random intervals make no thematic or musical sense. They only made me think something experimental was going on. I wanted to get it. I didn't. Most of the 'cues' just sounded like jazz warm up mistakes. When we get a coherent piece of music, the subtext disappears below the waves and we get a choir singing "Where are the children?" after they've been sent off to relatives to get away from a rapidly deteriorating marriage in the light (there's that word again) of the hero's new colour.
On the subject of skin colour, rather important given the film's theme, I have to say that 1970's make up was simply not up to the job. Black and white skinned people have different physical characteristics. There is no getting away from this. White make-up does nothing to hide those. When Lenny Henry turned white for True Identity, prosthetics were used and the effect, though not perfect, was enough to pass. But it is all too obvious that lead actor Godfrey Cambridge is black with a terrible wig and very dodgy white foundation. The glean on his hands is also a giveaway and it is with some relief when he steps into his bathroom that fateful morning and reveals his black buttocks in a big zoom and a blizzard of cuts. Good. We don't have to deal with that make-up anymore.
Watermelon Man is a real curiosity, a comic take on the black experience in the 70s though if pushed, I'd say Blazing Saddles dealt with the theme with a little more punch and a lot more comedy. As a snapshot of an era, it's hugely interesting but we have – despite the Swastikas at Charlottesville three years ago – moved many steps forward since those days five decades earlier.
Watermelon Man is presented in the 1.85:1 aspect ratio with the correct thin letterboxing on 16:9 TVs. The print looks clean, colourful and for its age, the film grain is not at all bothersome. Have a close look at the lady in the Columbia logo that, as a child, I always assumed was the Queen. It's mutated quite a bit since the logo first appeared introducing Frank Capra's classic It Happened One Night in 1934. Take a close look at the 2020 version. Given the size of her upper body, the Columbia lady with the torch has abnormally long legs, one might even say freakishly long. The model who posed for it gave the artist the thumbs up for this telling distortion.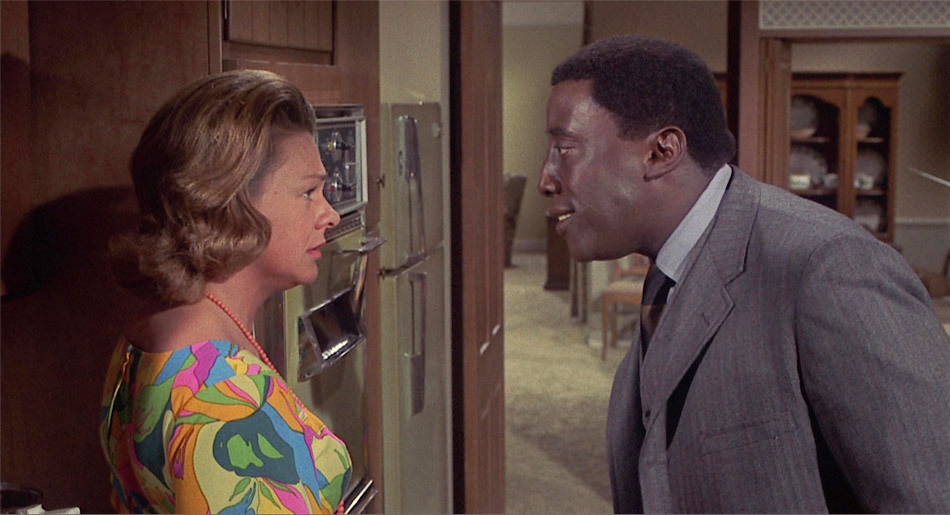 The mono soundtrack is never less than fine as all dialogue comes through perfectly and there are new and improved English subtitles for the deaf and hard-of-hearing.
Introduction by Melvin Van Peebles (2004) (5' 06")
Can you imagine Alan Arkin or Jack Lemmon playing a believable African American? No, neither can I but they were interested. Van Peebles suggested they find a black actor with white face as the latter was on screen for less time which given the make up, makes great sense. There's some repetition with the interview but that's to be expected. The visuals are Ken Burns effected artwork.
The Guardian Interview with Melvin Van Peebles (1996): archival audio recording of the filmmaker and actor in conversation with broadcaster Darcus Howe at London's National Film Theatre(1 hour, 10' 48")
It seemed like a very good fit to have ex-British Black Panther and campaigner Darcus Howe to chair the interview with Van Peebles. But his introduction feels tonally off, like he's expecting to perform a comedy routine. There's awkwardness in the air that soon disappears once Melvin gets going. Race runs through Melvin's interview like the Thames through the capital. It's dominant in almost every sentence and gives a small but powerful insight what it must be like to live with prejudice directed at you every minute of the day. Exhausting is the first word that springs to mind. Van Peebles' anecdotes are sharp and entertaining. There's the sixty plus black 'shoeshine boy' tipped a couple of dollars to leave a screening of Watermelon Man shouting and screaming how brilliant it was to convince white film executives. I winced hearing the director refer to banks having to be nice to 'Jungle Bunnies', a term I thought log since trashed. Van Peebles talks about the usefulness of racism if the game was played with some cunning and says that he put the capital U and T in 'Uncle Tom', the obsequious cliché as performed by Samuel L. Jackson in Django Unchained. "If I get stepped on kissing ass I might as well kick ass if I'm getting stepped on anyway," he says. Can't argue with the logic. At the Q & A, Van Peebles lists the four questions he's asked most of all and I was startled to hear this one: "Would I do it with the Motorcycle Girl?" Originally I'd written that I thought this referred to Marianne Faithfull in The Girl on the Motorcycle released in 1968, a favourite of ours at Outsider. Site visitor, Andrew McLean has pointed out that it is much more likely he was speaking of his 1995 short film Vrooom Vroom Vroooom, "…about a young man who is given a magical motorcycle which turns into a woman while he's riding it." Andrew adds "It was collected the following year in an anthology film Tales of Erotica, which should provide a hefty clue as to why Van Peebles might be asked this question." I stand corrected. Thanks, Andrew. This is a solid extra and very welcome.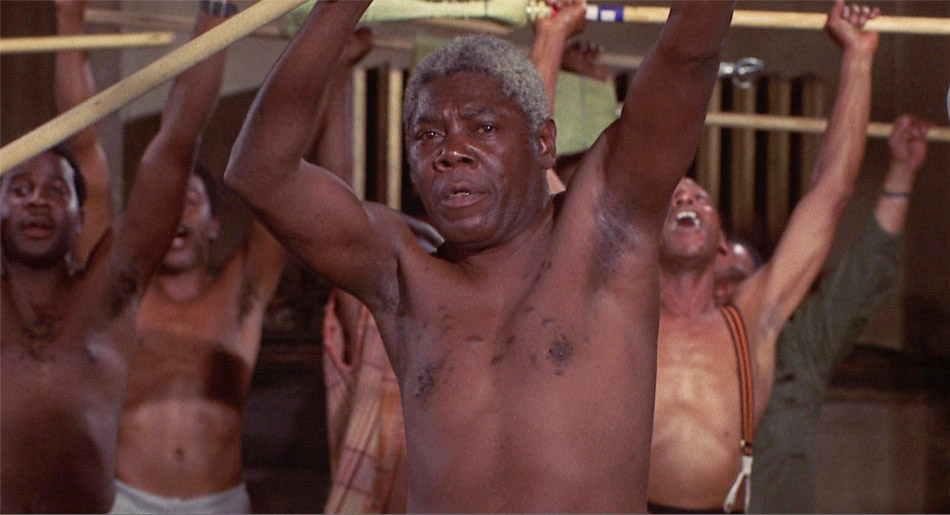 Image gallery: on-set and promotional photography
In order this extra features; 15 black and white production shots, 2 shots of the make-up going on, 4 of director Van Peebles behind the scenes, 5 black and white head shots of the leads, 9 colour studio shots of Godfrey Cambridge, 3 of the family in colour, 8 pairs of colour shots with red felt pen choices made, 8 colour front-of-house stills, 10 screens of production notes and poster designs (including the infamous 'The Uppity Movie' version).

Limited edition exclusive booklet with a new essay by Sergio Mims, a 1970 profile of director Melvin Van Peebles, archival interviews with Van Peebles, an overview of contemporary critical responses, and film credits
After the credits, we have Sergio Mims' essay that gives some background on both director and star. I was saddened to hear that 'wildly successful' black comic and star Godfrey Cambridge died from a heart attack at the ludicrously young age of 43. There's some repetition of factual content in the article but that's to be expected once you've taken the extra features on board. Timeri Murari's 1970 Guardian interview with Van Peebles is an eye opener. There's some biographical detail but the most shocking thing is the kind of tattoo Van Peebles gets… a series of dashes around his throat with the words 'Cut Along The Dotted Line' written in French next to them. A cut-throat business, indeed. Norman Goldstein's 1970 Washington Post profile of Van Peebles contains a few nuggets not featured in any of the other features of the disc. Published in 1970, it gives a neat snapshot of Van Peebles' attitudes at the time. They haven't changed much, it seems. Andrew J. Rausch's interview with Van Peebles touches on the spark that propelled Van Peebles into filmmaking, his photo essay on being a grip-man on the cable cars in San Francisco. It shouldn't surprise me but every time I read of Van Peebles being a PhD in astronomy, I smile. This guy was a polymath before Stephen Fry hit puberty. That said, he champions his own ignorance in almost every interview but from Van Peebles, it comes out as a straight fact rather than an egotistical "It was nothing," wave of the hand. The critical consensus at the time was mostly negative. We start with an 'unimpressed' from the BFI's Monthly Film Bulletin and make our way through to crude, tasteless, dull and finishing on 'painfully facetious'. Way to go, Melvin! 
Watermelon Man is a frenetic domestic comedy that takes every black racial stereotype and stamps them gleefully into the ground. It's a snapshot of its time and sometimes its farcical elements undercut the serious issues at its heart. It is extraordinary that this film was made by the same man behind Sweet Sweetback's Baadasssss Song, two films that dig deep into the black American experience, films that could not be more starkly different than each other. Watermelon Man was a significant success in its day but doesn't play as well in 2020 but as a record of its time, it's entertaining and damning in equal measures.
---