| | |
| --- | --- |
| | "One is constantly playing cat-and-mouse games with the audience, and you must have a very clear notion of where the audience's head is at any particular moment. To me, that is much more interesting than so-called personal filmmaking – making one's own statement, which the audience can like or lump." |
| | Director Richard Franklin, Senses of Cinema Interview* |
We reviewed the Optimum DVD of Road Games way back in 2008. If you see the title as one word, which always smarts, it's because in the movie it's presented as one word, which is odd. Both will do. You can read that review here and I can't see anything in particular to add about the film itself that I didn't cover to my own satisfaction. The DVD had no extra features except for a shoddy trailer and the film itself was presented in the wrong aspect ratio. Any subsequent Blu-ray release had a small bar to jump over (how hard is it to get the aspect ratio right?) but Indicator has done Richard Franklin's slyly humourous gem proud. In this glorious release is a whole host of fascinating extras giving a great insight into the film's cultural niche as well as a host of production detail. I have to say that I got a little choked up hearing Richard's voice on the commentaries and seeing him in his prime. Regular readers may remember that Richard Franklin was a friend of mine after I assisted him on Link (coming soon to Blu-ray in February. Now there's one I'm looking forward to covering as I was there for all its making and some of its post). And despite the miles between us, we kept up an intense email relationship that had to substitute for the real thing. I wrote a short, appreciative obituary here. Slarek has covered the Image Galleries and the Sound and Vision sections. I'm taking on the rest of the Extra Features.
Hoorah! After the travesty that was the transfer on Optimum's 2008 UK DVD release, where the image was unforgivably cropped to 1.78:1, here we have the film with its full 2.35:1 frame and looking better than it ever has previously on any home video format. The transfer on this Blu-ray was sourced from an internegative preserved by the National Film and Sound Archive of Australia, which was scanned and delivered in 4K by Roar Digital, Australia, with restoration and grading work undertaken by Final Frame Post in London. The result is terrific, with really well balanced contrast, crisp black levels and handsomely rendered colour, which is pleasingly naturalistic in the daylight exteriors and displays a warm hue in dimmer interiors. When required, the brighter colours really pop here.. Detail and sharpness are both impressive, and the image is rock solid in frame and clean of any former dust and wear. A thankful lack of any digital enhancement ensures the film grain is clearly visible throughout.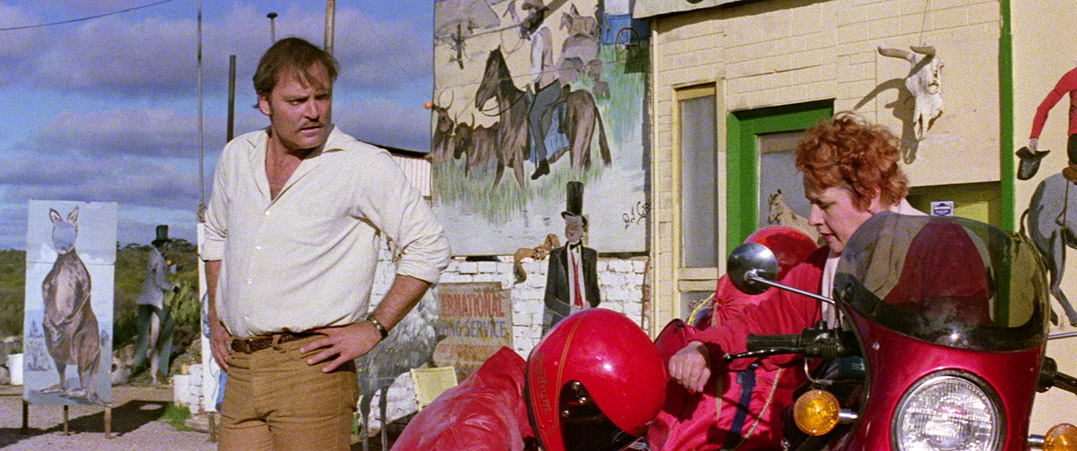 The Linear PCM 1.0 mono soundtrack does have some very minor range restrictions but is otherwise clear, well mixed and free of wear or damage – the soundtrack was remastered alongside the picture.
Optional English subtitles for the deaf and hearing impaired are available.
Audio Commentary with Richard Franklin and Perry Martin (2003)
Ported from the Anchor Bay DVD issue, this commentary allows Richard to give us all we could want on the making of the film. He touches on the pressures of the job, the yuck factor of a guitar string not only throttling you but slitting your throat at the same time and how easy and how good Stacy Keach was to work with. It is very clear to anyone listening that Richard's mind is stuffed to the brim with Hollywood knowledge. He drops references frequently and his recall is encyclopaedic. There's a lovely story about Hitchcock's daughter Pat, well aware of Richard before they met. Apparently, she would be the stamp-licker for her father's appreciation society newsletters and being one of the very few fans from Australia, Richard stuck in Pat's mind. There's a rather lovely idea that she said her father would be happy knowing he was at the helm of Psycho II. I laughed out loud when Richard described a friend's inability to nail a line with the right emphasis.
It's heartbreaking to hear of how the final scene was cut due to the Australian government second-guessing the completion bond guarantors (the insurance company that takes over if a movie goes significantly over time and/or budget). While I must have heard this commentary before off the DVD, I don't remember the detail Richard goes into about what was planned for the ending. As some disgraced narcissist might tweet, "So sad." Spending a hundred minutes with an old friend's memories was a real treat. Nice one, Richard.
Audio Commentary with DOP Vincent Monton, Production Coordinator, Helen Watts, Costume Designer Aphrodite Kondos and author Mark Hartley (2019)
Monton talks about the casting and the bizarre coincidence of the name of the executive producer Bernard Schwartz. This is also the real name of the leading lady's father, Tony Curtis. Seven minutes in, Monton is describing how communications had broken down between the above the line talent, something Richard barely hints at in his own commentary. The other crew-members (is this level of honesty refreshing or a little sad?) talk about a lot of things that were not done well. Everyone seems to agree that the back projection was a hit. If you know anything about shooting a film, you'll know that practical coverage of a man driving a truck on location is hugely impractical to shoot. So given this, it's somewhat obvious that he's in a studio but the illusion is good enough not to take you out of the movie. Richard comes under a fair amount of nostalgic fire from his crew, which is fascinating if a little disquieting. There are many jobs in the film industry that are not as exciting as the above the line jobs but by far the worst was one of the duties of the runner or lower rung third assistant director. On the film Dream Child, I was entrusted to stop the traffic from an industrial estate on a Friday afternoon because the movie's flashbacks, being shot nearby, were set in the 1800s – no motorised vehicle sounds… Of all those drivers, desperate to get home, three quarters of them asked me to impolitely have sex with myself before driving off and the rest sat and fumed before my walkie-talkie blurted out that I could let them go. It was a uniquely awful job. Imagine doing the same on a single-track road that went on forever and having to ask long-range truck drivers to stop for a shot to be taken. Let's just say, the movie had to accommodate the real truck drivers not the other way around.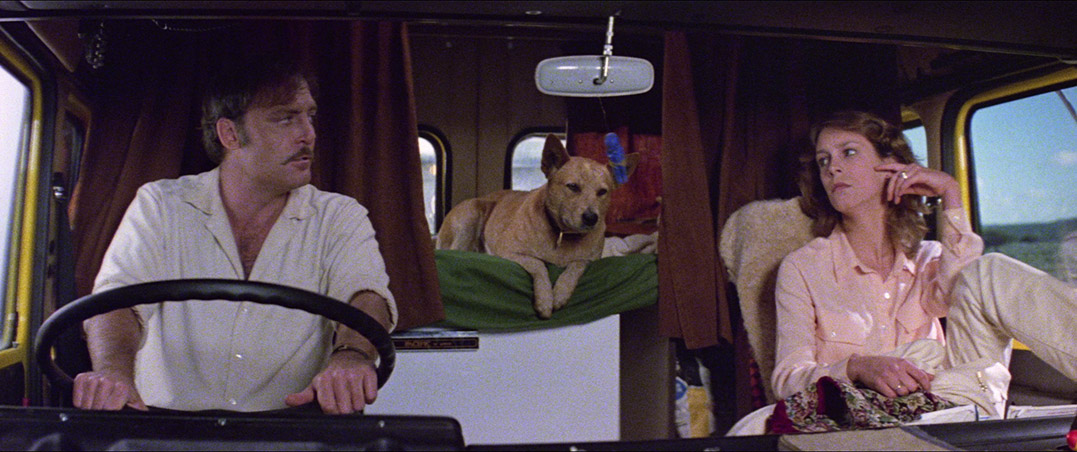 There is a lot of second guessing Richard's creative decisions (why spend money on building a set to show every character in a 360 degree shot which started and ended with Keach on the phone)? The participants argue openly about locations and memories, which is new for me in commentaries. In fact, DOP Monton gives up arguing 55 minutes in and just sighs in reaction to memories obviously at variance to his own. The more detail recalled, the more it seems Richard was a hostage on his own movie. There are echoes of his Road Games experience working on the film on which I was his assistant. I am forced to wonder if biting off more than could be chewed without crew mutiny was part of his modus operandi. Or was Richard simply used to the much more deferential and structured system of the American filmmaking system?
Whoah… The Blue Lagoon comes up (on which Richard was the co-producer) and Helen Watts wonders what Richard did every day in Fiji. There was nothing to do except coral writer Everett DeRoche as he bashed out his 160 page screenplay. It's nice to hear more detail on the ending sequence that never was. Quentin Tarantino is name checked as saying he'd remake Road Games if he ever came to Australia and there is a lovely pro-composer Brian May aside from master composer and Richard's friend Jerry Goldsmith.
Audio Commentary with Anna Bogutskaya and Olivia Howe (2020)
Bogutskaya and Howe are collectively known as 'The Final Girls', originators of a screening series examining the connections and impact between feminism and horror. Their insights are fascinating, but there is (in the third commentary listened to) some repetition as is to be expected. Bogutskaya remarks about the film's 'sexlessness', which is a valid insight, there being very few moments where the attraction between the leads has any meat on its bones. This isn't to say there's no undercurrent of some sexual tension but it's not what the film is really about. When Howe deliberately overstates Boswell's (aka real name 'Killer') role as Keach's real co-star, she may too have a valid point. I started to enjoy the dog's performance with two stand-out moments… He has a prop device in his mouth at the end of the film to give his sweet face a permanent growl (which does not look hugely natural) and secondly no dog in a moving vehicle would happily allow a stranger into 'its' territory without a fuss. The pink lady manages to brush past Boswell without a care whereas in reality, she'd sustain an ankle bite at the very least. The two let the film play out in later extracts and chime in when they have something to say. As Quid arrives at a weigh station together with his quarry, Bogutskaya mentions that Quid himself 'has lost the plot'. It is a lull in the movie before the big finish and the team's observation underlines an aspect of this one scene that could have made motivations clearer. A fun listen (passion is always great to listen to) and a good introduction to their other work which can be found here: https://www.thefinalgirls.co.uk/home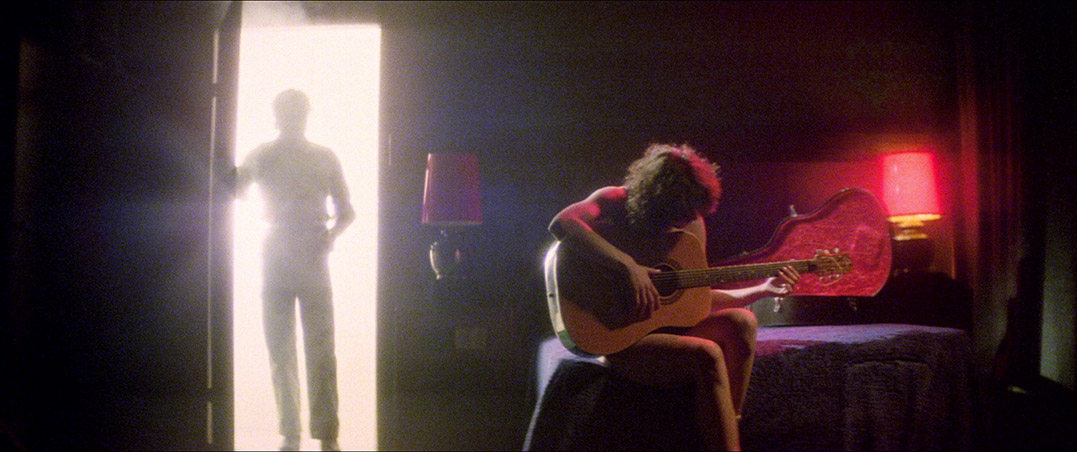 Kangaroo Hitchcock: The Making of Road Games (20' 06")
Based on an interview with Richard shot for the Anchor Bay DVD release, this is presented in the 2.35:1 aspect ratio for no reason I can fathom except for the fact the feature is in the same aspect ratio. This has the result of some very curious reframing choices (where are Hitchcock's eyes in the still of him and Richard?) Stacy Keach chimes in now and again but it's mostly Richard's show. There's a lot of repetition – inevitable as mentioned before. Keach's green slimy caterpillar story prompts one of the crew in the second commentary track to ask what he may have been smoking at the time… Shooting the boat sequence Richard admits that "I don't know how we weren't all killed!" The ending or lack of the set pieces comes up again and the marketing comes under some criticism (rightly so but what Road Games actually is, is a very hard thing to state for sure. It's a character piece rife with suspense with sardonic, black humour – tough to sell).
Cast and crew interviews:
Stacy Keach: Australian Long Haul (2019) (13' 25")
Shot a couple of years ago, it's lovely to see Keach still with us given the alarming early death rate of the production crew. Keach seems to have had a ball on the film which given the disquiet reported by the crew in the second commentary comes as a nice surprise. The caterpillar plague and the playing in the desert stories come up again. In fact Keach is extremely actor-like in re-telling his stories almost identically beat for beat.

Archival Interview with Richard Franklin (1981) (25' 31")
This is a lovely addition with a youthful Richard looking like a young professor sitting opposite his very earnest interviewer in what looks like someone's living room. It was very interesting to see clips from Richard's TV work. The clips from the movies are quite long and all presented in the extra's format of 4:3, an aspect ratio that plays havoc with a two shot in Quid's cab. There's some lovely behind the scenes of the making of The Blue Lagoon, a film Richard co-produced before shooting Road Games. There's some musing on Australian cinema, which is fascinating knowing where that country-specific sub-genre of movies went in the 80s.

Audio Interview with Richard Franklin (2001) (23' 08")
"John Carpenter was a funny guy. Not as funny as me!" Richard's dry comedy persona is dialled up to 11 in this interview. It's much more informal than any other interview – Sam Peckinpah is identified as a oddly dressed, smelly guy who sat next to Richard unknown to the budding student. Is it because it's not on camera that it feels so comfortably relaxed? There are some great stories in here allowing for some repetition.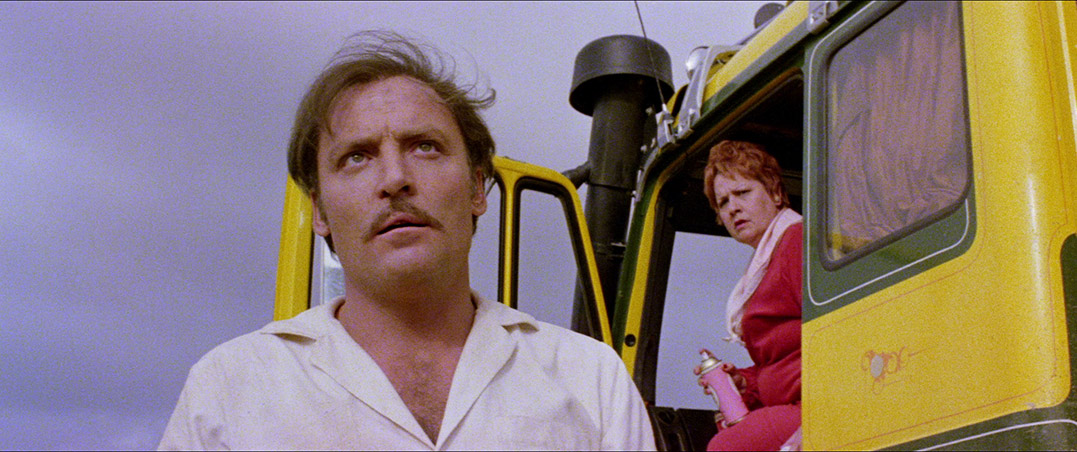 Audio Interview with Stacy Keach (2016) (9' 10")
On the phone, Keach reiterates his experience making the film. And as mentioned before, he reads from the same memory bank. Exhausted from travelling, learning to drive a truck, Hitchcock information, Grant Page's truck physics… It's all here. Again. I know finding and collating extras for Blu-rays is not the easiest job with rights issues etc. but a small amount of editing perhaps may have cut this one out. I know 'more' is perceived as better but with such grinding repetition, some extras can become redundant.

Audio Interview with Grant Page (2016) (32' 48")
The telephone quality is not quite as good as the Stacy Keach audio so I missed a few things but Page sounds like a real professional. He also worked on Mad Max and had one accident in his career, which involved his son. He says that no shots in Road Games were speeded up in post but I'm not sure that's true. Page talks about the old school way of getting shots and one of the things I learned from Richard was the idea that making a film is a series of solving problems. CGI obviates a lot of those problems these days but I have great respect for the 'get it on camera' professionals and Page qualifies as one of those. The wisdom of experience is celebrated… "…getting close to that point of no return but not going past it." The 'old American stuntman' quote is a classic… "You don't get old. You get lazy!" Stuntmen Hal Needham and Yakima Canutt are both name-checked. Page also signs off wishing that we hadn't lost Richard at so young an age. I can second that with significant enthusiasm.

Not Quite Hollywood: Interview Excerpts – The following interviews were conducted by director Mark Hartley for his documentary Not Quite Hollywood (2008) (1hr 3' 17")
At last, Jamie Lee Curtis! It's a real shot in the arm to hear from her. It's only just occurred to me that her mother's name in her double barrelled surname is shortened to 'Lee' from 'Leigh'. We get her background information, a lovely story about a tough Ozzie woman rolling a cigarette in a storm… with one hand and the use of the word 'pioneery' which is worth the price of admission so to speak. There's no whitewashing and she acknowledges how bad she felt ousting the actress originally cast in her role. Keach talks about the character, Killer the faux dingo, and delivers most of the stories we've heard several times already.

Richard pops up and he must have known about his illness at this time. Speaking about the casting of Lee Curtis, Richard says "Equity based their decision on Fantale wrappers." They are Australian sweets contained in paper pinched at both ends and strangely covered in the biographies of film and pop stars... Ah, right.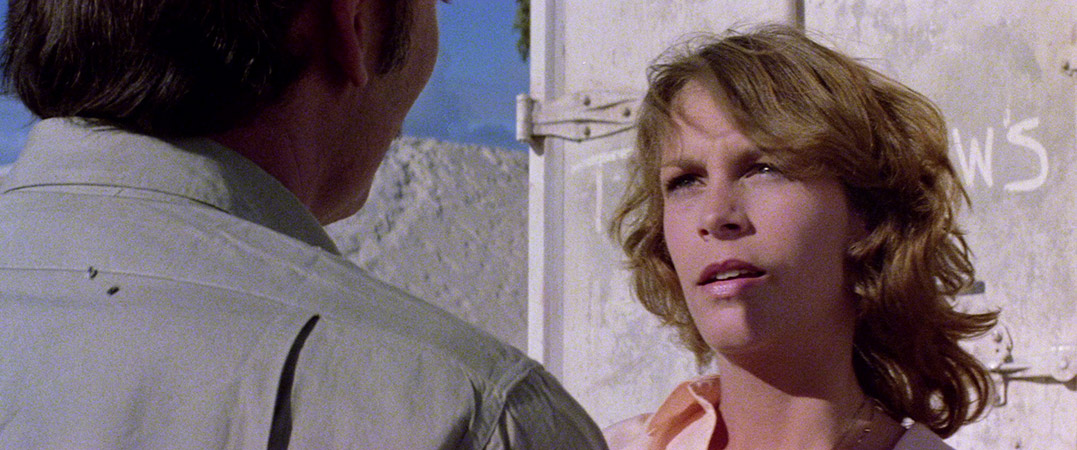 Hullo Everett! When screenwriter Everett De Roche left the UK in 1985, he left me in charge of the MS-DOS word processor, as we had to rewrite the script a little with him back in Australia. A few months later both co-producer and director took delivery of the very first Apple Macintosh from the US… status symbols of course but it's fair to say since those heady times, there's not a single day that I've not had my hands on an Apple product. To get the writer's perspective is novel and very welcome.

Next up is Director of Photography Vincent Monton. There's a little irony that the first edit, a short mix to get to his next answer, loses the light at the same time… As we've heard from the crew commentary, Monton was the one whose memories were at variance with his co-workers'. Richard's frustration with 'tea breaks', periods of downing tools, which were evident on the film he made in the UK, is well known and well documented on this disc.

Tom Burstall was the film's First Assistant Director, the sergeant major in charge of the actual shoot. I think I heard that he was assigned to Richard without Richard's knowledge or approval. I may have that wrong. In this pertinent extra, Burstall plainly states that Road Games as written (way over length) could not possibly be shot in the time frame given to do so. "After five days filming, they were four days behind…" says Burstall. Hindsight has proved him right and Richard was perhaps too confident in his (and not his crew's) ability to work fast. The only outcome of this is director frustration. A similar dynamic occurred on Link but important relationships fractured on that shoot that made its production a lot harder than it needed to have been.
Road Games: A Lecture (2 hrs, 10' 28")
This is absolutely fascinating, a look at the making of the film but from a point of view very rarely made public knowledge. After a lengthy academic introduction, Richard takes us through the rather absurd marketing efforts made on the film's behalf. The poster – barely believable as a real poster – makes the film look like a sad love story in an armoured vehicle. Have these people actually seen the film? With respect to Richard's part in the running time, it's co-producer Barbi Taylor's presentation with all the money stories and how complex it was to pull the whole thing together that contains the meat of this extra. After a little research, it was alarming to see that Barbi died a year before Richard at the sad, young age of 58, the same age Richard was when he died. All of Richard's mannerisms are in full flow here (the two-fingered fringe push, the head scratching, the glasses rearrangement, the pronunciation of 'assume' with the 'sh' sound and the hand gestures). Earlier on (and you have to know Richard to catch this one) Richard is always saying "Pardon?" People might 'ashume' the audience could barely be heard but Richard was quite deaf in one ear after his stint as a musician. Waiting for some editing insights, halfway through, Richard suddenly says "The editor I won't talk about." Whoah! Talk about (or not) dismissive. But then the editor/director relationship is usually key on most film productions. Composer Brian May's piece on spotting and composing for cinema is a gem. May's work, particularly with George Miller, is consistently terrific and Road Games enjoys a very hummable main theme and musically it stands out. This is a first class extra the kind of which you wish would accompany every movie. There are some sound issues given the number of participants and microphone placements and not everything works like clockwork but that's part of its charm.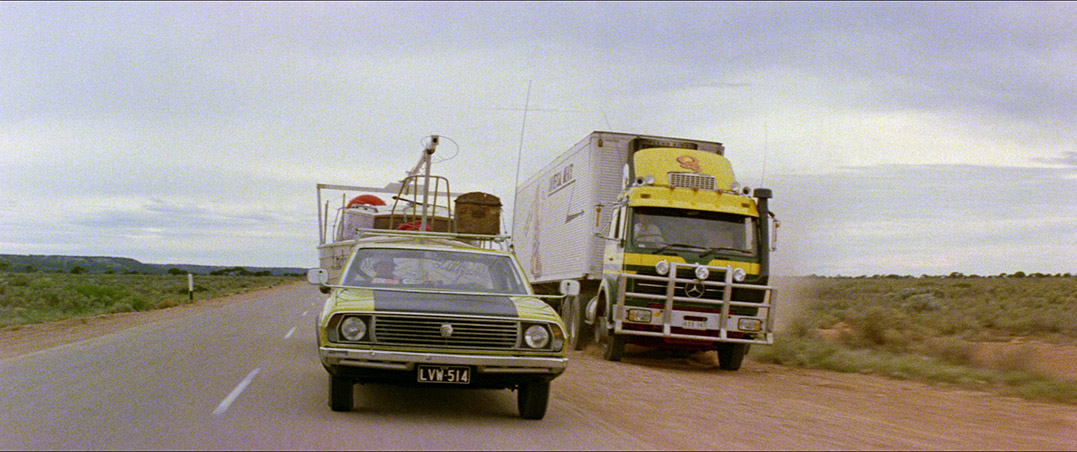 Neil Sinyard: Trouble Ahead (12' 40")
Sinyard's dependable contribution is as ever pertinent and full of useful information. He talks about the context in which the film was made and the frustrations Richard encountered on its release.
Script Read (1hr 56' 29")
Richard leads the cast through the table read and it's very clear that what was written was not exactly how the movie turned out but then which film doesn't deviate from the page as it becomes its own thing? It's a solid wade through all the details including Australian words that Keach may not have encountered before. But this is no radio drama. For fans of the film, it's a snapshot of the creative process – Richard brings up how scenes should be shot etc. so it's also quite technical. It's instructional more than entertaining but not every word is caught cleanly by the microphone. The misread of "wire and shit" started with the table read it seems.
Music Demos (4' 12")
This is the main theme as played on piano by Brian May, appreciated by Richard in the studio. Then we get the score playing over the 360 degree pan, followed by Hitch's theme.
Theatrical Trailer (2' 11")
Hmm. This is an edited rewrite of what I had to say about the trailer in my DVD review.
This is a typically over the top trailer selling the film like a slasher movie on wheels. There are lots of earnest pronouncements: "A truck driver plays games... The hitchhiker plays games..." Oi vey... "And a killer is playing the deadliest game of all..." Ho hum. If you know the movie, the trailer basically shows you almost everything except the telling of the actual story. It's a classic of its kind in terms of how it was believed thrillers had to be marketed. Essentially it's "You're pretty dumb but this sort of advertising entices you, doesn't it?"
Image Galleries
There are two galleries here. The first has 68 screens of Promotional Stills and Posters and includes a small number of monochrome behind-the-scenes shots. Promotional Guide and Test Screenings Report consists of 46 screens containing immaculate scans of the two documents of the title. The first is what we'd call now a press pack and contains biographies and articles on Richard Franklin, Stacy Keach and Jamie Lee Curtis, plus the credits and a detailed symopsis of the film that you definitely shouldn't read before watching the movie itself. We then get scans of blank audience report cards, followed by pages from the official feedback on the results. As wearily usual, the biggest complaint was that parts of the film moved too slowly (I'd like to see how this lot got on with Tsai Ming-Liang's Goodbye, Dragon Inn), and the report suggests that this could be improved by "cutting unnecessary material." Unnecessary in whose judgement, exactly?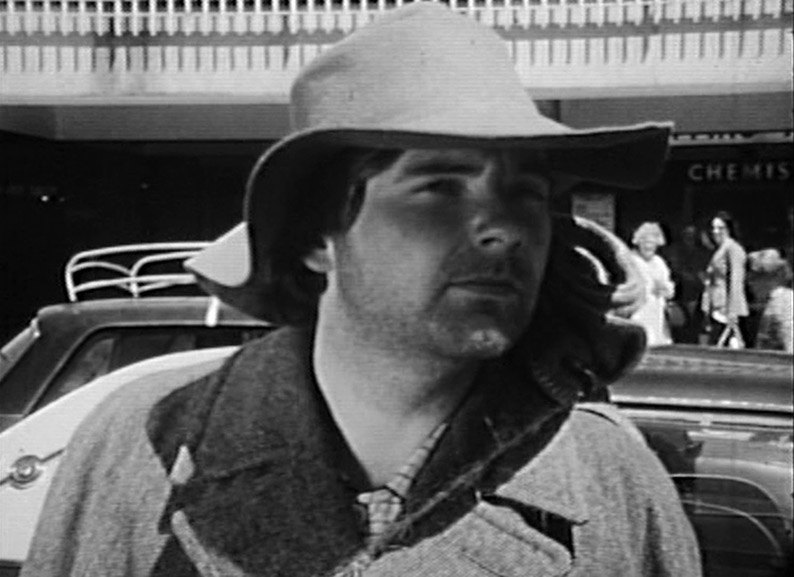 David Byrne in '...And His Ghost May Be Heard'
...And His Ghost May Be Heard (1973) (15' 31")
Richard directed this curious oddity when he was 25 and given the credits, he got funding from all sorts of sources. Richard was so internationally attuned as a filmmaker it was sometimes easy to forget he was Ozzie through and through. Look no further than this short film that introduces (and takes its sweet time to do so) the actual 'jolly swagman' from the Australian number Waltzing Matilda. This is an itinerant manual labourer with his 'Matilda', a rolled up blanket in which he keeps his worldly goods. A fish out of water in the big city, he takes a ride on a tram's running board, takes in all the unusual city folk and ends up on a motorway disrupting the traffic. It's a bizarre film that sent my eyebrows north a few times. It certainly didn't exactly point to what Richard might go on to make. The BBC sound effect records are well represented (I still have accurate memories of my own sound work for the corporation). And at the end there is a tree under the credits, which I swear features a very odd likeness of George Lucas' head sporting a Fu Manchu moustache.
Limited edition exclusive 80-page book with a new essay by Lee Gambin, archival interviews with Franklin, Keach and Curtis, Franklin's 1980 Alfred Hitchcock obituary, an overview of contemporary critical responses, Mark Hartley on …And His Ghost May Be Heard, and film credits
Ease On Down The Road To Nowhere: Isolation and Paranoia In Road Games by Lee Gambin 2020
Gambin's article is a profound appreciation of the film full of supplementary information on its making and marketing. He also places Road Games in its context being very much its own thing while being associated and sold as a slasher film.

An Interview with Richard Franklin 1980
Even as a friend of Richard's, I found this interview enlightening. It's packed with relevant and time specific information about his processes at the time of making Road Games and for all our mid-80's conversations to his death in 2007, I didn't know that he was a big Sherlock Holmes fan. That would have taken us down some interesting alleyways. He has a lot to say about the politics of promoting Australia on the world stage and how the country's government didn't go too much further than highlighting driving on the left side of the road, kangaroos and didgeridoos.

An Interview with Stacy Keach 1980
Keach is upfront about Australia's viewpoint towards international actors coming in and replacing Australian actors. He's obviously very keen on the aspects of his character and shares what drew him to the role.

Jamie Lee Curtis And Stacy Keach On Road Games 1980
A little repetition here but it's always good to get Lee Curtis' take on things as she's the least represented on this disc. To absolutely no one's surprise she refers to the macho Australian mentality and how strong women could be seen as a threat. Does it come as a shock to realise that Jamie is a strong woman? No, me neither.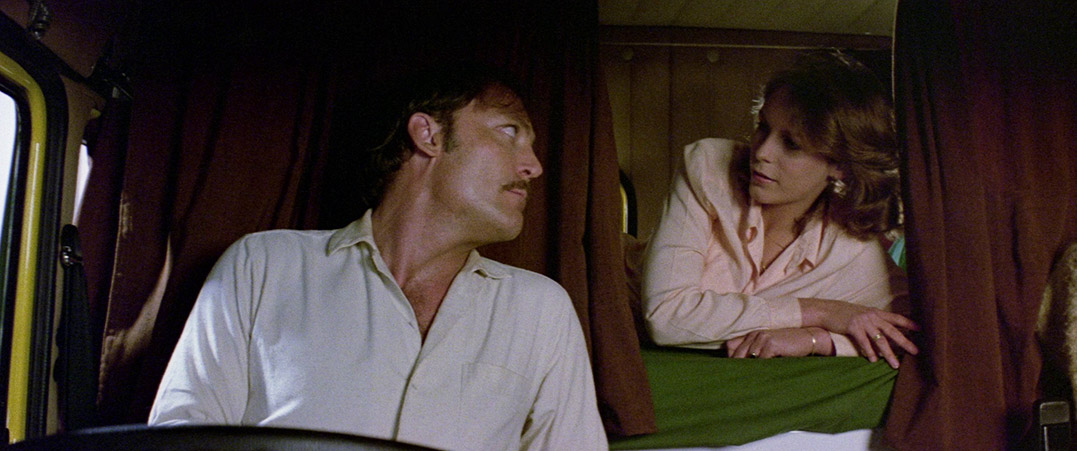 Richard Franklin on Alfred Hitchcock 1980
Richard's obituary does something few pieces of writing on Hitchcock that I've read ever did. It humanises a man seen so often through the lens of his 'act' of ghoulish lugubriousness. There are some awful stories out there about his behaviour and I have no way of verifying their veracity but Richard paints this larger than life character as a small, plump, anxious man who happened to be a cinematic pioneer and someone, when firing on all cylinders, that could create great art on the big screen. For those of you who have met famous people, does it often occur to you that it's your own creation of how this famous person is perceived that is the wall between you and a fellow human being? Some famous people start believing their own hype but that's another story altogether.

Critical Response
Three extracts from reviews that (1) note the film's US yearnings, (2) cram it into a genre box where it sits unhappily and (3) call out its apparent failure to toe the Hitchcock line while relying on Keach's character to the concept's detriment.

...And His Ghost May Be Heard 

Full credits for the short film, Richard's first Australian film outside his TV work.

Up Jumped The Swagman by Mark Hartley 2020 

This is an introduction to Richard's first short film in which Hartley does warn the reader that a thriller ...And His Ghost May Be Heard is not. It's a valid warning about a curious but leisurely oddity.
Richard straddled genres with Road Games, which of course meant the film was marketed as something it wasn't. It has a charm and an overlooked wit, which the marketing couldn't fold into their campaign. The presence of Jamie Lee Curtis, who at the time was building a career in the slasher genre despite her own distaste for it, might have swayed the distributors towards the horror label and the trailer exploits this in a cheesy way but if you make a film like Road Games which simply does not fit into a genre box, I guess you have to pre-plan its marketing as much as the film itself. It remains a quirky, idiosyncratic and exciting work that delighted me when it first came out and we'll say no more about the bizarrely green head in the bucket.
---