Pierre Lachenay (Jean Desailly) is a successful academic. He's as successful as it gets, called upon to talk on Balzac at an academic conference in Lisbon, or to introduce a documentary on André Gide (whom he met towards the end of his life) in Reims. Many people, often young women, queue up for him to sign copies of his books. Pierre is married to Franca (Nelly Benedetti) with a young daughter, Sabine (Sabine Haudepin). Flying to Lisbon, he finds himself in the same hotel as air hostess Nicole (Françoise Dorléac) to whom he is immediately attracted...
After Jules et Jim, François Truffaut planned his next film to be an adaptation of Ray Bradbury's 1953 classic dystopian SF novel Fahrenheit 451. However, he could not find backing for the project, then planned as a French-language production. (Truffaut finally made the film in 1966, his first in colour and in English.) Also around this time, he met Alfred Hitchcock and in 1962 conducted the series of interviews which were published in book form in 1966. While La peau douce (known in English as either The Soft Skin or Silken Skin) isn't strictly speaking a suspense thriller, it does show a lot of the Master's influence. An original screenplay by Truffaut and Jean-Louis Richard, it was inspired by Truffaut's sighting of a couple, clearly not married to each other, passionately kissing in a taxi cab. He imagined that he might hear the click of their teeth colliding. The surname is a nod to Robert Lachenay, Truffaut's childhood friend, the inspiration of one of the characters in The 400 Blows and who had worked as an assistant to Truffaut.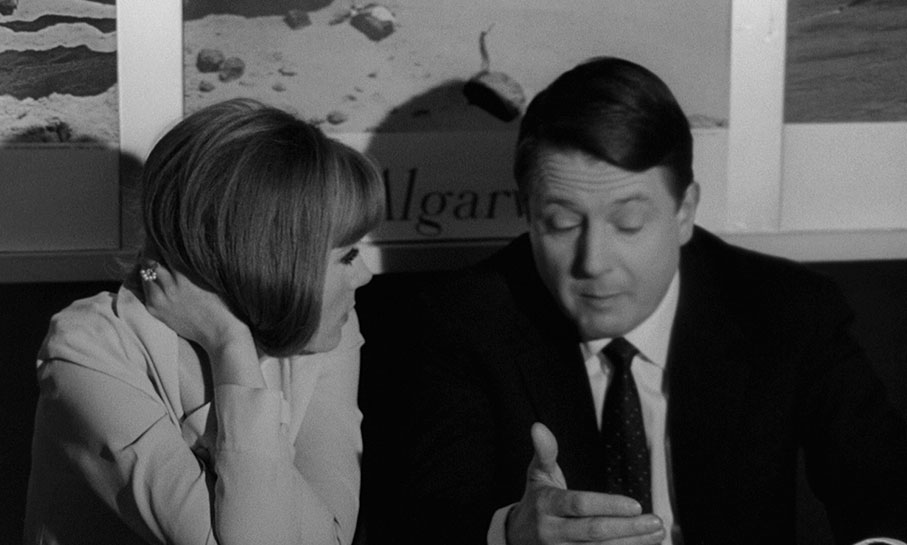 After the exuberance of Jules et Jim, La peau douce is a much more sobering experience. The previous film's historical setting, with its nods to early cinema, is replaced by the present day, still black and white, a time of hotels and airports. While Truffaut's first three features are clearly a young man's films, intent on showing what he could do with cinema, La peau douce seems a work of greater maturity, from a man who by this time had passed thirty. Jules et Jim dealt with a triangle – one woman, two men – and so does this film. This triangle comprises one man and two women, and is a combination much more fraught. The ending is melodramatic, though it is based on a real incident Truffaut read about in the newspapers. Given the rather interior subject matter, it's noticeable that Truffaut keeps up a brisk pace, aided by much mobile camerawork and Claudine Bouché's sharp editing.
Pierre is a somewhat passive character, one rather out of his depth. The two women in the story reverse the usual stereotypes. The wife is the fiery and passionate one, with Franca typed as Latin, brunette and volatile. The other woman, Nicole, is fair-haired and emotionally cooler. While this is a story written by two men from a male point of view – it's not until the final act that Franca effectively becomes a second protagonist – Pierre isn't an especially sympathetic character. This may have affected the film's reception. Both of the principal women in this film have scenes where they are bothered by men in the street, who at best annoying, at worst threatening. While that's not the case with Pierre – Nicole does respond to his advances – it's not hard to see him at one end of a spectrum of behaviour, the two strangers much further towards the other end.
Jean Desailly had a long career of over ninety films, but this is the role he was best known for outside France, other than being second-billed in the 1949 comedy Occupe-toi d'Amélie, which was a censorship cause célèbre outside France at the time. He did not like the film, blaming its lack of success for not being offered other leading roles since. Nelly Benedetti made very few films, working mostly on television, but she's convincingly ferocious. Françoise Dorléac was the older sister of Catherine Deneuve, and at this time, aged just twenty-two, was on the brink of international stardom, appearing in this and the hit French comedy The Man from Rio in the same year. She went on to star in Polanski's Cul de Sac and acted alongside her sister and Gene Kelly in The Young Girls of Rochefort before her death in a car crash in 1967, aged just twenty-five. For the second Truffaut film in a row, Sabine Haudepin plays a young girl called Sabine; she would act again for Truffaut as an adult in The Last Metro. Co-screenwriter Jean-Louis Richard has an uncredited role as the man who harrasses Franca in the street towards the end of the film.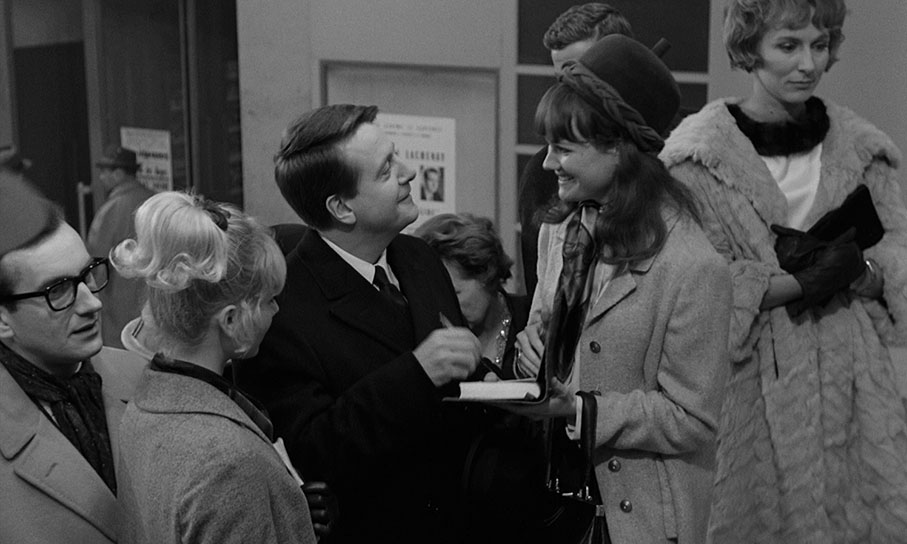 Two key Truffaut collaborations continue in this film. Georges Delerue contributes a fine score and Raoul Coutard's black-and-white camerawork is a major asset. The scenes in Pierre and Franca's home were shot in Truffaut's actual apartment.
Premiering at Cannes, La peau douce had poor reviews and was a commercial failure, viewers finding the protagonist and the film hard to warm to. Some found its filmmaking style disappointingly conventional. Other contemporary reviews were more positive, and the film has attracted a following who regard it as one of Truffaut's best films.
La peau douce is released on Blu-ray by the BFI. It is one of four Truffaut films released by them on disc, following The 400 Blows and Jules et Jim, simultaneously to The Last Metro. The disc is encoded for Region B only. Given a X certificate (then, sixteen and over) in 1964, the film was more recently a PG on disc. In 2022, in keeping with the BBFC's present guidelines, it was uprated to a 12, for some brief verbal references to sexual violence.
After three features and the short Antoine et Colette shot in Scope, this film is "flat" (shot with spherical lenses) in the ratio of 1.66:1. Truffaut said that he had been appalled to see horribly panned and scanned 4:3 16mm prints of his first three features, but it is also the case that a narrower ratio does suit an intimate drama like this. (And also, Hitchcock in his career never shot a film in Scope, though that's partly because he was working at Paramount who had adopted VistaVision* as their widescreen process. ) For the rest of his career, with the one exception of 1969's Mississippi Mermaid, Truffaut would shoot all his films with spherical lenses, most often in 1.66:1. This Blu-ray transfer is in the correct ratio and is sourced from a 2K restoration of the original negative. Nothing untoward: Coutard captures some deep blacks, especially in night scenes, but greyscale and contrast look fine and grain as it should be.
The soundtrack is the original mono, presented in LPCM 2.0. The film was post-synchronised, but for most of the film it's hard to tell, though lipsynch does occasionally wander. The sound is clear and well-balanced, and Delerue's score comes over well. There are optional English subtitles available for both the feature and the commentary.
Commentary with Jean-Louis Richard
This extra has appeared on previous Blu-ray and DVD releases of La peau douce.  This enables us to hear from the film's co-writer, who died in 2012. This track was recorded in 2000, Richard, interviewed by critic Serge Toubiana. It's an informative chat, detailing Richard's long friendship with Truffaut and their working relationship, which extended to writing four films, culminating in the Oscar and BAFTA-winning Day for Night, and later acting in two further films for Truffaut. He also wrote Emmanuelle, but that goes unmentioned here...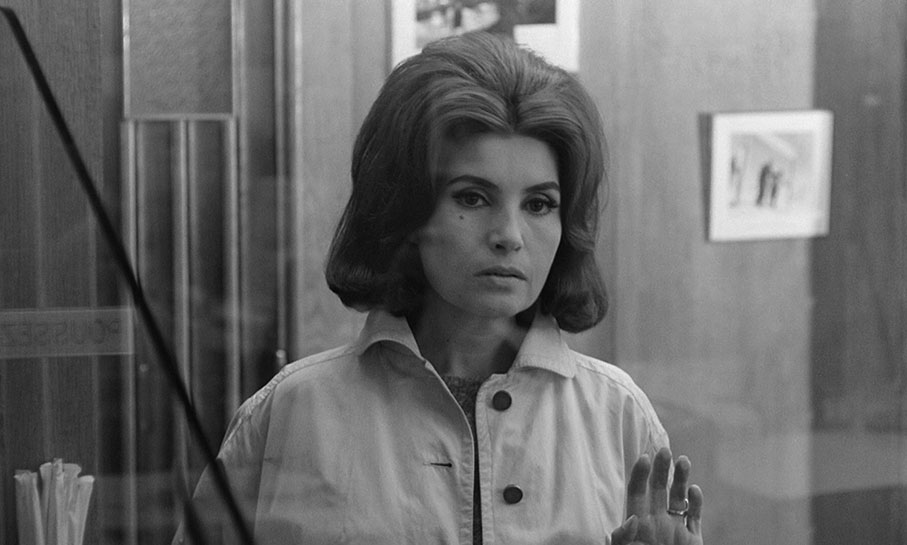 Between Masters at War: Truffaut and the Lessons of Alfred Hitchcock and Roberto Rossellini (17:53)
For three out of their four Truffaut Blu-rays, the BFI have drawn on the Truffaut Study Day which was held at the BFI Southbank on 29 January 2022. On this disc, Dr Pasquale Iannone gives a presentation on two film directors who influenced Truffaut, even if those two were often at odds with each other. (Hitchcock was not best pleased when one of his regular leading ladies, Ingrid Bergman, left Hollywood to live with Rossellini.) Rossellini, with Journey to Italy in particular, was  a great favourite of the writers for Cahiers du Cinéma, Truffaut among them, even suggesting that that film changed the face of cinema. Rossellini tended to avoid "cinema effects" flattening out the narrative beats of more commercial cinema. Truffaut found Hitchcock's documentary-style The Wrong Man his most Rossellini-esque film and possibly his best. That said, Hitchcock still sometimes used "effects", such as the camera movement in a scene of the protagonist (Henry Fonda) in his jail cell. However, Hitchcock suggested that an unmoving camera in that scene might be a little dull. Truffaut disagreed.
Near the start of this presentation, Iannone shows a clip of Guy Maddin's My Father is 100 Years Old, featuring Isabella Rossellini in a tribute to her father. However, this has been edited out, as it could not be included for copyright reasons. It is however, on the BFI's release of Voyage to Italy, included in their 2015 box set of the Ingrid Bergman Roberto Rossellini Collection. However, Iannone does end with a clip from The 400 Blows, with audio from an interview with Truffaut by Annette Insdorf.
Paris Through the Lens
Two items from the BFI National Archive, about the city so central to Truffaut's work, with a Play All option.
Paris Street Scene (0:45)
Shot in 1900, this captures the frontage of the Palais Garnier, with people passing by. It was shot with a hand-cranked camera so speed varies, and the footage is often damaged. But as so often with these early fragments, the fact that it still exists at all is the important thing.

A Bird's Eye View of Paris (7:10)
From 1910, this does what it says, the camera in the airship we see in the opening shots. We take in overhead shots of the Champ-de-Mars, Notre-Dame, the Eiffel Tower and the Seine.
Old Portugal at the Ocean's Edge (0:53)
Given that significant scenes in La peau douce take place in Lisbon, here are three fragments from 1896, shot by British film pioneer R.W. Paul. They are Sea Cave Near Lisbon, Rocky Shore and Breakers. In the same year, Paul had made Rough Sea at Dover with Birt Acres, and scenes of the sea, either rough or smooth, were a draw to early filmgoers. These items are presented tinted on this Blu-ray.
Original trailer (3:50)
This trades heavily on Truffaut's reputation by reminding viewers of The 400 Blows and Jules et Jim but somehow doesn't mention Shoot the Pianist.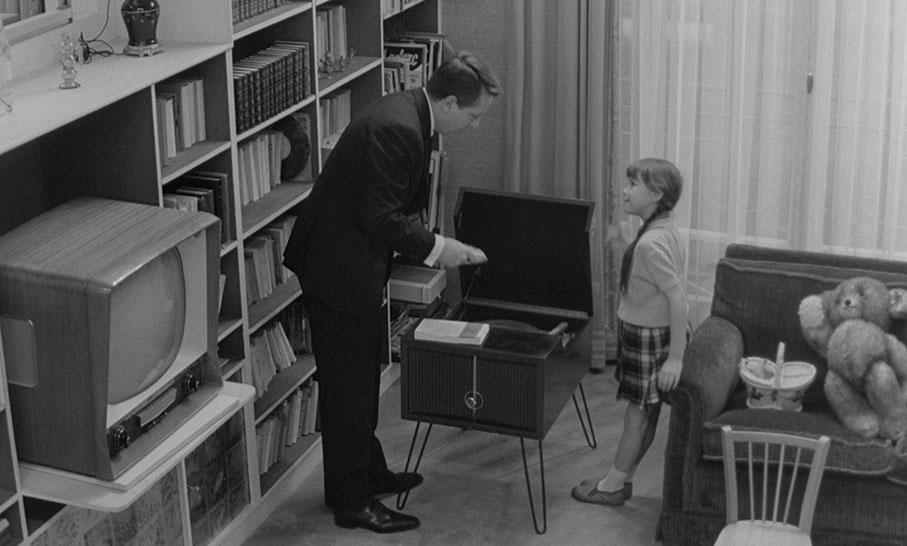 Booklet
The BFI's booklet is available for the first pressing only and runs to twenty pages. It begins with an essay, "Truffaut's Mirror" by Catherine Wheatley (spoiler warning – read after you've seen the film). Wheatley begins with Truffaut's inspiration for the film: those lovers with teeth clicking together, and the image of female legs in silk stockings, crossing and uncrossing. She then goes on to discuss Hitchcock's influence on the film, reading it as a rather grubbier take (the events of the film that is, not the film itself) on Vertigo, with a similar infatuation of an older man for a younger woman. This may have personal relevance, as Truffaut was by his own account given to affairs while married, and obsessed with Françoise Dorléac, though this didn't seem to have resulted in an sexual relationship. So maybe, Wheatley suggests, La peau douce is a cinematic mea culpa on Truffaut's part, and one of several of his films where a man's treatment of a woman ends badly for him.
After full film credits, Kieron McCormick continues with "A Certain Tendency: Truffaut as Film Critic", which is not the same as the biography McCormick contributed to the booklets for the BFI releases of The 400 Blows and Jules et Jim. This essay looks at Truffaut's work as a very prolific critic in the 1950s for Cahiers du Cinéma and other magazines, so prolific that he often wrote under pseudonyms as he did under his real name. He clearly made an impression, not just for his opinions but also for the combative way he expressed them. He and other writers were in Young Turk mode, looking to redefine a French cinema they found stale and extolling the virtues of Hollywood thrillers (by Hitchcock and others), Italian neo-realism (Rossellini and others) and earlier French directors such as Jean Renoir, Marcel Carné and Jean Vigo. In short, writing a road map for the New Wave when they became filmmakers themselves. Truffaut was eighteen when he wrote his first review, which was on La règle du jeu, which he had seen twelve times by then. Later, he discovered the Hollywood cinema which had been banned in France during the German occupation and his first piece for Cahiers was a review of the Joan Crawford film Sudden Fear. He was then twenty-one. It was in that magazine in 1954 that he wrote the essay which McCormick's is named after, in which he dismissed much of the "tradition of quality" of French cinema. He became a proponent of the auteur theory and was also an exponent of discussing a director's output by interviewing him, not just Hitchcock but many others. Truffaut's critical work inevitably decreased after he became a director but Henri Langlois described him as one of the great French film critics of the twentieth century.
The booklet also features credits for and notes on the extras, including a longer piece on R.W. Paul by William Fowler.
While not the most immediately inviting of Truffaut's films, and a commercial failure in its day, La peau douce stands up very well and remains one of his best films. It is well presented on this BFI Blu-ray.
---