After his debut feature, Bleak Moments in 1971, Mike Leigh did not make another one for seventeen years. He wasn't the only director who had made one or more features in the early part of the decade but couldn't make another one until the 1980s: Ken Loach and Stephen Frears were others. Like them, though, Leigh remained active but on television, building his reputation to the point where Abigail's Party had entered the national consciousness and the BBC had granted him a retrospective in 1982. (The latter was the first time I saw much of his TV work.) It was certainly clear by the early 1980s that Leigh's ambitions were exceeding the scope of the small screen and he aspired to the larger one. Channel 4, which launched in 1982, increased the funding available to British films, and with High Hopes in 1988 Leigh returned to cinema screens.
With hindsight, you can sense a progression in Leigh's work. Life is Sweet, his next feature, which was impressive then and still is, now feels like a dry run for Leigh's greater achievement in Secrets & Lies, two films later. That film seems like a culmination of Leigh's themes and methods up to that point, and after it you can sense him moving in other directions: next a two-hander chamber piece, Career Girls, and moving into historical and biographical subjects with Topsy-Turvy. But in between Life is Sweet and Secrets & Lies, he made Naked.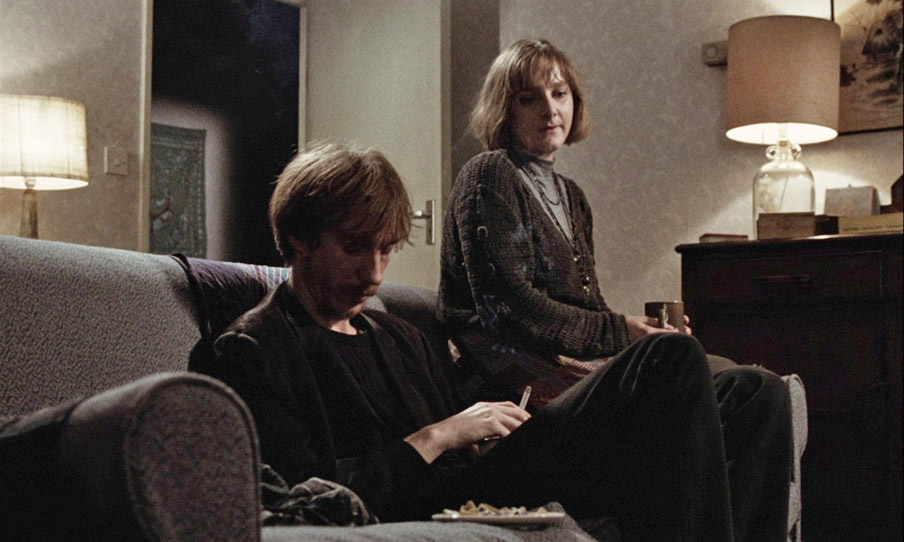 There's a change of approach right at the start with a handheld shot of a man and a woman having sex in a Manchester alleyway. She is protesting, so maybe this is, or has become, rape. When the woman's family chase the man away, he steals a car and drives down to Dalston, east London. This is Johnny (David Thewlis). He arrives at the house where former girlfriend Louise (Lesley Sharp) lives. However, she is out when he arrives and the first person he meets is her housemate Sophie (Katrin Cartlidge), while the primary householder Sandra (Claire Skinner), a nurse, is away in Zimbabwe.
There are a lot of different strands to Naked. Another is provided by Jeremy (Greg Cruttwell), who also uses the name Sebastian, the house's landlord. He is an amoral and psychopathic yuppie with no regard for women other than having sex with them, whether they want to or not. After sleeping with Sophie, Johnny leaves the house and in a long middle section over the course of the night we see him going from one encounter to the next: a young Scottish couple who have become separated from each other (Ewen Bremner and Susan Vidler), a security guard (Peter Wight) looking after an empty building, a drunk woman (Deborah Maclaren), a girl in a cafe (Gina McKee). Johnny expounds his theories of life to whoever will listen and eventually he gets beaten up.
Leigh had had the initial idea for the character of Johnny back in the 1960s, and Malcolm Scrawdyke, the anti-hero of David Halliwell's play Little Malcolm and His Struggle Against the Eunuchs, of which Leigh directed the first stage production in 1965, is a similar type of young man. Johnny is an autodidact, highly verbal and articulate, but as becomes clear, like many Leigh characters, he's in as much pain as anyone else in the film. It's a pain of bruised idealism. While he may have difficulties with the women in his life, he's not a misogynist – by comparison with Jeremy who truly is one. Naked was made in 1993, when the new millennium was in sight, and Leigh, as ever developing the film in workshops with his cast, produces a darker vision than he had done previously, an all but apocalyptic one.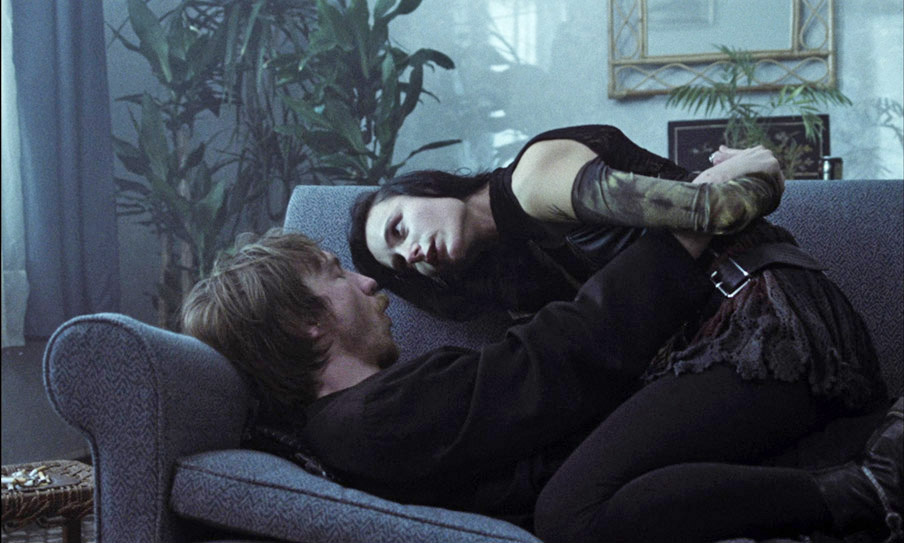 David Thewlis, who had worked with Leigh previously on the short film The Short & Curlies (see below) and Life is Sweet, gives an extraordinary performance which won him Best Actor at the 1993 Cannes Festival. (Leigh won Best Director.) Although not everything he does is sympathetic, and sometimes is despicable, he's a compelling character throughout. Performances are fine across the board, especially Katrin Cartlidge and Lesley Sharp, and to some extent Claire Skinner, who only appears towards the end of the film. (She was busy making the sitcom Chef! for the BBC, so wasn't available to take a larger part.)
Naked isn't always easy viewing: it's a brackish, sometimes dyspeptic work that takes hold of our attention like a slap in the face. It has been accused of misogyny, which Leigh and others in the cast deny: ultimately depicting misogyny (which it does – sexually violent misogyny in Jeremy's case) is not the same as endorsing it. Also, most of the leading characters have too much shading to be stereotypes and Louise especially is no doormat. She clearly cared for Johnny in the past and still has some feelings for him. She's also the one who stands up to Jeremy the most. By the end, we have had one of Leigh's cathartic climaxes to a largely character-led film: pain has been let out, and maybe things will be for the better from now on, but as the last scene implies, just as possibly not.
When it premiered at Cannes, Naked was a big step up in Leigh's reputation, cemented by the Palme d'Or win of Secrets & Lies three years later. By now he was, quite rightly, recognised as one of the major British filmmakers active, and remains so. Nearly thirty years on, Naked remains one of his major works.
Naked is a Blu-ray release from the BFI, encoded for Region B only. The film itself has the (justifiable) 18 certificate it has always had. The trailer has a 15 and The Short & Curlies is rated PG. The other items are documentary material which have been exempted from certification, but anyone likely to have a problem with strong and very strong language should note that in his Guardian Interview Leigh quotes some of the dialogue which made All or Nothing his only other film with an 18 certificate.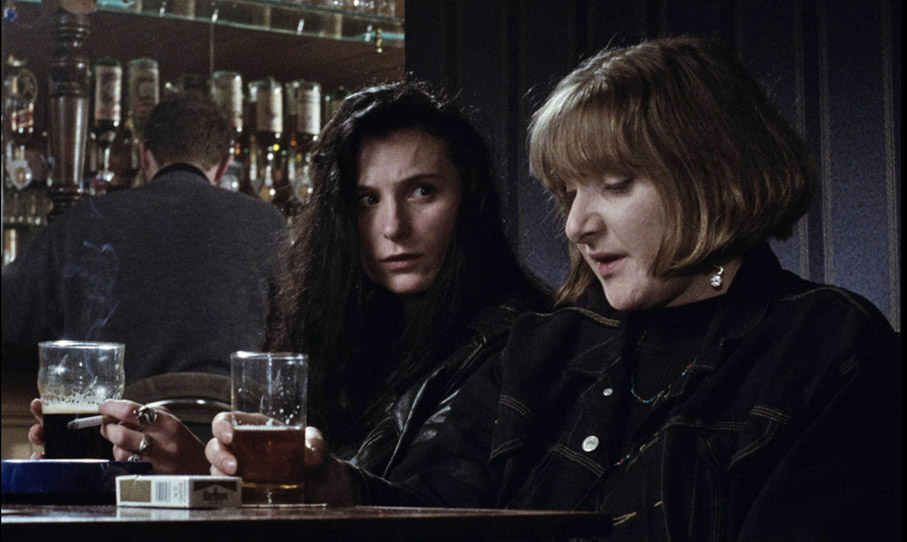 The Blu-ray transfer is based on a 4K restoration from the original negative, supervised by Dick Pope and approved by Leigh. It is in the ratio of 1.66:1. In his interview elsewhere on the disc, Pope says that this is the only version of the film worth considering, other than original 35mm prints of course. As I say above, the main feature of Pope's camerawork is the bleach-bypass process used, which results in muted colours and a bluish hue in the daytime scenes. Grain is noticeable, especially in the night-time scenes which make up most of the film's middle section, but it's natural and filmlike.
Naked was released in 1993, just as digital film soundtracks were coming in, but it was released in analogue Dolby Stereo, and that's the basis of the LPCM 2.0 (surround) track on the disc. There is also a remix in DTS-HD MA 5.1, but it doesn't make a great deal of difference: the film is heavily dialogue-driven with the surrounds given over to ambience and Andrew Dickson's music score, with a harp offset by viola and double bass and in places an ominous drum beat. There is also an audio-descriptive soundtrack in Dolby Digital 2.0 and English subtitles for the hard-of-hearing on the feature only. Given some strong regional accents on display, the latter may be useful for those whose first language isn't English as well as those who are hard of hearing.
Commentary with Mike Leigh, David Thewlis and Katrin Cartlidge
This track was recorded in 1994 for the Criterion laserdisc. Leigh and Cartlidge have been recorded together, while Thewlis's comments have been edited in, and another voice introduces each speaker. This is an excellent commentary, going into detail into the film's production and reception, with Leigh answering some of the criticisms the film had received. Katrin Cartlidge died in 2001, aged just forty-one, this track does preserve her comments on the film she played a major part in. I was amused by Thewlis telling us that another working title for the film was Apeshit. I wonder why they didn't go for that?
The Short & Curlies (18:05)
Made for Channel 4 in 1987, this short film is a four-hander, or rather a pair of linked two-handers. Clive (David Thewlis) is a young man who shares more than a few characteristics with Johnny, though in a lighter vein. He seemingly can only communicate in corny jokes and odd bits of trivia that nowadays you might find from Wikipedia. He begins to go out with Joy (Sylvestra Le Touzel), who works in a corner shop. Meanwhile, the relationship between Betty (Alison Steadman), a hairdresser, and her daughter Charlene (Wendy Nottingham) is coming apart. It's funny and excruciating by turns, if inevitably a little slight. Presented in a ratio of 1.78:1.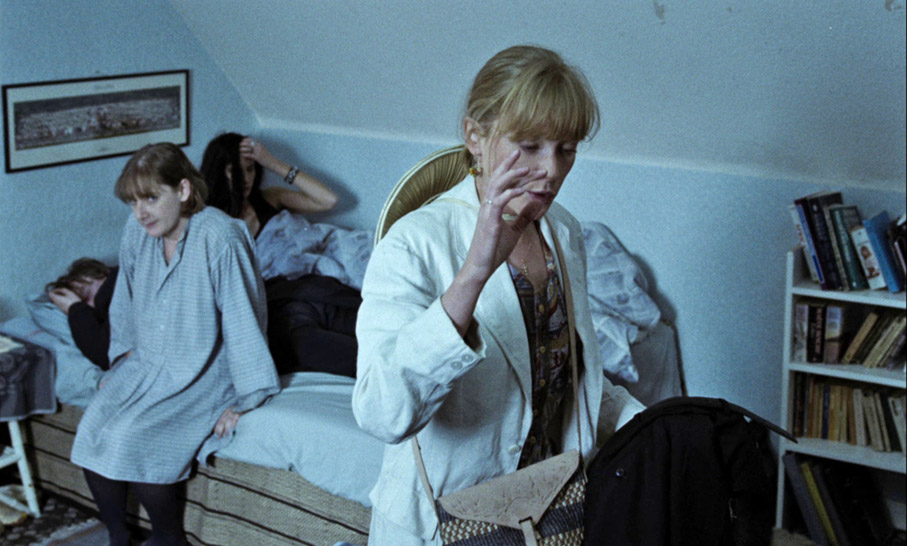 Interview with Mike Leigh and Dick Pope (26:14)
This interview took place in 2021 between Leigh and the cinematographer he has worked with exclusively since Life is Sweet. (Pope was Oscar-nominated for Mr. Turner.) The rapport, creative and personal, between them is evident as they talk about the making of Naked. Pope's experience with the bleach bypass process was on Nineteen Eighty-Four (1984), which was shot by Roger Deakins, but on which Pope worked in the second unit. Leigh took to the suggestion and the tests that Pope shot, and the result is the look of the film we have now.
The Guardian Interview: Mike Leigh (44:57)
In 2002, Derek Malcolm interviewed Leigh at the National Film Theatre (now the BFI Southbank) after a showing of All or Nothing, and inevitably that film dominates the discussion. After a relatively short (or edited) time, Malcolm opens the discussion up to the audience. Their questions appear as on-screen text captions before Leigh answers, and we don't hear the questioner unless he or she comes back to Leigh after his answer, which avoids many of the sound problems you often have in items like this.
Trailer (1:39)
This is not the original trailer for Naked, though is close to it. It's instead the one produced for the film's 4K restoration and limited cinema release prior to this Blu-ray release. In practice that adds some critics' quotes and a restoration caption.
Image Gallery (2:31)
A self-navigating collection of production stills and poster designs.
Booklet
The BFI's booklet, available with the first pressing only, runs to twenty-four pages. It begins with (spoiler warning) "Naked Truth" by Caitlin Quinlan. For the most part, this reads the film as "a portrait of masculinity and all its toxicities" by comparing and contrasting the characters of Johnny and Jeremy, and points out that three decades later, in the wake of #MeToo and other high-profile sexual abuse allegations, that very little has changed. The women in the film have to navigate their own courses through life in spite of male opposition, antagonism or worse. "Leigh in London" by Lou Thomas begins by calling Naked a great London film. The use of the capital as the location for so many of his cinema films was in part a function of the limited budgets Leigh had to work with. By comparison, his BBC work benefited from the regional structure of the Corporation so he could make his films there in different parts of the country. Even so, whether by design or necessity, Leigh has made his adoptive city his own, and Thomas looks at each of his films set in one or other part of it. The booklet also includes notes on and credits for the extras, and stills.
Nearly three decades on, Naked remains one of Mike Leigh's best films, and indeed a key work of British cinema of the early 1990s, and a step towards the triumph of Secrets & Lies. There are no complaints about its presentation on the BFI's Blu-ray, released along with Bleak Moments. Many will buy both.