Lawrence, says the subject of this film, was so named because Lawrence of Arabia was big when he was born (though he was born in 1961, a year before the film came out). So his mother thought it was a good aspirational name, apparently unaware that Lawrence was that man's surname rather than given name. Lawrence's surname is Hayward, but throughout his career he's been professionally mononymous, as the frontman (singer, songwriter and guitarist) of Felt, then Denim, then Go-Kart Mozart, who later became Mozart Estate. Certainly the definition of a cult figure but, as he admits more than once, that doesn't necessarily result in commercial success. So, Lawrence of Belgravia he is, though he was was evicted from his flat in that well-heeled part of London (paid for largely by housing benefit) during the course of this film's production. He was born in Birmingham and at the end of the film was living in a tower block in Hackney.
Paul Kelly's film is a portrait of the artist, in part fly-on-the-wall documentary, in part interview. We also see rehearsal and performance footage. Given that Lawrence is by his own admission a man who could and perhaps should have been bigger than he was, it has a melancholy tone from the outset which it doesn't deviate from. Musically, Lawrence has been influenced by bubblegum and glam rock (both genres around in his formative years) and US New Wave bands like Television. So, why wasn't he bigger? Lawrence reckons one reason was that John Peel didn't like Felt, only played a couple of tracks on his show, and thought that the title of the band's first album (Crumbling the Antiseptic Beauty, released 1982) was the worst in the history of music. Lawrence says that no indie band in the 1980s succeeded without Peel's support, and he may well be right. One of Go-Kart Mozart's albums was wryly titled Tearing Up the Album Chart, because that is exactly what it didn't do.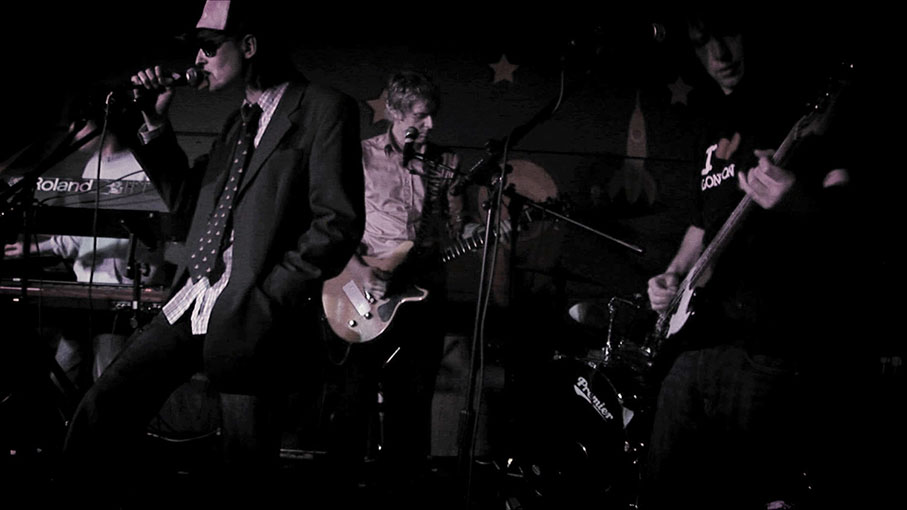 Lawrence of Belgravia was made over eight years. It was originally due to be premiered at the London Film Festival in 2006 and had twenty minutes shown as a work in progress at the Barbican in 2008. It was finally completed in 2011, and was shown at the London Film Festival that year (see below in the extras). Devotees of the man and his bands regard him as something of a lost genius of UK indie music. He does come over as a curmudgeon and not always sympathetic, but that is part of the point of the film – to what extent is a refusal to compromise admirable and to what extent is it self-defeating? He's certainly frank about his unrealised ambitions: "The day I don't have to go on the Tube any more will be the day I fucking celebrate." Ultimately, the film doesn't really grasp its subject and basic biographical details are sketchily conveyed. Intentionally or otherwise, Lawrence remains somewhat at arm's length. Fans of his music will no doubt be the market for this documentary, but to what extent this will attract newcomers is another question.
The BFI's release of Lawrence of Belgravia is an all-regions Blu-ray release. The film has a 15 certificate.
The film was shot in HD video (on three different types of camera, as per Paul Kelly's commentary). The transfer is in the ratio of 1.78:1 (16:9) and plays at twenty-five frames per second. No doubt that's correct though presumably it played at twenty-four in cinemas, and that may partly explain a small discrepancy in running time: 86:00 in cinemas according to the BBFC, with this Blu-ray transfer running 84:45. This is a film which has existed in the digital realm from start to finish (I'm presuming no film prints were made for its cinema release) so there's no doubt it looks as it should do.
The soundtrack is LPCM 2.0, playing in surround, though that aspect comes to play only in some gig sequences. Although there's no LFE channel, my subwoofer did pick up some redirected bass during those sequences and with some non-diegetic music played at other times. The sound mix is clear. English hard-of-hearing subtitles are available for the feature but not the extras.
Commentary by Paul Kelly
Kelly provides a commentary which might have worked better as a to-camera interview or a selected-scene commentary. It works less well as a full commentary because he leaves some very long gaps. When he does speak, he talks mainly about the production of the film. He first met Lawrence due to his connections with another band, Saint Etienne, to whom Go-Kart Mozart once played support, and Lawrence had appeared in Kelly's documentary Finisterre (2003).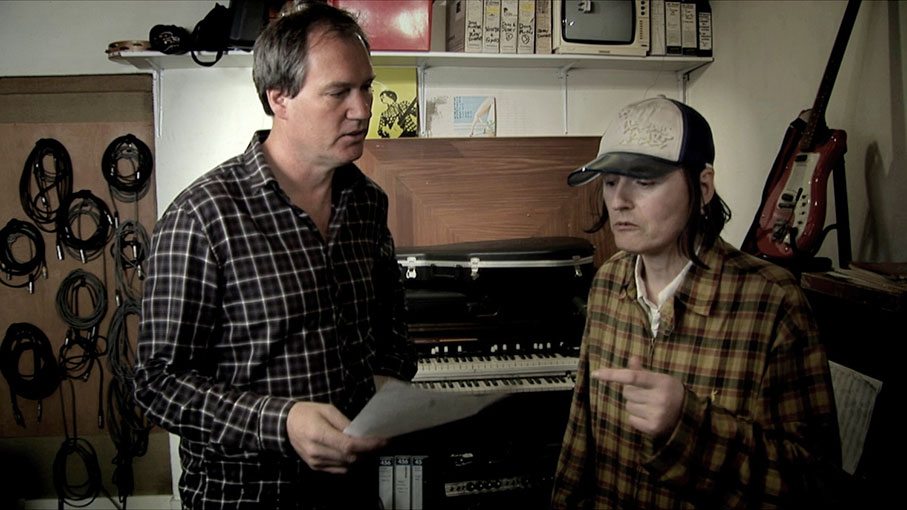 London Film Festival Introduction and Q&A (2:07, 6:43)
Kelly introduces the film at the 2011 London Film  Festival and afterwards takes part in a Q&A with Lawrence. Lawrence admits that he had wondered how the film would work, given how much of a control freak he was, but having seen the whole film (he hadn't, before this screening) he acknowledged that he couldn't have done a better job. He shows a wide-ranging film taste, naming his three favourites as Christiane F, The Mother and the Whore and Pixote, all tending towards the dark and cathartic rather than sweetness and light.
Original trailer (1:13)
Alternative Title sequence (1:21)
Another version on a sequence which, Kelly freely admits, borrows from Saul Bass's title designs for the original West Side Story.
Deleted scenes
Two of them: "French Lesson" (1:16) and "Building Site" (3:51), with a Play All option.
Poetry Readings
Two more, with a Play All option. First is "Cat Meat on Slum Street" (1:25) from 2009, read by Lawrence himself, who admits he "fucked up the last line". The second one, from 2011, is "The Tortoise" (0:41), a poem Lawrence wrote at age eight and which is read by Donovan Kelly, aged six.
Booklet
The BFI's booklet, available in the first pressing only, runs to thirty-six pages. "To Hell With Reality: Lawrence vs the Cult of Success" by Siân Pattenden fills in a lot of details that aren't in the film, beginning with a pen-portrait of him as she interviewed him in his local area, known to the locals, sitting in a cafe two hundred yards from where he lived. Lawrence admits that he was part of the reason the film took so long to make, with "some kind of breakdown" causing him to withdraw from time to time and spend time as a mental health outpatient. The essay also details the problems with Denim's single "Summer Smash", ready to go and on radio station playlists – and then Princess Diana died in a car accident and the single was withdrawn for fear of causing offence and the band was dropped by EMI and broke up two years later.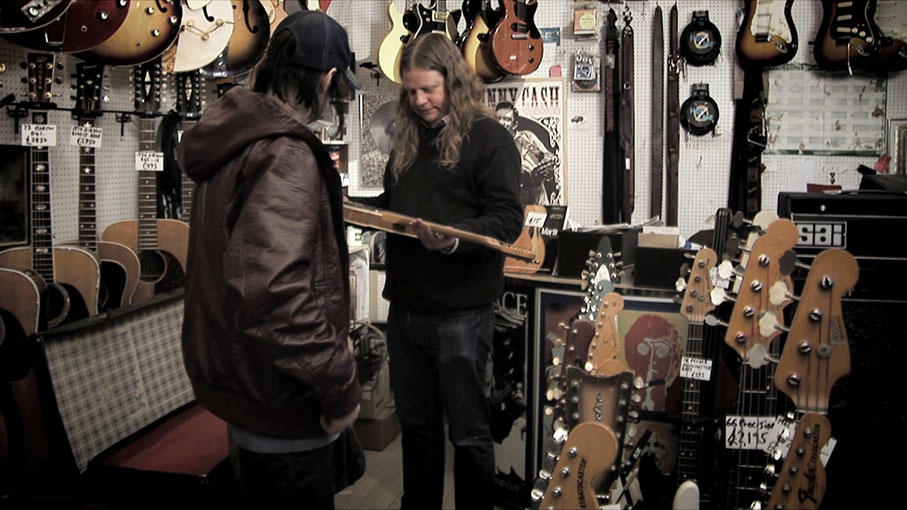 Michael Hayden's "A Vital Part of a Precious Legacy" talks about the inception of the film, when Kelly suggested to Lawrence that they make a film together while they were working on Finisterre. Kelly knew the film had to be as good as two recent films on "outsider" artists: Ondi Timoner's 2004 film about the Dandy Warhols, Dig!, and Jeff Feuerzeig's The Devil and Daniel Johnson, from 2005. However, further inspiration came from the 1982 documentary Marvin Gaye: Transit Ostende, depicting Gaye staying in the Belgian port. Lawrence here, as in the film, comes over as somewhat out of his time, claiming that music doesn't exist if not on vinyl, wondering if a pensioner could be a pop star and suggesting that if he had been around in the sixteenth century he could have lived on the patronage of a nobleman.
"Lawrence Talks" by Tim Murray, postdates the film: its original version appeared online 2018. It sees Lawrence in a flurry of activity, putting out Felt's first five albums in definitive versions in both CD and vinyl. Add to that a new Go-Kart Mozart album, reissues of the back catalogue and a large number of live dates. Lawrence is seemingly in a better place than the one where he was in the film.
In addition to film credits, the booklet includes examples of Lawrence's poetry and song lyrics and notes on the extras.
Lawrence of Belgravia is a film about a cult figure, a musician who might, and possibly should have been, bigger than he was. As a film, it's somewhat at arm's length, and rather sketchy on basic biographical details, and its fly-on-the-wall-plus-interviews approach isn't as revelatory as it might have been intended. No doubt fans will rate this film higher, and it is well presented on Blu-ray by the BFI.