Anyone who watched and read and listened to the Strait-Jacket special features on the recent Indicator William Castle at Columbia, Volume Two box set will be well aware of the importance and influence of Robert Aldrich's 1962 surprise hit, Whatever Happened to Baby Jane?, which effectively gave birth to a whole new subgenre of the horror-thriller, one that has been rather unkindly dubbed Hagsploitation. It's an unflattering term for films whose principal characters tended to be mentally unstable and even murderous elderly women played by formerly glamorous but now middle-aged stars whose once considerable fame had since waned. Whatever Happened to Baby Jane? set the template by featuring two such celebrated performers in the shape of Bette Davis and Joan Crawford, and the publicity for it played to some degree on the notorious and long-standing feud between the two women. Crawford subsequently went on to star in William Castle's notable stab at the subgenre, the above-mentioned Strait-Jacket in 1964, and in the same year was re-united with Davis and Aldrich for Hush…Hush, Sweet Charlotte. This was designed from the outset to be a companion piece to Baby Jane, being based on a short story by (and co-scripted by) the earlier film's screenwriter, Lukas Heller, a connection cemented by the story's title, Whatever Happened to Cousin Charlotte?. Despite having put their long-standing feud on hold for the production of Baby Jane, however, Davis and Crawford were at it again almost from the moment that Hush...Hush began filming, and after Davis's scheming against Crawford led to her claiming illness that put the production on hold, Crawford was eventually fired and replaced by Olivia De Haviland, with whom Davis was friends. That there was going to be trouble between the two old rivals was signalled from the moment Davis was told she'd again be working with Crawford, about whom she allegedly said to Aldrich, "I wouldn't piss on her if she was on fire." Yikes.
The story begins in Louisiana in 1927 at the mansion of wealthy plantation owner Big Sam Hollis (Victor Buono), who as the film begins is in the process of balling out a young man named John Mayhew (hey, it's Bruce Dern in one of his first feature roles!), whom Sam has discovered was planning to secretly elope with his precious daughter Charlotte, who is set to inherit the family estate. The over-protective Sam is having none of it and is particularly incensed that John is already married to a woman named Jewel, whom Sam then uses (I'm still not quite sure how) to blackmail John into telling Charlotte that the whole thing is off at a ball being held at the house the following evening, which is when the two had originally planned to make their escape. As you might expect, Charlotte does not take this news well ("I could kill you!"), and while John is sitting in the summer house mourning his decision, someone sneaks in and – in an attack whose violence is startling for a film of this vintage – hacks his hand and head off with a stolen cleaver (one whose disappearance we are unsubtly clued into by a rapid zoom and a musical cue). A short while later, a stunned Charlotte enters the ballroom with her white dress horribly discoloured by a large splash of blood whose location has inescapable Freudian overtones.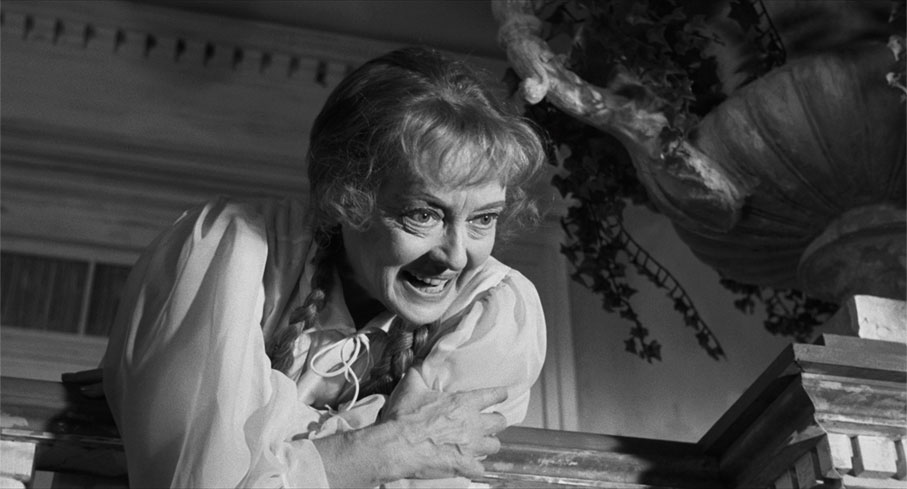 We then hop forward to 1964 and the considerably older and reclusive Charlotte (Bette Davis) now lives alone on the family estate with her fiercely loyal but crochety housemaid Velma (Agnes Morehead). Breaking into her house at night and attempting to steal something seems to have become an initiation ceremony for local kids, and when one of them is caught in the act by the half-asleep Charlotte, instead of screaming at him she calls out for the long-deceased John, for whom she still appears to be waiting all these years later. The next morning she is brought back to reality by the arrival of a bulldozer tearing through her property, her land having been requisitioned by the state for the construction of a bridge to connect a new highway. When she furiously opens fire on the vehicle with a shotgun she keeps by her bed, possibly for that purpose, the foreman (hey, it's George Kennedy!) attempts unsuccessfully to reason with her. When she nearly drops a giant plant pot on his head, the torch is passed to kindly local sheriff Luke Standish (Wesley Addy), who calmly makes it clear to Charlotte that she has just ten days to vacate the property or she'll be brought up on criminal charges. Charlotte, however, is unperturbed, informing Standish defiantly that she has called on the help of her cousin Miriam (Olivia de Havilland), whom she is convinced will put the authorities in their place. But Miriam has a firmer grasp on the reality of the situation than Charlotte, and with the assistance of Drew Bayliss (Joseph Cotton), Charlotte's doctor and friend and the younger Miriam's former boyfriend, she sets about trying to shake Charlotte free from the delusion under which she appears to be living. But Miriam's arrival also coincides with a downward turn in Charlotte's already frail sanity, one that prompts her to start hearing and seeing things related to the murder of her former lover.
The first thing that struck me about Hush...Hush, Sweet Charlotte is its high production values, with the plantation mansion setting and costumed ball guests giving it the feel of an old school Southern-set melodrama, which does tend to make the violence of the opening murder (John's right hand is severed as explicitly as it would be in an 80s slasher movie) all the more shocking. Once we get to 1964, it's quickly established that Bette Davis was unafraid to go the whole nine yards when it comes to playing a defiant Southern dame with psychological issues. It's a big performance that at first feels a little too big, but is also one that I soon found myself really warming to, and some of the most entertaining moments in the early scenes are sparked by Charlotte's fiery anger. It's a similar story with Agnes Moorehead as the irascible Vera, whose loaded glares, spiky line delivery and sometimes exaggerated physicality are always entertaining but just occasionally feel a tad too 'performed'. But as with Davis, there is a lot more depth and truth to her portrayal than first encounters initially suggest, and the honesty and conviction of Vera's devotion to Charlotte later proves unexpectedly moving. Counterpointing this is a pair of relatively low-key performances from Olivia De Havilland as Miriam and Joseph Cotton as Dr. Bayliss, though De Havilland is also allowed to explode in later scenes, and when this happens the contrast with the polite and emotionally controlled woman we first meet delivers an effective jolt.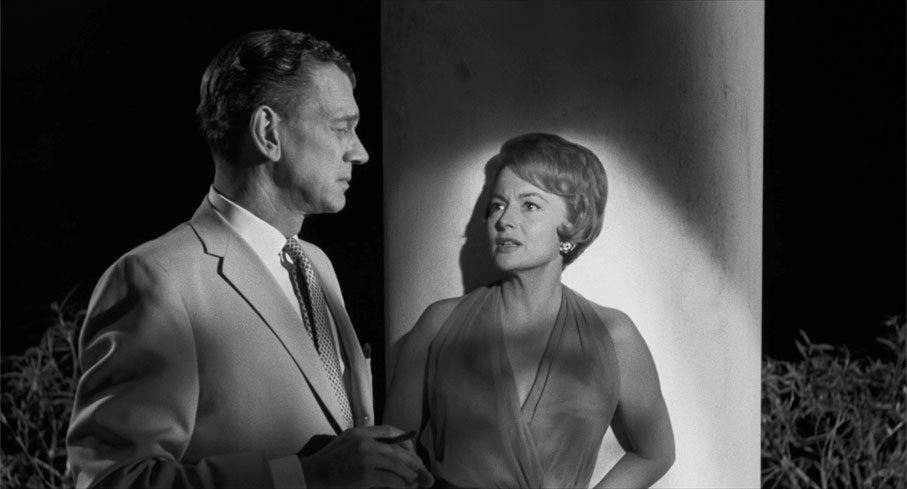 As with Strait-Jacket (and I'm about to get into what might be considered spoiler territory, so those new to the film might wish to hop forward to the next paragraph), there's a strong suspicion from the moment Charlotte starts hearing ghostly pianos and seeing horrible visions that she's being set up by someone intent on driving her loopy, though her behaviour is so unhinged at times that you may find yourself repeatedly questioning that conviction. And while it's not quite as obvious who the perpetrator might be here as it was in Castle's film, the list of possible candidates is so limited here that there's a good chance you'll guess who is responsible anyway, though it's likely you won't be able to predict every aspect of what is revealed. But here's the thing. When the expected revelation comes, the film still has a good 40 minutes to go, time that Aldrich uses to refocus our sympathies and build significant tension when a sympathetic someone riskily attempts to come to Charlotte's aid and an act of apparent madness takes Charlotte and Miriam into morally dark territory. This builds to a finale that is both satisfying and a little sad, one that allows Charlotte her moment but at a considerable cost, albeit one she by then seems happily willing to pay.
The film looks consistently lovely thanks to master cinematographer Joseph Biroc's suggestive and noir-inspired use of light and shadow (how wrong it would have been to have shot this in colour), William Glasgow's evocative art direction and Raphael Bretton's set decoration, which includes simple but significant touches like dirtying mansion doors around the handles to subtly suggest the neglect the house has been subjected to over the years. It also boasts a fine supporting cast of engaging characters, including Wesley Addy as the likably easy-going Sheriff Luke Standish, former silent and early sound star Mary Astor as the elderly and bitter Jewel Mayhew, Percy Helton as a chirpy funeral director, and the imposing Victor Buono as Big Sam Hollis – when he says to John through angrily gritted teeth, "Do you know what it's cost me not to kill you?" you're left in no doubt that he would only have to snap his fingers to make that happen, but also that he would jump at the chance to do it himself. Best of all is Cecil Kellaway as Harry Willis, a soft-spoken and impeccably polite insurance claims investigator from London masquerading as a crime magazine reporter who gains Charlotte's trust simply by treating her decently. By the film's conclusion, a bond has developed between them that enables Charlotte to communicate something significant to him with nothing more than a small nod and the hint of a smile. It's a lovely moment in a film that is peppered with memorable exchanges, my favourite of which also belongs to Kellaway and Davis – "You're my favourite living mystery," Willis tells Charlotte at one point, to which she enigmatically replies, "Have you ever solved me?" Full marks to screenwriters Henry Farrell and Lukas Heller for that one.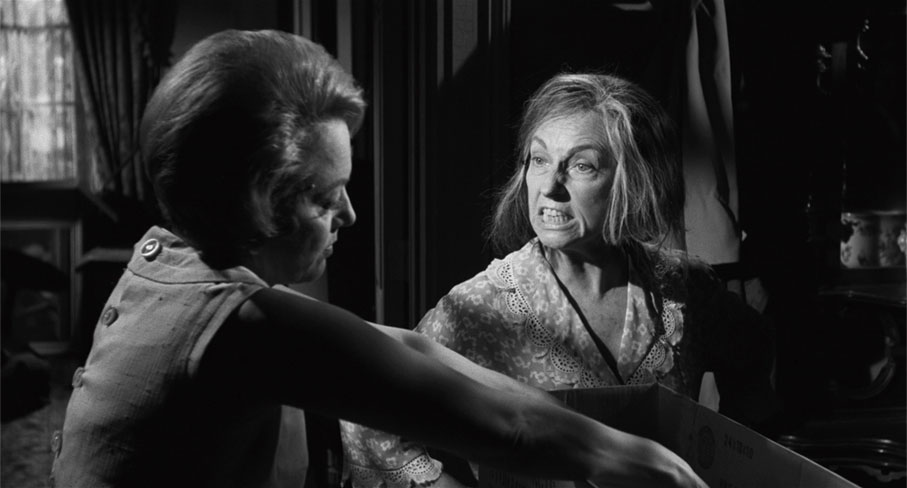 Like its predecessor, to which it is wedded thematically as well as through its writer, its director and its lead performer, Hush...Hush is a long film that never feels long, containing as it does plenty of interesting business in its unhurried build-up, and really letting rip once we move into the almost gothic horror of the final act. It's here that one of its principal cinematic influences becomes apparent (which I'm not going to name as it would count as a spoiler, but you'll find it mentioned repeatedly in the extras and other reviews), and also where Aldrich dabbles with surrealism in a hauntingly realised and drug-fuelled hallucination that mentally transports Charlotte back to the night of John's murder. The extraordinary manner in which Davis physicalises fear and encroaching madness is worth seeing the film for alone, peaking in a sequence where she retreats down the stairs on all fours like a trapped and terrified animal, her face an absolute picture of shocked reality disconnect. It's one of many fine qualities of a film that's prepared to take time to tell its story but that never comes close to losing us on the way, and that plays some neat games with expectations, delivering on some whilst simultaneously usurping others. It's a more than worthy follow up to Baby Jane, and for my money may just have the edge on its genre-defining predecessor, and as a dark and horror-tinged noir melodrama, it delivers on all counts.
A lovely 1.85:1 1080p transfer whose contrast range really does the Joseph Biroc's gorgeous monochrome cinematography proud, from the inky blackness of the atmospherically noir-inspired shadows to the tonal vibrancy of the areas on which light falls. Picture detail is consistently sharp and looks excellent in-motion, and a very fine film grain is visible if you're really looking. I spotted no obvious signs of dust or wear, and there is no visible movement of the image in frame. An excellent job.
The Linear PCM 2.0 mono soundtrack is in good shape, albeit with the expected restrictions in the dynamic range. Dialogue is clear, and there is no trace of background hiss or other errant damage.
Optional English subtitles for the deaf and hearing impaired have been included, as expected.
Kat Ellinger Audio Commentary
Another terrific contribution from Diabolique Magazine's ever-busy Kat Ellinger, who instead of providing a scene-specific commentary, offers a detailed look at a number of the film's key components, themes and influences. Inevitably, she explores the careers of the actors, but the principal focus here is not Bette Davis but Olivia De Havilland, about whose life and career I previously knew little. The rivalry between Davis and Joan Crawford also gets some coverage, and there is a breakdown of the events that led to Crawford being fired and replaced by De Havilland. The career, working methods and cinematic style of director Robert Aldrich are discussed, with specific focus on his ground-breaking film adaptation of  Frank Marcus's play, The Killing of Sister George.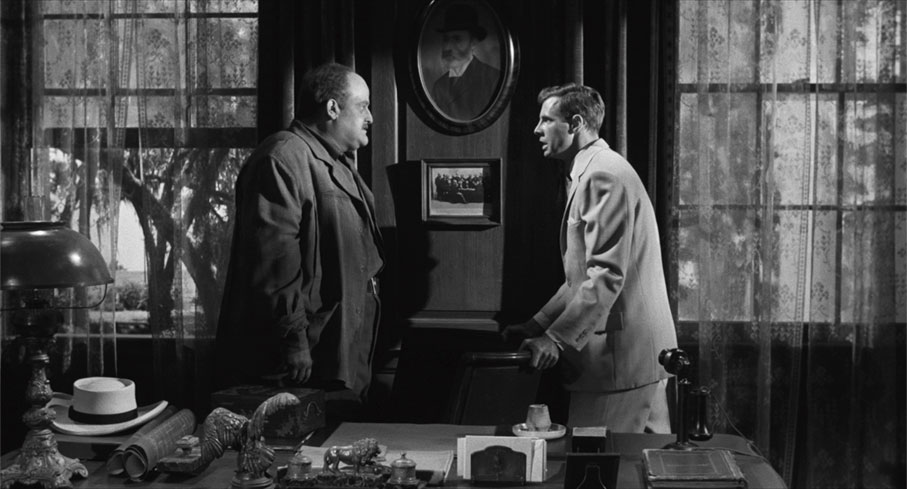 Glenn Erikson Audio Commentary
Ported over from the 2005 Fox Studio Classics DVD, this commentary by DVD Savant reviewer Glenn Erikson is similarly packed with facts about the film and interesting analysis of individual scenes. He provides biographies of many of the actors and detailed ones of the key players and filmmakers, highlights a few anachronistic elements and aspects of the plot that stretch credibility plus some of the things that make the film something special. For the most part, there is little duplication of Kat Ellinger's commentary, but he does eventually, inevitably, get into the feud between Davis and Crawford and provides a similarly detailed breakdown of what led up to her being replaced by De Havilland.
Hush...Hush, Sweet Joan: The Making of Charlotte (21:47)
Another import, this time from the later Fox Cinema Classics Collection DVD by way of a Twilight Time HD remaster, this featurette features a variety of talking heads, including contributions from Bruce Dern, Robert Aldrich's daughter Adell and Bette Davis's son, Michael Merrill. It's they who make the most interesting contributions  here, with Adell Aldrich sharing her memories of the shoot and Michael Merrill stating plainly, "I don't know whether Joan Crawford liked my mother or not, but I know my mother didn't like Joan Crawford." The story of how their rivalry led to Crawford being replaced is told for the third time here, but from a number of viewpoints and illustrated by behind-the-scenes stills and film footage.
Bruce Dern Remembers (12:50)
Also sourced from the Fox and Twilight Time releases is this interview with Bruce Dern, which is effectively footage that didn't make it into the above featurette but is of interest anyway. He recalls being shocked that Bette Davis was planning to play herself as a young woman and getting schooled by her when he suggested she use a younger stand-in, reveals a dangerous element to the sequence in which his (prosthetic) hand is chopped off, and has an entertaining story about one of Davis's Saturday afternoon get-togethers.
Wizard Work (4:43)
An archive featurette narrated by Joseph Cotton that plays almost as a tribute to Robert Aldrich, and includes some of the behind-the-scenes footage also seen in the above featurette.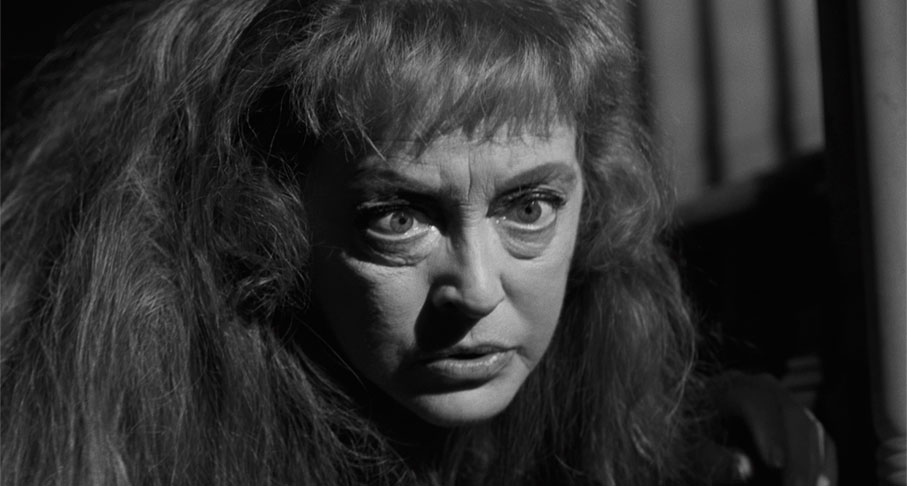 Stills Gallery
A manually advanced slideshow of 66 production and publicity stills, including wardrobe tests and behind-the-scenes photos, many of them in colour.
Teaser Trailer (1:25)
"Don't tell anyone how sharp the edge of terror can be." Alright, then. A solid enough trailer for one of many films that describes themselves as "The ultimate in suspense."
Theatrical Trailer (2:56)
A trailer that leans towards hysteria and has a couple of spoilers and warns of "shock that will leave you speechless." I'll shut up, then.
TV Spots (1:38)
Three TV spots that are effectively compressed versions of the trailer. The third one has a bit of a spoiler.
Also included is a Collector's Booklet featuring a new essay by Lee Gambin, illustrated with archival imagery, but this was not available for review.
A very well-constructed, smartly directed and splendidly performed blend of drama, mystery thriller and gothic horror that justifies its length and is twisty enough to keep even seasoned fans of this subgenre guessing. This Masters of Cinema Blu-ray boasts a typically excellent transfer, which is supported not just by all of the previously available disc extras, but an additional fine commentary recorded just for this disc. Another home run for Eureka. Highly recommended.