Made only three years or so after the events it depicts, Distant Journey [Daleká cesta] must have been an eye-opening viewing experience upon its release. Indeed, its depiction of the horrors at Theresienstadt, or Terezin, a Czech concentration camp and ghetto where Jews were transported before potentially having to later be sent off to an extermination camp, remains sobering, if slightly less shocking now with decades of documentary footage and cinematic recreations seared into our memories. The mixed use of historical images of Hitler, Goebbels and their ilk alongside the staged drama uncomfortably blurs the line further. If we're forced to engage with the fears and atrocities of the Holocaust it's particularly fascinating to do so via a film that had such little distance from what it was depicting.
Alfréd Radok was entrusted with directing Distant Journey after he'd given detailed notes on a treatment by Erik Kolar for one of the Czechoslovakian state film industry's production groups. Radok's ideas must have been impressive as he had no feature film experience and was just 33 years old. Born to a Jewish father and Catholic mother, Radok spent some time at a labor camp but escaped in early 1945. His father was less fortunate, as the entire paternal side of Radok's family perished in the Holocaust. It's remarkable to think about Radok directing his first feature film on location at Terezin, the site where his father and grandfather had died just a few years earlier.
Distant Journey actually feels very much like the work of an experimental first-timer not yet encumbered by the usual restrictions and customs of narrative filmmaking. It balances between a more conventional plot concerning Jewish doctor Hana (Blanka Waleska) and her new gentile husband Tonik (Otomar Krejca) and frequent stylistic flourishes that gently expand the medium. An opening emphasis on Nazi propaganda footage, excerpted from Leni Riefenstahl's Triumph of the Will, later makes way for picture-in-picture detours where we see documentary images dominate the frame while a small box in the corner continues something from the narrative.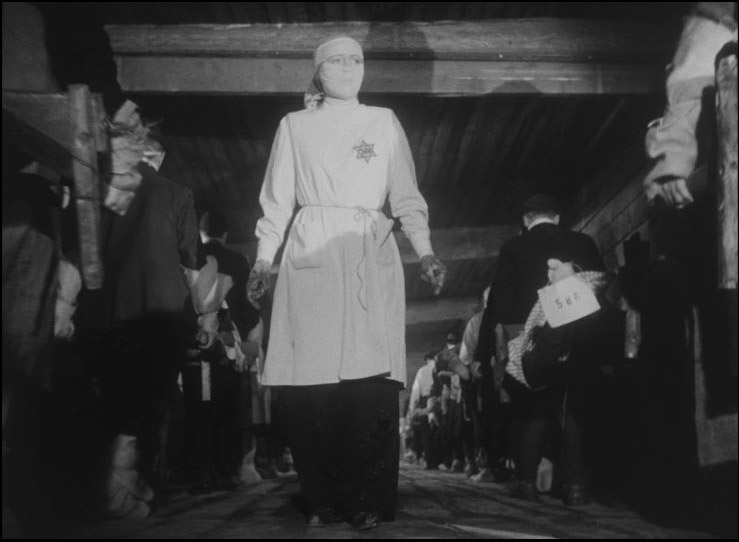 The story of Hana and Tonik is perhaps the least interesting element of the film, as there's unavoidable melodrama without the novelty the film's original audience might have more readily accepted. In terms of similar subject matter with more compelling narrative thrust, both The Shop on the High Street and Transport from Paradise – two titles also available from Second Run – exceed Radok's film. It generally goes without saying that numerous other non-Czech Holocaust films expand on this tragedy to harrowing effect. The point and appeal of Distant Journey to the modern viewer probably won't be nestled exclusively inside the relationship we see between Hana and Tonik here. It's larger and more symbolic, I think, to recognize the importance of this movie within the context of its origins. How someone like Alfréd Radok could have made this picture in the aftermath of unspeakable horror is tough to fully comprehend.
Radok and his screenplay collaborator Mojmir Drvota insert loose ends amid the documentary elements and main narrative involving Hana and Tonik. There's one aside where we see a businessman coming to the realization of what lies in his future with the inevitable transport to Terezin. Radok films it impeccably as we see the distraught man near his desk and the camera pans to a resting ashtray. That shot is held for a few seconds before we expand to see an open window – the man now absent from the frame – with the wind steadily blowing its curtains. Distant Journey gets cited frequently for its expressionist cinematography. This particular scene reminds us why.
It's noteworthy that Radok is compared both in the included booklet essay by Jonathan Owen and, perhaps originally, in an older review by critic J. Hoberman to Orson Welles. This might principally be because of their shared theatre background and subsequent interest in pushing the accepted boundaries of film technique upon youthful early efforts. Radok certainly didn't have the prestige Welles enjoyed, even given the latter's struggles and difficulties in bringing his vision to the silver screen. Alfréd Radok only made three features. His last movie was Grandpa Automobile, known also as Vintage Car, in 1956. He'd live an additional twenty years. Instead of cinema, Radok focused on the theatre, and was instrumental in the creation of the Laterna Magika at the 1958 Brussels Expo. He seemed to have a special interest in combining traditional forms of media, a logical progression from Distant Journey.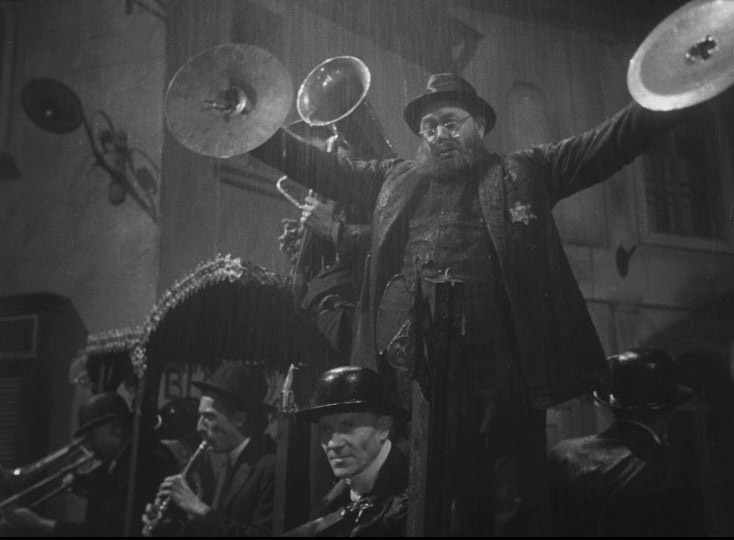 It seems a bit deflating to consider Radok's potential against the forthcoming Czech New Wave of the late 1960s and early 1970s. His experimental inclinations would've aligned perfectly with that movement. Alas, nothing transpired and we're left with the still utterly captivating Distant Journey as evidence of the filmmaker's capabilities.  It's telling that a 1998 poll of local film critics and historians to determine the greatest Czech and Slovak films placed it sixth – the earliest entry among the top thirty and the only choice in the top ten from outside the Czech New Wave. Its influence surely would've been felt across much of that list.
Distant Journey has received separate DVD and Blu-ray releases from Second Run. The latter is being reviewed here. It is spine number 029 in the catalog, presented on a dual-layered disc and is region-free. The film was certainly ripe for a release in the English-speaking world as the only previous edition seems to have been a DVD from the oft-maligned US label Facets Video some fifteen years ago.
The image is presented from an HD transfer of a new 4K restoration by the Czech National Film Archive. It is in the 1.37:1 aspect ratio. There is a note on the screen prior to the film starting that the restoration sought to present the picture as its original viewers would have seen it. Likely owing to this, there are a few instances of reel change markers in the presentation. In terms of general damage, however, the image is pristine. Detail and clarity are hugely impressive. The film looks, in short, spectacular.
Audio is a primarily Czech (joined with a little German) single-channel mono LPCM track. It offers a clean, unobtrusive listening experience. There are optional English subtitles.
Special features consist of an audio commentary, a booklet and a pair of short films.
The Audio Commentary is a newly-recorded Projection Booth track, similar to what we've heard from some other Second Run Blu-ray releases lately. It features Mike White, Samm Deighan and Kat Ellinger. The latter two certainly speak far more than White. They offer less scene-specific comments than general chat. I personally think I prefer a more scholarly, prepared approach so that I can feel like I've learned some things rather than merely eavesdropped, but those don't seem too plentiful nowadays.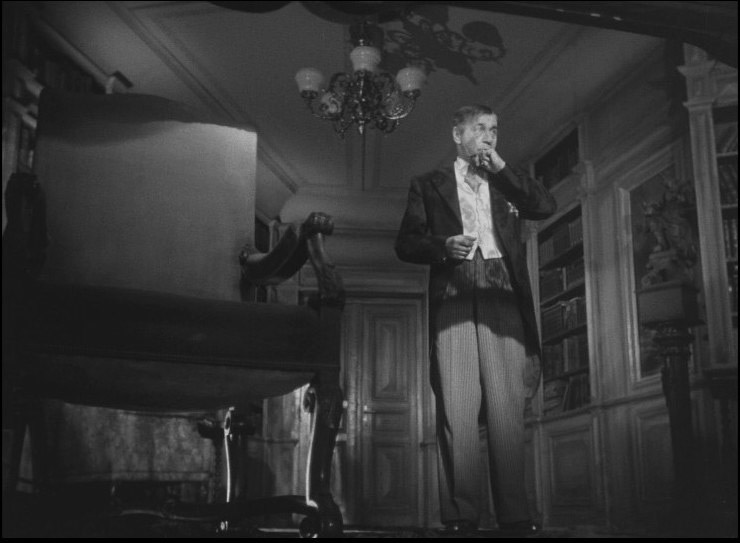 Butterflies Don't Live Here (Motyli lady neziji) (14:24)
From 1958 and directed by Miro Bernat, this is a color short where children's drawings and narration depict children's experiences in Terezin. It's a remarkable concept that feels especially lively against what we see in Distant Journey. Particularly interesting to see the use of color in addition to filtering things from the children's perspective.
The Opening of the Wells (Otvirani studanek) (18:24)
Alfréd Radok's 1960 short probably needs a bit of context to fully appreciate. The back of the case for this release clues us in on it being a Laterna magika film of the Czech composer Bohuslav Martinu's famous cantata "Otvirani studanek." Images on the screen seem to indicate a life cycle of sorts where children are playing, followed later by a striking widescreen shot of a young woman in a field with a single red flower against tall grass. We also see images of a wedding, a baby, first person point of view angles, children singing and, finally, a calming shot of water. The cantata plays throughout the short. Elsewhere on the internet, in reading about this short film, I discovered that Radok was apparently fired from the Laterna magika theatre after a communist committee disagreed with his portrayal of Czechoslovakian agriculture techniques here.
Trailer (1:01) –
Unsubtitled and tied in to the Czech re-release.
Booklet (20 pages)
Jonathan Owen's lengthy essay, consisting of 11 pages of text, about the film and its director gives us a good starting point for background into the picture. Stills and credits make up the remainder of the pages.
Film history is hardly bereft of movies about the Holocaust. But there's a point where I'd imagine most of us feel fatigued by them. As compelling of a topic as it can be, the terror of Nazi concentration camps rarely scratches any of the various itches I find myself seeking in cinema on a day-to-day basis. Thus one might be skeptical in approaching Distant Journey as a home viewing distraction, particularly in these ever-trying times where each day feels like a test of strength and will. What must be emphasized, though, are the sterling reputations of both the film and the distributor of this edition, Second Run. If you've not seen Distant Journey before and are weighing whether yet another Holocaust film would be worth seeking out then rest assured that this particular movie commands to be seen as the genesis of its type. There was very little historical distance here, and that creates a fascinating document of its time. Beyond that, director Alfréd Radok injects expressionistic touches and a general willingness to eschew convention, captivating the viewer amid the otherwise depressing realities of its subject matter.