– Part 2: Tech Specs, Special Features and Summary –
There's a pleasing consistency to the six 1080p transfers here, all of which were drawn from Sony HD remasters, with Johnny O'Clock sourced from a 2K master supervised by Michael Friend. The first five films in the set are framed 1.37:1, which expands to 1.85:1 for City of Fear, and all boast a well-balanced contrast range, solid black levels, a very good level of picture detail and a fine film grain. There are a few shots of stock footage at the start of The Dark Past whose quality is not up to that of the rest of the film (the quality jump when this material gives way to newly shot footage is substantial), and the deep blacks in the night exterior shots in Between Midnight and Dawn are as visually noir as the films in this set get. The transfers are generally spotless, though there are a few small flicks of dust and some slight contrast shimmering on City of Fear.
All six films have Linear PCM 1.0 mono tracks, and while all are subject to some restrictions in the dynamic range, dialogue is always clear and there are no obvious signs of damage or wear. As the newer films, The Sniper and City of Fear both boast slightly fuller reproduction of music and dialogue, with the score for The Sniper coming off best
Optional English subtitles for the deaf and hearing impaired are available.
JOHNNY O'CLOCK
Audio Commentary with Jim Hemphill
Filmmaker, film historian and commentary regular Jim Hemphill focuses primarily on the work of screenwriter and director Robert Rossen, though he does also discuss the careers of several of the actors, cinematographer Bernard Guffey, story writer Milton Holmes and one-time producer and celebrity lawyer, Jerry Geisler. Aspects of this film are examined, and without naming names, Hemphill notes that Rossen's later All the King's Men plays almost like a prediction of the political chaos of the Trump presidency, which at the time of recording (November 2020) was drawing to a messy but long-awaited close.
Not One Shall Die (29:28)
A keep-the-message-simple short film produced in 1957 to raise money for the United Jewish Appeal and made by many of the core crew from many Columbia noir titles. The focus here is Jewish doctor Stefan Gross (Guy Madison) as he arrives at a refugee centre in America after the war, where looks back at how ignoring the warnings of his good friend Selig (Eduard Franz) led ultimately to him and his wife Rosa (Felicia Farr) fleeing a concentration camp, and how impatience on his part at the border led to Rosa being shot. Stefan arrives at the centre dejected, seeing it as just another camp, but is persuaded by the principal, Kellerman (Paul Stewart), to assist in the infirmary, and is helped to see the world in a more optimistic light by David and Hannah Lessing (Abraham Sofaer and Agnes Moorehead), a couple who were expelled from their Cairo home but forced to leave their daughter Deborah (Gloria Castillo) behind. A straightforward but well-written (by James Yaffee), solidly directed (by David Lowell Rich, who later worked primarily in TV but also gave us The Concorde... Airport '79) and sincerely acted piece that is pleasingly free of cloying sentimentality. Audio-visually it's in good shape and has optional English subtitles for the deaf and hearing impaired, as do all of the short films in this set.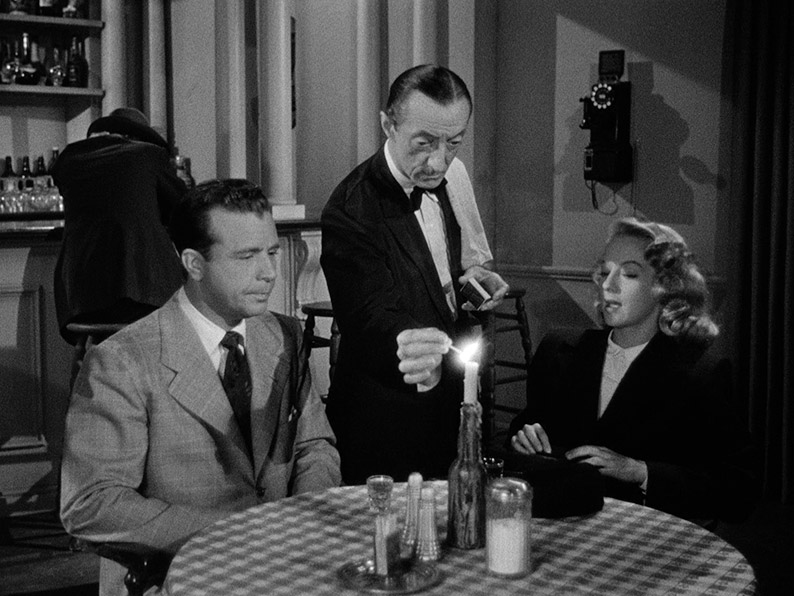 Theatrical Trailer (1:37)
A run-of-the-mill trailer that describes Johnny as "the most fascinating character you've met in years," which is not a completely hyperbolic claim. It also includes spoilers from the final act.
Image gallery
38 screens of crisp promotional stills, including a strikingly composed one of Johnny throwing dice, a small number of behind-the-scenes photos, and a fair few posters.
The Three Stooges in 'Whoops, I'm an Indian!' (1936) (17:24)
Curly, Larry and Moe get a price on their heads ("$333.33, dead or in bad shape") and attempt to hide out in the woods, but when they are discovered they flee to the cabin of a French trapper named Pierre and use the spoils of his most recent expedition to disguise themselves as Native Americans, or Indians as title and the lingo of the day would have it. Unbeknown to them, Pierre's wife has run off with an Indian chief and he has vowed to take out his anger on any Indian he sees. Some funny gags in the first half, particularly those involving Curly's creative approach to fishing, but things take a subtextually dark turn once the boys make their way into Pierre's cabin. The destructive stupidity of bigotry is neatly encapsulated by Pierre's expressed desire to kill an entire race of people because his wife ran off with one of them, yet when he mistakes Curly for an attractively plump squaw, his first thought is not to murder but to marry him. From what the boys find in Pierre's cabin, however, he's been killing and scalping Indians, and since it's confirmed in the dialogue that Curly's not wearing a wig but a scalp, we can presume that Pierre cut it from the head of a Native American woman. My god, this film is horrible!Of course, I might just be reading too much into this…

THE DARK PAST
Audio Commentary with Eloise Ross
Academic and curator Eloise Ross does a bang-up job of examining the film's approach to Freudian themes, psychoanalysis and the interpretation of dreams, as well as looking at how they were handled by other key films of the period. Information is provided on all three lead actors, director Rudolph Maté and score composer George Duning, and comparisons are made to the 1939 Blind Alley, the first film adaptation of the James Warwick play on which The Dark Past is based. There's an interesting look at how extreme weather is sometimes used by films to expressionistically reflect a character's state of mind, and we're even told a little about the role of the rhumba in films of the period. Another very solid commentary.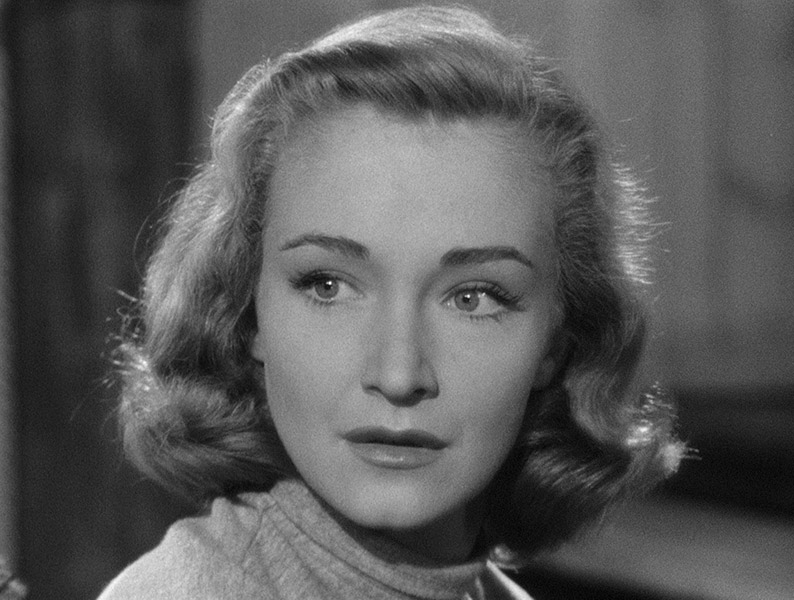 The Poised Performance: Pamela Hutchinson on Nine Foch (13:47)
Critic and film historian Pamela Hutchinson delivers a welcome and busily concise appreciation of actor Nina Foch, providing biographical details and examining some of her notable roles, including in two of the titles in this set, the superb My Name is Julia Ross and An American in Paris opposite Gene Kelly. In a sobering reflection of the times, her ambition was always to direct but the doors to this particularly career were effectively shut to her because of her gender.
Image Gallery
34 screens of promotional photos, lobby cards and posters.
The Gulf Screen Guild Theater: 'Blind Alley' (1940) (23:02)
A radio adaptation of the James Warwick play on which The Dark Past and the 1939 Blind Alley were both based, first broadcast on 25 February 1940 and starring Edward G. Robinson, Joseph Calleia, Isabel Jewell and Leatrice Joy. Surprisingly, given the films that shot him to stardom, Robinson plays the psychologist rather than the home-invading gangster, and he enables the story to be told in just 20 minutes by narrating several plot points rather than having them play out. Plot-wise there are a couple of notable differences from The Dark Past, and frankly the story behind the mobster's dream is even darker here.
The Three Stooges in 'Shivering Sherlocks' (1948) (17:29)
Shemp, Larry and Moe are mistaken by the police for armed robbers, and when the cash-strapped owner of a local café, Gladys Harmon (Christine McIntyre), provides them with an alibi to get them off the hook, they pay her back by working at the café for free. When they identify the leader of the gang that actually committed the robbery to the arresting police captain (Vernon Dent), a preposterous coincidence lands them right in the laps of the angry criminals. Not that funny, but the hunch-backed, grotesquely buck-toothed and machete-waving gang member Angel (Duke York) is almost worth the price of admission alone.

CONVICTED
Audio Commentary with Troy Howarth and Nathaniel Thompson
Film historians Nathaniel Thompson and Troy Howarth make the actors in Convicted the main focus of discussion, particularly Glenn Ford, although Thompson gets excited as soon as prolific character actor Whit Bissell makes his uncredited appearance as States Attorney Owens. The two men bounce off each other at such a pace that there's never a quiet moment and they really know their stuff. They are also not overly precious about a film they clearly like a lot, particularly when comparing certain scenes to their equivalent in The Criminal Code or commenting on the cleanliness of the prison, on the questionable decision to hand a sharp knife to a prisoner who was convicted of murder, and on Glenn Ford's always perfectly Brylcreemed hair.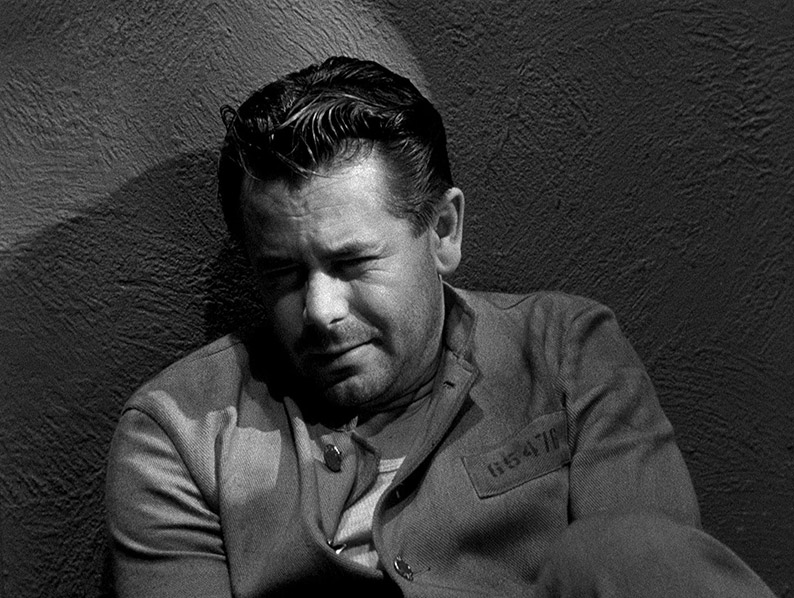 Codes and Convictions (29:22)
If this supremely useful extra looks familiar then that's probably because you also have Indicator's Blu-ray release of The Criminal Code, on which it first appeared, albeit with opening captions more geared towards that film than the ones that front it here. I'm not complaining, as it's just as relevant to Convicted as it was to the earlier film, but I would stress that if you enjoyed Convicted then you owe it to yourself to get your hands on the stand-alone disc of The Criminal Code.
Image Gallery
61 screens of promotional stills, plus two posters.
The Three Stooges in 'So Long Mr. Chumps' (1941) (17:24)
Curly, Larry and Moe are working as road sweepers when they find some bank bonds that Moe insists they return to their owner, who is so grateful that he offers to pay them $5,000 if they can find him an honest man to work for his company. Their initial attempts fail, but an encounter with a girl who claims her honest boyfriend has been wrongly imprisoned prompts them to get themselves arrested in order to break him out so he can prove his innocence. Silly, nonsensical, but busy with incident, and the boys' failed attempts to get arrested are amusing, as is the notion that Larry carries a big tin of gunpowder around with him that can be ignited by a battery Moe handily keeps in his pocket.

BETWEEN MIDNIGHT AND DAWN
Audio Commentary with Bryan Reesman
Entertainment journalist and author Bryan Reesman kicks off by noting that his work on this commentary for a British release of an American film was immediately preceded by one he did for an American release of the very British The Blue Lamp, and that there are several parallels between the two films that he then goes on to highlight. The speed at which Reesman talks allows him to cram about two hours' worth of information into ninety minutes of commentary time and it's absolutely worth your while, with details provided on several of the actors, director Gordon Douglas, screenwriter Eugene Ling, cinematographer George E. Diskant and composer George Duning. He also covers a range of other topics, including the noir classification, buddy cop movie tropes, the film's shifts in genre and style, movie marketing, the emergence of neo-noir, and more. He does highlight Rocky and Dan's relentless pestering of Kate as a scene that doesn't play that comfortably today, and rounds off by noting that the film is no genre classic, but that it's definitely interesting.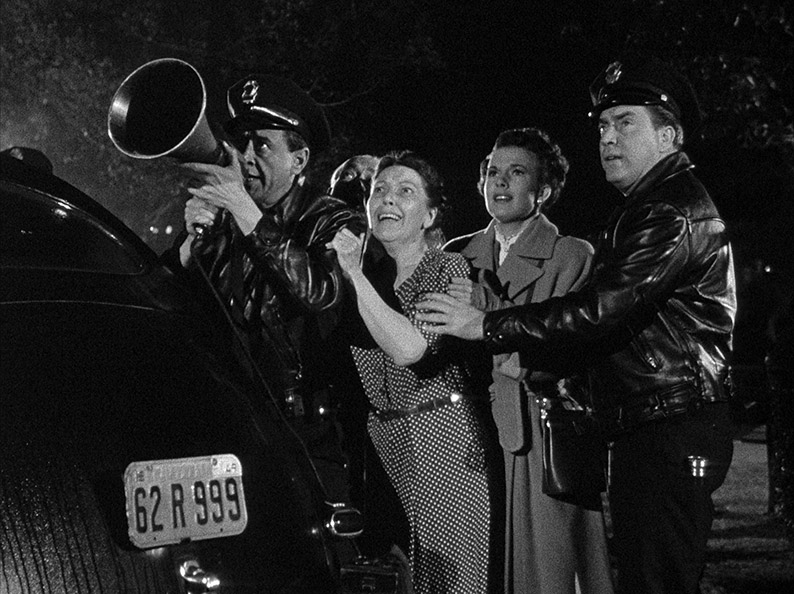 Categorically Dependable: Kim Newman on Gordon Douglas (16:07)
Critic, author and Indicator regular Kim Newman is back to look at the career of director Gordon Douglas, and to surprise the hell out of me by describing Between Midnight and Dawn as "astonishing" and "a terrific picture." It's good, sure, but – ah, what the hell, we all have our favourites. He cites Douglas's 1950s and 60s output as the best, and pleasingly (if inevitably) highlights the 1954 science fiction classic Them! as a film that he is hotwired to love. You and me both, brother.
Theatrical Trailer (2:20)
No hint of the film's light-hearted midsection in a trailer that sells it as a hard-hitting and deadly serious police drama, and that has title cards that shout things like "Stickup! Pickup! Murder!" and a few spoilers that probably won't count as such if you don't know the film.
Image Gallery
45 screens of crisp and sometimes moodily lit promotional photos and a small sprinkling of posters.
The Three Stooges in 'Dizzy Detectives' (1943) (18:36)
Curly, Larry and Moe are working as carpenters when their application to join the police is accepted and they make it a priority to capture a crook who has been dressing as an ape and embarrassing the force. A fast, funny and wonderfully violent outing for the boys at their most productively energetic. Curly gets most of the best visual gags, but a spectacular fall taken by Moe when a table he is standing on is cut in half and collapses looks as though it was really painful.

THE SNIPER
Audio Commentary with Eddie Muller
Renowned expert and writer on film noir, Eddie Muller (who, as he points out, is only one letter off from having the same name as this film's lead character), delivers a rich and  consistently fascinating breakdown of what he rightly regards as a landmark film, as well as providing some intriguing background information on those involved in its making. As a San Francisco native, he also knows his way around the locations used and is able to identify the shots that were filmed on a backlot, in the process debunking the claim made by the studio publicity department that exteriors were all shot on the streets of the city. He comments on the film's status as the first American serial killer movie, the decision not to include famous city landmarks, the surprising pairing of left-wing director Edward Dmytryk – one of the famous Hollywood Ten who was imprisoned for refusing to name names to the House of Un-American Activities Committee – and fervent anti-communist Adolphe Menjou, the remarkable number of speaking parts in the film, how the callousness of society is expressed through the supporting characters, and much more. He provides details of not just a real-life case of a serial killer sniper that hit the headlines while the film was in production, but also that of the young man who went on a shooting spree from the top of a building in Toronto after watching the film twelve times. I really like that when he talks about individual actors he focusses on their casting, suitability for the role and what they bring to their character rather than just reeling off a list of their other credits. I'm just touching the surface here. An excellent commentary.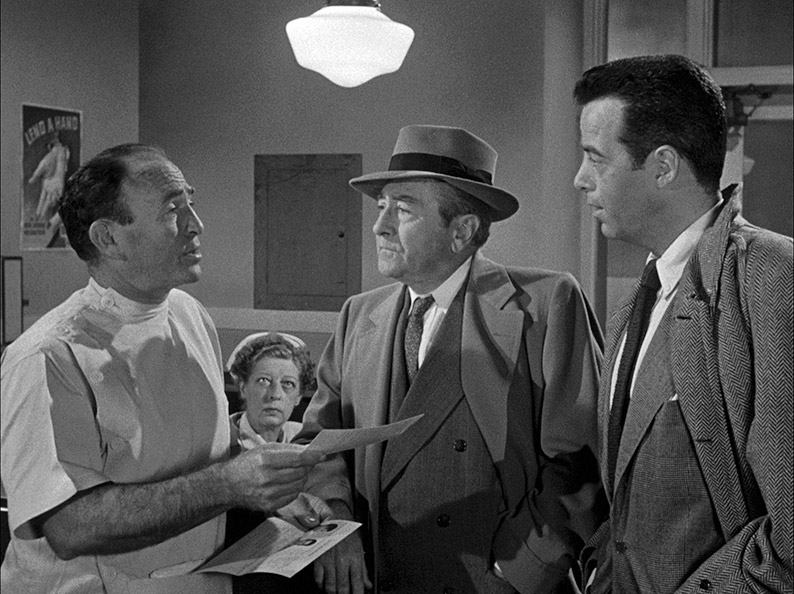 Introduction by Martin Scorsese (3:17)
Martin Scorsese recalls seeing The Sniper at a young age and being very disturbed by it and discusses its use of actual San Francisco locations, the oversimplified psychoanalysis and a late film scene that he found particularly chilling.
Theatrical Trailer (2:14)
A solid enough trailer that sensationalises the story a little but does give a taste of what to expect from the film. There is a spoiler for one of the film's most memorable moments.
Image Gallery
41 screens of classy promotional imagery, behind-the-scenes stills, lobby cards and posters.
Three Lives (1953) (23:03)
Charlton Heston reads from the bible and Arthur Franz, Randolph Scott and Jane Wyman tell stories to encourage donations to the United Jewish Appeal. Of historical interest, worthy in its day, but really shows its age is its style and simplistic messaging.
The Three Stooges in 'Three Pests in a Mess' (1945) (15:20)
Curly, Larry and Moe are mistaken by three crooks for sweepstake ticket winners, and while attempting to escape they shoot a showroom dummy and mistakenly believe they've killed a real person. To hide their crime, they elect to dispose of the body at a pet cemetery, but that proves to be far from the end of their problems. There's some great physical comedy here, with Curly once again getting the lion's share of the best visual gags, though one where Larry dives into the ground and under a door prompted a spectacular double-take on my part. The funniest and most inventive of the Three Stooges shorts in this set.

CITY OF FEAR
Audio Commentary with Adrian Martin
The ever-reliable Adrian Martin delivers a fascinating analysis of the film and its director, Irving Lerner, with particular focus on his use of storytelling ellipsis, his career and visual style, his political views and how they worked their way into the film's subtext, the ways in which it differs from conventional film noir, the notion of the Geiger counter as a substitute G-Man gun, the absence of domestic environments in the film, and much more. He identifies that this was the point in American crime cinema where the threat stopped being external and became internal, highlights the links between this film and other notable works, and references and highly recommends Film Noir and the Spaces of Modernity by Edward Dimendberg.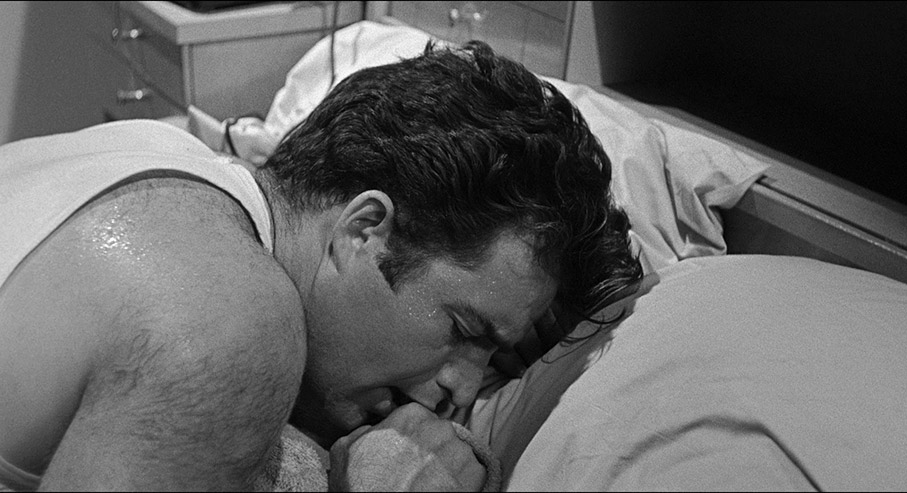 Christopher Nolan: Pulp Paranoia (6:22)
In a companion piece to the extra on Columbia Noir #1, here Tenet and Memento director Christopher Nolan makes a case for why film noir is particularly relevant in our uncertain times (this was filmed in 2010, long before the current pandemic gave new meaning to the term 'uncertain'), highlights what makes The Sniper special and notes the influence of the genre on his own work.
Theatrical Trailer (1:54)
"Will the city of fear become a city of death?" asks one of a stream of textual banners that are splashed on the screen to sell the film as a more sensationalist work than it is.
Image Gallery
29 screens of promotional stills, acid-trip coloured lobby cards, and posters.
The Autobiography of a "Jeep" (1943) (9:29)
A documentary short looking at the birth, testing and role in WW2 of one of the 20th century's most iconic military vehicles, told from the point of view of the Jeep itself. I not only enjoyed this but learned a few things along the way. The film can also be played with a commentary by film writer Jeremy Arnold, who provides background information on these wartime propaganda shorts and the studios that produced them, as well as passing comments on specific aspects of the film and its making. Nice to see editor Gene Fowler Jr. credited as the person who makes the film work as fluidly as it does, especially given the mountain of library footage he was required to construct the narrative from.
Hymn of the Nations (1944) (28:58)
An Oscar-nominated documentary short featuring an orchestral performance of Giuseppe Verdi's La Forza del Destino Overture and The Hymn of the Nations, arranged and conducted by Italian refugee Arturo Toscanini. At the climax of the piece, he musically pays tribute to those who helped to liberate his home country by incorporating a variety of national anthems, including those from Britain, France and America. The incorporation of The Internationale, the anthem of revolutionary Russia, was originally censored because America had a serious bug up its arse about Russia at the time, but the sequence has been restored here from standard definition materials. It's really well shot and is sonically in better shape than I was expecting, and although interrupted midway to pay tribute to Italian anti-fascists and fake an NBC announcement about Mussolini's downfall, then builds to such a passionate and stirring climax that even I had a warm feeling inside.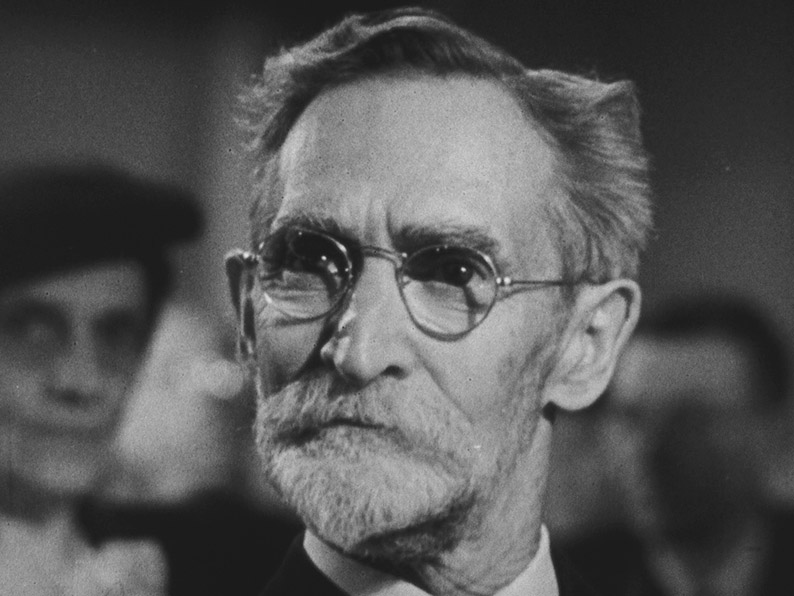 The Cummington Story (20:01)
A gentle but worthy propaganda piece in which the minister of the small American town welcomes and houses a group of wartime immigrants and does his bit to overcome local prejudice by helping them to find work that they once specialised in with local firms. Unsurprisingly, as the locals get to know the newcomers personally, they start to accept and make friends with them. Boy, is there a message here for people in these ignorantly bigoted times.
The Three Stooges in 'Oil's Well That Ends Well' (1958) (16:13)
Moe, Larry and Joe go in search of their father's uranium mine and accidentally strike oil in a largely unfunny collection of hoary old gags, including a whole string of them built around Joe trying to get into the upper berth of a bunk bed. That said, I will give it points for the sight of Joe – whose clunky mugging made me really miss Curly – launched into the air by an oil geyser and kept bobbing on top by the pressure.
Booklet
All six of the features in this set are covered in chronological order here, starting with a smart little essay on Johnny O'Clock by author Peter Stanfield, which is followed by some extracts from the syndicated marketing material for the film. Critic and filmmaker David Cairns offers an interesting take on The Dark Past and has an amusing dig at the film's version of psychoanalysis, noting that, "The writers may not know much about psychotherapy, but they know what they like." This is partnered with a piece containing quotes from director Rudolph Maté and extracts from articles about him from Films and Filming and Modern Screen. Warsaw-based scholar and script consultant Michał Oleszczyk looks at the genesis and development of Martin Flavin's play, The Criminal Code, and how it was interpreted in its third film adaptation, Convicted, after which are several extracts from American Cinematographer articles on Burnett Guffey, a prolific noir cameraman who photographed Convicted, Johnny O'Clock and The Sniper. Writer and filmmaker Adam Scovell gets to grips with Between Midnight and Dawn in an interesting essay that reads more into the ending of the film than I suspect was intended (I once played a game with a friend in which we challenged ourselves to reinterpret famously happy endings as downbeat ones – it's easier than it sounds). This is followed by an extract from an interview, conducted in 1983 by Randall D. Larson, with composer George Dunning, who also contributed to three titles in this set (Johnny O'Clock, The Dark Past and Between Midnight and Dawn). "Edward Dmytryk may not be the Godfather of film noir, but he was certainly one of the guests at the baptism," is the belter of an opening line of film writer Finton McDonach's insightful examination of that filmmaker's work on The Sniper, after which are extracts from articles in which the director reflects on the impact of HUAC hearings, his political change of heart and his work on that film. Up next is a nicely pitched appreciation of City of Fear by writer Andrew Nette and extracts from some of director Irving Lerner's work as a reviewer for both The Daily Worker and New Masses. Jeff Billington provides some useful details on Lerner's work for the Overseas Branch of the Office of War Information, and widely read and respected horror writer Ramsey Campbell offers an unexpected but engaging appreciation of the Three Stooges shorts included in this set and how they relate to the features they are partnered with. As ever, the booklet is handsomely produced and illustrated, and runs for a whopping 118 pages, and credits for all six features films and all of the short films are provided.
Another absolutely marvellous collection of Columbia Noir titles from Indicator. Despite minor gripes, I enjoyed the hell out of all six films and each had specific qualities to champion: the crackling script and performances of Johnny O'Clock; the fiery teaming of Lee J. Cobb and William Holden in the Dark Past; the tough and compelling final act of Between Midnight and Dawn; the lead players and solid handling of Convicted; the riveting lead performance and game-changing boldness of The Sniper; and the urgency and forward-looking indie smarts of City of Fear. The transfers are first-rate, the commentaries informative, the booklet superb and the other supplements terrific. Another absolute knockout from Indicator. Very highly recommended.
---