Pavel Juráček's A Case for a Rookie Hangman [Případ pro začínajícího kata] boldly combines the lesser-known third part of Gulliver's Travels with Kafkaesque elements and Lewis Carroll flourishes to form one of the late pillars of the ever-inspiring Czech New Wave. The 1970 feature was barely released, as both film and director were effectively buried by the powers that be, but eventually received long-overdue recognition when it landed in the top ten of all Czech and Slovak films in a 1998 critics poll. That level of respect isn't hard to understand once the film is seen - something that might have been a tad difficult to do for English language viewers not keen on importing earlier Czech editions until now. Second Run remedies all of your problems with its region-free Blu-ray edition.
If Jurácek's earlier short (though nearly feature-length) "Josef Killián" was the best Franz Kafka film adaptation not actually from a Kafka story then A Case for a Rookie Hangman is probably the logical continuation that somehow opts to weave in Jonathan Swift with a brief detour through Lewis Carroll's Alice in Wonderland. Disorientation and helplessness flocked with surrealist touches are fully covered here. From the start, opening titles are against curious drawn images and a preliminary mea culpa from the writer/director just in case Swift's ghost objects to his handling of the Irishman's most famous work. The audience is afforded twelve chapters, starting with a brief, largely visual introduction where our protagonist Lemuel Gulliver (played by Lubomir Kostelka) gets out of his car after ascending a curvy, uphill road only to have the auto reverse itself without him in it. Gulliver quickly tries to catch the vehicle, finally managing to get back in only to soon crash – seemingly making him a less safe driver than the pilotless car had been on its own.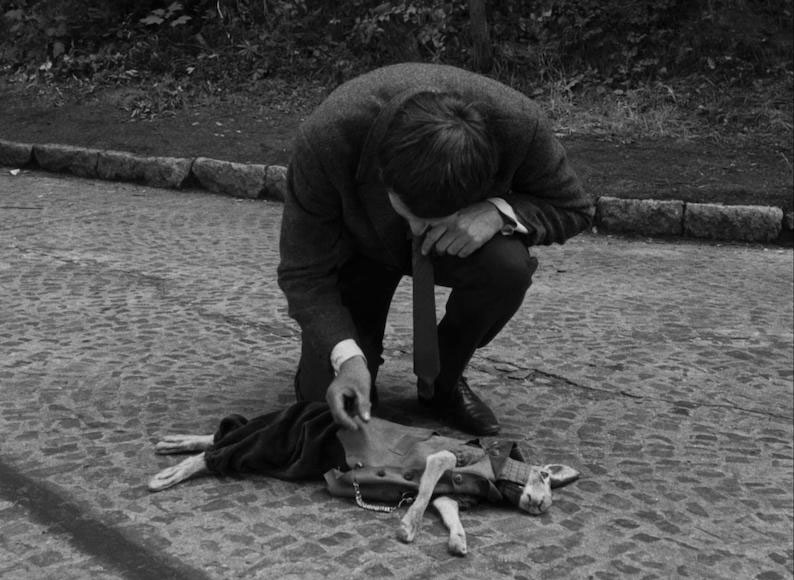 Gulliver then encounters a dead hare dressed in corduroy pants and a shirt. This was perhaps the cause of the automobile accident, though who can say for sure. He reaches inside the hare's clothes and pulls out a stopwatch as a further evocation of Carroll's white hare. We later learn the stopwatch is engraved to Hare Oscar from Prince Munodi. Gulliver takes the watch and eventually claims it as his own. The film continues his journey into the bureaucratic oddities of Balnibarbi, one of the many settings in Swift's Gulliver's Travels. The actual adaptation from Juráček here is loose. There's probably as much intention towards reflecting absurdities of the Czechoslovakian government as breathing new life into Swift's celebrated story, and that's also most likely why Juráček would quickly find himself removed from his position at Barrandov Studios after the film's release, jobless at 36 years old.
Pavel Juráček lived not even two decades more, dying in 1989 at the age of 53. He'd accomplished a remarkable amount during the decade or so of the Czech New Wave but then stagnated professionally the rest of his life. Juráček had his hand in a varied selection of classic Czech films from this period, notably receiving screenwriting credit on films as diverse as Daisies, Ikarie XB 1, and A Jester's Tale (all available from Second Run). He'd been talking about adapting the Swift book for years prior to it actually coming to fruition and expressed significant anxiety over the ordeal during this time. Michael Brooke's essay included in the booklet of this release excerpts some of the filmmaker's diary entries. The snippets both give insight into the marathon-like process of getting films made and portray Juráček as an emotionally fragile yet wholly sympathetic figure.
"Josef Kilián" is itself a pretty monumental work, the sort that either launches a major talent or exists in perpetuity as an odd one-off. In this instance it's a strange merging of the two. Juráček, alongside co-director Jan Schmidt, made "Josef Kilián" in 1963 in the midst of encouragement for young filmmakers to create medium length movies. At 38 minutes it isn't quite feature-length yet extends beyond the typical limitations of shorter works. The protagonist is Jan Herold, dealing with a rather bonkers premise in which he rents a cat only to return the following day to find the place where he'd rented it no longer there. Worried - particularly about late fees - Jan enlists governmental help and finds himself digging ever deeper into the bureaucratic rabbit hole. At one point, upon thinking he's finally going to find the elusive title character he's been searching for throughout the film, he's greeted to an empty room containing only a telephone on the floor. It rings and the voice on the other end seems to be searching for Mr. Kilián as well. It's impossible not to think of Kafka, what with the title character similarly named to the protagonist of the Czech author's The Trial.  An absurdist marvel - filled with a very specific feeling of hopelessness also tangible in Juráček's later feature - "Josef Kilián" is now included here on this Blu-ray release in a new restoration after previously sharing a Second Run DVD with František Vláčil's The White Dove.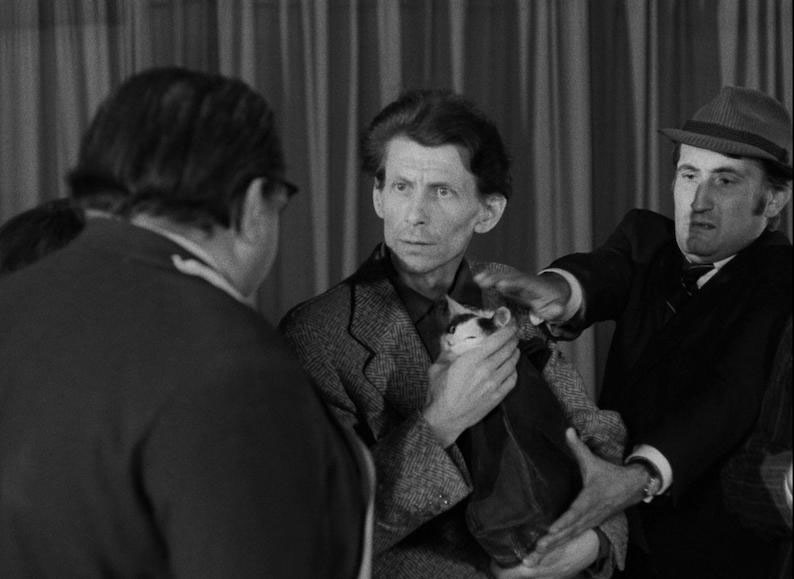 A Case for a Rookie Hangman is an obviously looser work given its length and ambitions. Juráček managed to uncover obscurity amidst a widely known and loved work and then could carve it very much into his own monster. It also has the existential rot of humor nestled inside the carcass of a thriller. There's a sickly feel to Gulliver's plight when the film is read as allegory. (The politics of Communist Czechoslovakia seem inseparable from the country's cinematic New Wave.) Our protagonist is immediately treated with suspicion as an outsider to Balnibarbi. When he's given the opportunity to visit the flying island of Laputa he's shocked by governmental lies masquerading as truths. There are probably religious parallels as damning as the bureaucratic ones if the viewer is open to drawing them.
After Gulliver finds the lifeless, clothed rabbit he descends through a horrific dreamlike journey which is packed with much more than the average viewer can process in an initial watch. It has first person narration, addressed to undefined "gentlemen" we haven't yet met nor ever will, that Juráček opts to soon abandon. Gulliver approaches a schoolhouse or something resembling one with St. Bernards, of all things, on his mind. He quickly shifts to formative memories and the apparent sight of his drowned ex-girlfriend. The floorboards give way and men emerge from numerous doors only to rush Gulliver. There's wonderfully layered and rich imagery in this chaos. It also seems to establish some of the potentially overlooked thematic elements beyond the veiled political ones. Gulliver's lost girlfriend Marketa (or Margaret as it's anglicized in the subtitles here) appears off and on in various forms, reminding us of her importance even if we can't entirely be sure what it is.
There's more, of course. Much more. A Case for a Rookie Hangman is brimming with depth and layers and things that we're not quite sure if they have a bigger purpose beyond their eccentricities. There's the casual reappearance of the protagonist from Josef Kilián, still with his rented cat, in a mind-blowing Easter egg before such things existed. Gulliver finds himself in any number of situations where his and our confusion of accepted social norms are subverted to the point of hopelessness. Absurdities abound, and it can be a fine line between horror and comedy.
The terrific folks at Second Run have given A Case for a Rookie Hangman spine number 22 on region-free Blu-ray. The transfer is sourced from a recent 4K restoration by the Czech National Film Archive. It's presented in the 1.37:1 aspect ratio. The black and white textures look excellent here, retaining lovely touches of grain while still exhibiting as much detail as most anyone has probably ever witnessed while viewing this film. Damage is limited to a few reel change markers but any noticeable instances of scratches or extant debris seem absent. The viewing experience is top-notch.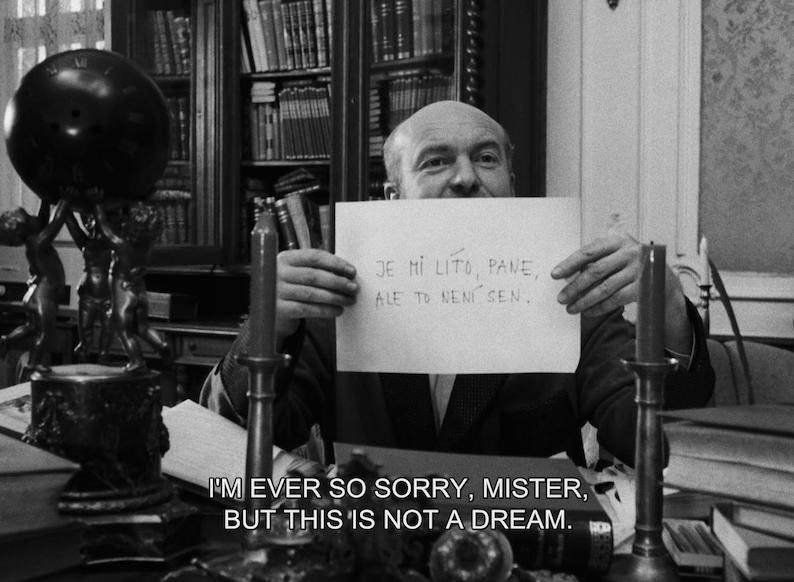 Ears, too, are rewarded with a two-channel dual mono LPCM track in Czech. It sounds nifty as dialogue and the musical cues credited to Luboš Fišer are clear and healthy. English subtitles are provided, though optional.
The special features Second Run provides here are among the finest the label has yet put together for a single film release. Something a bit innovative is the inclusion of a 2017 Projection Booth Podcast that runs nearly the length of the film – like an audio commentary except not synced to the action on screen (though a few times it's eerily close). It's co-hosted by Mike White, Kat Ellinger, Kevin Heffernan and concludes with an interview of Peter Hames. The focus is clearly the film at hand but topics move around in the same manner as a traditional commentary track would. The participants are amiable and on point, and that helps make for an easy, enlightening listen.
The 1963 short film Josef Kilián (39:30), directed by Pavel Juráček and Jan Schmidt is presented here in a new 4K restoration. I discussed this film a bit in the main review but I'll reiterate here that this is significantly more than simply an early short added on as a mere supplement. It's a gigantic work in itself and had previously been issued as a shared release by Second Run alongside The White Dove, directed by František Vláčil.
Also included are two earlier short films co-directed by Juráček, alongside Schmidt. Cars Without a Home (6:38) is from 1959 and was part of a project by second year FAMU students. It begins with scenes of crossing guards directing traffic as boppy, upbeat music plays until a narrator wonders what the cars do after their owners leave them behind for the night. Taking this "car housing crisis" into consideration the quaint little short explores a bit of the vehicles' possible feelings on the matter.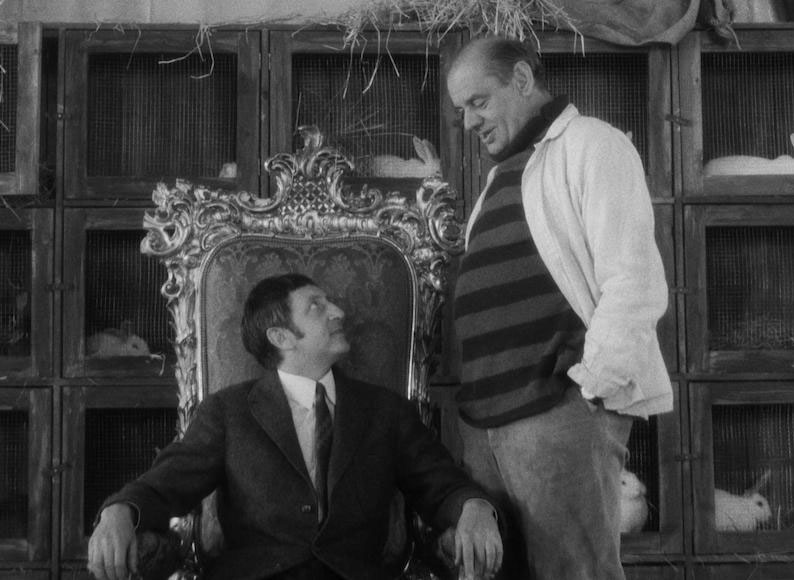 Black and White Sylva (28:34) expands on this breaking of typically accepted rules and norms by having its lead, a female bricklayer character in a movie, fall off the screen in the theater. This 1961 short by Juráček and Schmidt was already exploring the idea of fictional movie creations entering real life, decades prior to Woody Allen's The Purple Rose of Cairo and Zanussi's Escape from the Liberty Cinema (and Last Action Hero). It has the subtitle "Love Among the Tower Blocks" and has some nice scenes of the actress character resisting the expected roles she would have as a young female in favor of the bricklaying life she's used to on screen.
A Trailer (1:13) from the Czech re-release of the new restoration is also included and it's kind of odd seeing the film sold as more of a horror or thriller than it probably is, at least on the surface.
Finally a typically excellent Booklet has a long essay by Michael Brooke on the featured film and its writer/director that gives particular insight into some of Juráček's possible aims and insecurities that we wouldn't perhaps have recognized otherwise. The 24-page insert is complemented by stills and photos plus credits for both film and disc.
Dig ever so slightly beneath the surrealistic surface and A Case for a Rookie Hangman exposes a terrifying truth about humans - we are often much more content with the status quo, regardless of how accurate or rational it might be, than breaking from our established comforts. History has shown that being resistant to change or outsiders only works for so long before it becomes dangerous. Juráček must have known his film would run afoul with the Czech government. The title alone is almost needlessly inflammatory given how tangential it is to what happens in the movie. Commercial considerations seem next to none. Still, if he felt obligated to do it regardless of potential consequences then perhaps that was his cross to bear. The result is compelling art, if blemished then only by the knowledge it more or less ended its creator's filmmaking career.