If it seems a little unusual to be announcing in advance how we'll be handling a review, then that's because the disc set in question requires a different approach to our long but generally single-page norm.
For anyone reading this who's just got back from Mars, next Monday sees the release of what has to be a leading candidate for Blu-ray (or, if you so inclined, DVD) box set of the year – Dissent & Disruption: Alan Clarke at the BBC (1969-1989), being relased in the UK by the BFI. For a long-time fan of this frequently extraordinary director's work, this was a dream come true, but faced with the prospect of reviewing a 13-disc set containing something like 30 made-for-TV productions whose length varies from 30 minutes to over two hours, coupled with an absolute a lorry-load of extras, we initially passed on the chance to review it. The reasons are straightfoward enough. As you might just have noticed, we're not in the habit of writing short reviews, and just about everything Clarke has done demands detailed coverage, but the time this would take would mean us missing the release deadline by a couple of months at least. Yet I couldn't let the stand-alone release of The Firm go out without comment, and almost from the moment the Penda's Fen disc was announced, Jerry was metaphorically banging on my door for the chance to review it. In the course of procuring these discs from our oh-so-helpful contact at the BFI, I expressed the wish that we had time to cover the full set and suggested that we might do so at a later date regardless. A suggestion that we could get a small head start by watching a few of the films on press links then followed, and before I knew it I'd agreed to take on the whole box set. Ah…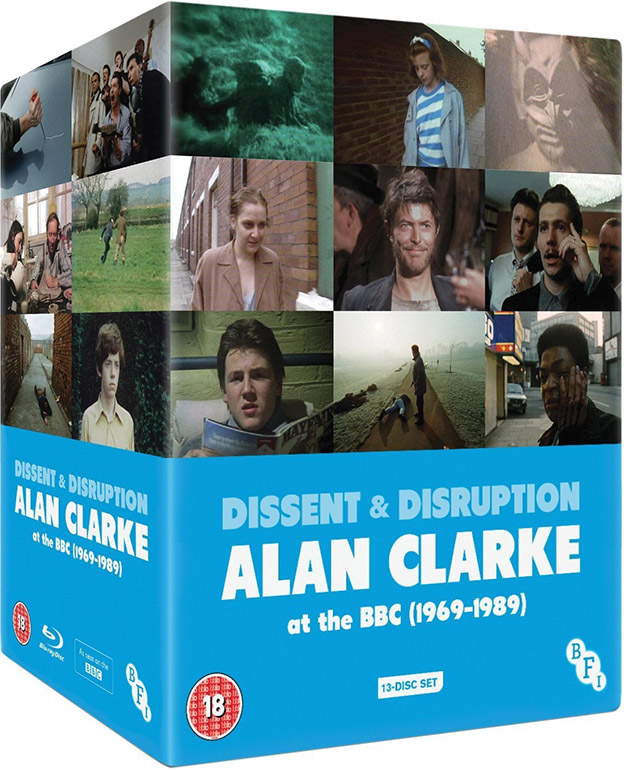 With only two weeks to cover all 13 discs, we've had to have a rethink on our usual approach. The timing probably couldn't have been worse. I'm currently spending every evening at the hospital visiting my very unwell mother, Camus is working all hours editing a film and Jerry is spending every spare minute away from his day job working on his M.A. in Film Curating. We've thus decided to compromise a little in order to give the set appropriate coverage and still deliver the review on time. Thus every film in the set will be reviewed to some degree, but most will not be covered in our usual length and depth. Even so, this will be a multi-page review and probably our longest yet. For the most part we're restricting ourselves to between 3 and 5 paragraphs per title, but a select few – primarily those that have had stand-alone releases or been reviewed before – will be covered at length in our usual detail.
Just how we're going to lay the review out is not yet set in stone, but each of the discs will have separate coverage, with reviews of the films, the transfers and the extra features on the disc in question. The longer reviews will ensure that some discs will have a whole page of their own, while those with shorter coverage will share space with the discs that follow or precedes it in the set.
The work incvolved in delivering what will be a sizeable review does mean that for the next week there will be precious little else happening on the site, as Camus and I work our way through this extraordinary collection of televisual gems. There have, unfortunately, been a couple of casualties to our commitment to this set, the principal one being the Masters of Cinema Blu-ray release of Kurosawa Kiyoshi's Journey to the Shore, which came out on Monday. It's the very sort of film we tend to champion on this site and the work of a filmmaker I have been championing since I first saw Cure back in 2004. I'll still be reviewing it, but only after the Dissent & Disruption review has been put to bed.
As a final, personal note, if after all this the review fails to materialise on or by the release date then you can assume my mother's health has deteriorated and eclipsed all other concerns. A few, precious things are still more important than our love of film.