MacDonald's filmmaking is rife this weekend with sequels to Saw and Paranormal Activity both as ubiquitous, uninspired and utterly unnecessary as another Lady Gaga Halloween costume.
With the premiere of Shawshank Redemption director Frank Darabont's comic book adaptation, The Walking Dead, earning unanimous raves on HBO in the US for its big screen ambitions found totally lacking in the unashamedly formulaic, underlit, cheap, interior-bound Saw series and the reality TV, "gotcha" scares of Paranormal Activity 2, it's yet another instance where TV has outstripped and outclassed its big screen, big brother.
On the evidence of William McGregor's short film Who's Afraid of the Water Sprite?, it would appear another challenge to the multiplexes is being launched by digitally downloaded short films, currently trading up postage stamp-sized iPod screens for the dinner mat proportions of the iPad. With a bigger variety of platforms to play across than ever before, shorts now have a genuine opportunity to present themselves as a viable alternative, being that you no longer have to fly to far flung film festivals to seek them out.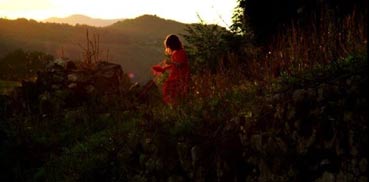 In production in 2008, a then 22-year-old William McGregor was shooting his calling card in a foreign landscape and tongue. Rather than proving a hindrance for the relatively inexperienced filmmaker* and his team, the rural beauty of Solvinia – concurrently verdant and malevolent – is a huge part of the reason this eighteen minute short went on to become quite the festival darling all around Europe and saw the director being snapped up last month by Independent Talent as the youngest director on their books, which include names such as Sam Mendes and Duncan Jones. Playing at over twenty festivals (Warsaw International Film Festival and Kiev International Film Festival among them) and racking up eight international awards, even as the film is finally being released now on iTunes, its run on the festival circuit shows no signs of slowing with recent screenings at the Open St. Petersburg Film Festival.
Harebrained title aside (its soon to be feature-length moniker "The Rising" is certainly no improvement), Who's Afraid of the Water Sprite? showcases some exceptional filmmaking that far exceeds the expectation and budgetary limitations of most shorts in all departments; sound and music both being of the highest professional standard and just as engaging in how transportive they are.
Pitched somewhere between the magical and macabre fairytales of Angela Carter and Guillermo del Toro, the story of a young child who has no idea of her mother's nightly, torturous routine endured to keep her child safe, is one of exquisite psychological unease. The Slovenian mountains are stunningly photographed by Adam Etherington (the real star of the film) who taps into a ruminative ominousness that recalls The Night of the Hunter, with a magic hour hue and an onus on the power of natural surroundings, which harkens back to early Terrance Malick. The unspoken sense of greater, non-human threatening forces at work is something the film is pregnant with from it's opening scene, though sadly, the psychology is much more effective in the treatment of landscape than the characterization, which never satisfactorily explores the origin of fairy tales in the way the official website blurb (http://www.williammcgregor.co.uk) would have us believe. One hopes that McGregor is able to better integrate this idea of ancient legend and the place of this particular story in a larger mythology for the feature version.
What really unnerves here are the stoic, largely unreadable motivations of the local blacksmith for taking the mother to his woodshed every evening at sunset and restraining her in shackles. All we know is that they are doing this for the sake of her daughter. Hesitant moments of eye contact are all that's needed to show how much more this routine pains and rattles them every time they go through with it. The skeletal features and hollowed out eyes of lead actress Yana Yanezic are enough to tell us that this is a woman who puts the love of her child before herself, no longer knowing who that person is at the end of a very frazzled rope. AThe payoff is as good as the old school set-up, reliant on viewers' imaginations to paint the grisliest scenarios in their heads and scare themselves as much as the film does. The one big moment of shock threw me up out of my seat just as effectively any of the Dolby Digital-aided jump scares of Paranormal Activity 2.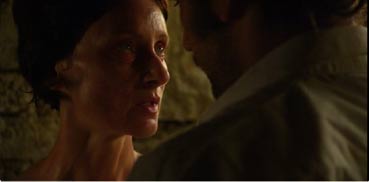 The mounting tension and eventual release are so perfectly timed that I can't help but point out my dissatisfaction with the film's misleading title; everything except the watersprite has something fearful about it. The titular character is a crustier version of Ben Kenobi, a crazy old hermit, whose plot function is less to threaten than it is to warn the little girl about what it is her mother is up to while she's asleep at night. I was also confused as to why the "creature" is presented in human form rather than as a fairy or insect-like creature that can fly or breathe under water according to definition of the myth. Obviously, creature creation was not in the budget, so why not just change the character name and function, never mind erroneously making it the title of an otherwise flawless short.
Despite these small grievances, for the princely sum of £1.49** you really can't go wrong. This Halloween night you could either pay less than the price of popcorn for a horror that is poetically potent and full of visual flair, or join in with the hoards of sheeple paying extortionate amounts for something they've already paid to see six times before.
---
* He was the recipient of a BAFTA 60 Second Film Award Nomination in 2007
** Buy it here: http://itunes.apple.com/WebObjects/MZStore.woa/wa/viewMovie?id=396109656&s=143444