In What Maisie Knew, the battle for custody of a seven-year-old girl has all the trappings of great domestic drama. Yet early on, the movie's emotional beats are less Kramer vs. Kramer, more Friday the 13th. A bad parenting horror show that has nothing to do with impalement, a shrill series of squabbles are heaped upon poor Maisie, her parents' raised voices eavesdropped on or thumping through the walls of the next room. Instead of a maniac in a hockey mask, we have Julianne Moore in heavy mascara.
Moore's Susanna is a fading singer whose days consist of sauntering about her luxurious Manhattan apartment (there are no spaces in What Maise Knew that are not luxurious) and throwing parties that involve watching concert films of herself. She's fond of showering Maise with kisses and is fiercely devoted to her, except when she isn't.
Maisie's father Beale is an international art dealer of some sort and as played by comedian Steve Coogan, he cuts an initially appealing figure before quickly proving himself Susanna's equal in narcissistic self-absorption. In this more dramatic setting, the character remains pure Coogan. There's nothing to laugh at, but this intermittently charming, self-regarding cad will be familiar to anyone who's seen The Trip or Tristram Shandy: A Cock and Bull Story.
The film opens with both parents in a pitched, profane screaming match, a holler that's exhaustingly consistant over the course of ninety minutes. During this time, their skills at conflict resolution show not the slightest sign of improvement.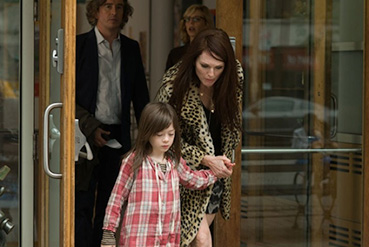 Directed by Scott McGehee and David Siegel from a script by Nancy Doyne and Carroll Cartwright, the movie is a loose update of the novel by Henry James – published in 1897, when custody battles were not already a well-explored subject.
As in James' story, we see everything through the eyes of young Maisie. Disappointingly though, the film's creative team has chosen to abandon the novel's most interesting element: its deep exploration of Maisie's evolving consciousness. With no attention paid to her inner world, What Maisie Passively Observed would be a fairer title.
Far more interesting is Maisie's mother and Julianne Moore, who's proven herself capable of anything that doesn't involve a Boston accent, shines as Susanna. Not only does she look and sound great belting out songs in Karen O meets Courtney Love fashion, but she captures her character's volatile moods and emotional immaturity with perfect impetuousness. That we spend the film wanting Susanna to go far away is not Moore's fault, but it does mean we end up admiring her performance whilst loathing her character.
Doyne and Cartwright have a good ear for dialogue, and there are deft touches of characterization throughout. McGehee and Siegel, who have collaborated on four previous films, including 2001's taut drama The Deep End, achieve a nicely natural tone and elicit strong performances. Consistently (and somewhat manipulatively) sticking to Maise's side, in presenting her perspective, they wisely steer clear of sad-faced hopelessness and eschew fussy camera tricks.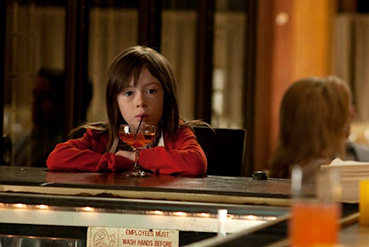 Yet, for a film that aspires to honesty, What Maisie Knew deals from a very stacked deck. Onata Aprile gives a quiet, believable performance as the shy girl at the center of her parents' maelstrom. But viewers who've met real children (that's all of you) will gradually realize that Maisie doesn't behave like one. Somehow these rotten parents have raised a child who's uniformly sweet, affectionate, and tantrum-free. There's inescapable irony in McGehee and Siegel wanting us to condemn Beale and Susanna for treating Maise as a doll, when their own reluctance to let her be anything less than angelic suggests a similar disregard for her humanity.
And the lining up of wounded innocents doesn't end with Maise. To impress the courts and nab live-in help, Beale wastes no time marrying Maise's comely au pair, Margo. Determined to keep up, Susanna abruptly weds a feckless young bartender named Lincoln. Care to guess how well those couplings work out?
True Blood's Alexander Skarsgård and film newcomer Joanna Vanderham give subtle, appealing performances as Lincoln and Margo. There's strong chemistry in their characters' fairytale alternative as better suited parents, but the actors' perfect looks and winning smiles are a symptom of the film's underlying contrivance. The characters of What Maisie Knew come in exactly two varieties: attractive puppies and the people who kick them. Even as you root for Maise, Margo, and Lincoln (and don't worry about forgetting to like them, the soundtrack will remind you) it's hard to ignore how rigged this dramatic game is.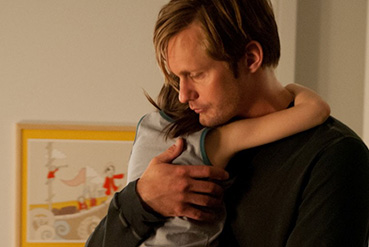 It's usually unfair to fault a film for deviating from its source material. Different media require different approaches to story and narrative. Nevertheless, it's telling that in addition to avoiding an investigation of Maisie's inner world, the creators of What Maisie Knew have elected to invert James's conclusion. The novel and film both end with Maisie making a choice. On the page, it's a genuinely difficult decision that pits heart against reason. On the screen, however, the choice is both easy and heartwarming. What began as a domestic horror film concludes as a domestic fantasy.
If you could break What Maisie Knew into its constituent elements, you'd find the building blocks of a great film. From scene to scene, actor to actor, and in many of the emotionally charged exchanges, there's much to admire. But heartstring-tugging becomes heartstring-battery when the anxiety of watching a child's mistreatment fails to offer insight or originality.
What Maisie Knew gets a UK release this Summer from Curzon Film World on August 23rd.