Steadily watching three or four films a day over an extended period does strange things to one's mind: it numbs and tires but simultaneously sharpens it. Beyond the walls of darkened rooms, the 'real' world revolves still yet recedes, blurs but comes into clear focus. These paradoxical processes were more marked than usual at this year's London Film Festival, during which concerned citizens protested against climate change by blocking roads in all directions. Aside from Frank Beyer's Star-Crossed Lovers, Václav Marhoul's The Painted Bird, Terence Malick's A Hidden Life and Alejandro Landes's Monos (all stunning achievements of cinematic art), the most amazing sight of the festival was that of folk criss-crossing the otherwise empty roads around Trafalgar Square unhindered. Planes propelled by petrol still rumbled overhead but for a time the air felt and smelt less foul, sound was both more muted and clear, even the sun seemed to shine brighter. Intermittent flashes of good sense and wit certainly shone brighter when refracted through the fog of the jolly self-congratulatory babble shrouding panel events and Q&As.  
From within my scrambled mind, questions unasked at the festival insistently and repeatedly bubbled up. Are international film festivals, and is the industrial production and promotion of images sustainable any longer? Can we still justify flying actors, cinematographers, composers, critics, directors, editors, producers, PR pencil-necks, screenwriters, set designers and sound engineers by the score across the world? Can we continue rolling out huge crews, like armies on the move with their attendant supply chains, to make films in the old ways? It was impossible to see all 235 films in the festival but a stab at half that number attuned me to an eerie silence on the burning question of the moment.
When I asked Taghi Amarani, the director of Coup 53, about climate change he was quick to point out he travelled into the festival from Kilburn, by bike or Tube. His co-writer, the legendary Walter Murch of Apocaplyse Now fame, said: 'Tomorrowland, the film I worked on last, had a gigantic carbon footprint and a $180m budget (plus, I might add, a $150 million marketing budget). We had people flying in from all over the place. They drove sets across the U.S. for transportation to a desert island in the Caribbean. The situation's so dire that a lot more has to happen than change in the film industry but the last testimony of human civilisation might be an image on the Internet. The stuff we accept as normal is not...I don't know, the algebra on the way we're living just doesn't add up. It's an existential crisis the likes of which humanity has never faced before.'
I begin so not merely in solidarity with the activists of Extinction Rebellion but as precursor to praise for two locally-made films made with sustainably modest budgets that recall the antecedents of Imperfect Cinema and Dogma. In Coup 53, Nuno Escudeiro's The Valley and Rubika Shah's White Riot the festival delivered essential documentaries that make invaluable contributions to the public conversation but it remains understandably reluctant to turn the spotlight on itself and the film industry.
In Suhaib Gasmelbari's Talking About Trees and Abba Makama's The Lost Okoroshi, the festival offered us two minor classics marked by charm, humility, humour and tenderness. In the introduction to his compendious anthology English Humour, J.B. Priestley argues that three ingredients are present in true humour, which he contrasts with the merely laughable: 'a feeling for irony; a sense of the absurd; a certain contact with reality, one foot at least on the ground; and, perhaps at first sight surprisingly, affection.' All these ingredients are fully present in both films.
Suhaib Gasmelbari's contemplative, cumulatively moving debut feature Talking About Trees takes its title from Brecht's celebrated poem 'To Those Born Later', written in exile in 1938, specifically from the lines: 'What kind of times are they, when/A conversation about trees is almost a crime/Because it implies silence about so many horrors?' Gasmelbari's film was born of an epiphanous experience at a wind-battered al fresco screening organised by the Sudanese Film Group – essentially the veteran filmmakers Manar Al-Hilo, Suleiman Mohamed Ibrahim, Altayeb Mahdi and Ibrahim Shadad. As he watched two of the group laughingly struggle to tether a billowing screen in swirling sand that night, and admired the equally ebullient endurance of the audience, Gasmelbari recognised the spirit of resistance he honours in his film.
Wind and sand are the least of the problems the Group face in their attempts to arrest the cinematic desertification that has devastated the Sudan since the coup of 1989. Their secular belief in the transformative power of cinema sets them at odds with the Islamic authorities and bureaucratic obfuscation dogs their every step. As Ibrahim Shaddad says: 'We are smarter than them but they are stronger.' Theirs is the hope-dies-last, they-can't-kill-us-all stoic defiance of the embattled, unbowed and unrepentant left. Regular power cuts add to the atmosphere of clandestine resistance. Yet despite the persecution they've suffered for their politics; despite exile, torture and the pitiless opposition of censorious authoritarians; they retain the imperishable humour that lends this aptly courageous, enchanting film its quiet force.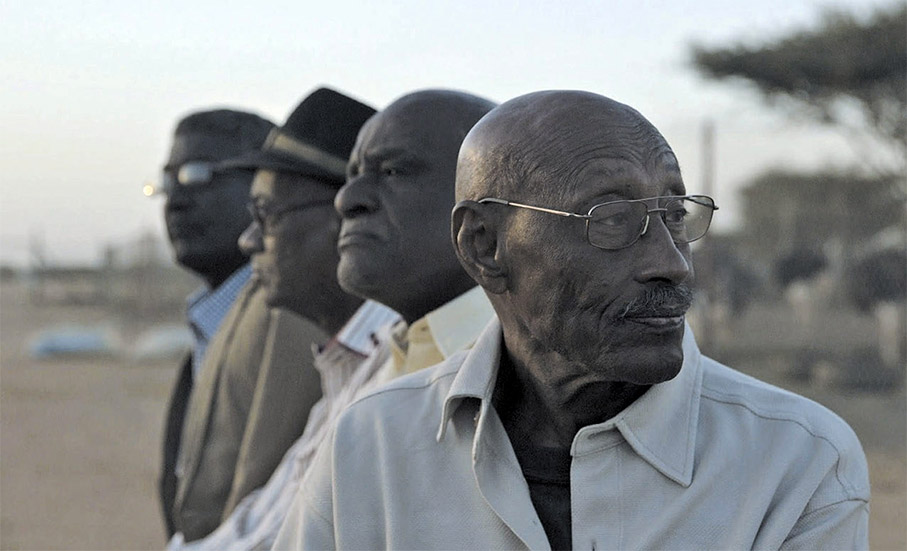 Gasmelbari's film, winner of the Best Documentary Award at the Berlinale earlier this year, follows the four friends as they sift through the detritus of their cruelly curtailed careers. Educated in film schools in Canada, Egypt, East Germany and Moscow, they remain committed to the intertwined causes of free cinema and a free society. The camera bears witness as the men wistfully excavate entombed traces of their filmmaking pasts; lovingly caressing dusty cameras and lenses, foxed scripts, and VHS copies of cherished classics. One of the men later calls a Moscow film archive, hoping to retrieve copies of his 'lost' films. Grainy extracts from their own films pepper Talking About Trees with melancholic reminders of their untapped potential and that of Sudanese cinema, of what was and might have been.
The film begins with a radio interview in which Ibrahim Shadad indicts the 'traitors' culpable for cinematic erasure and extinction. 'Cinema didn't die of natural causes,' he says, 'It was killed'. Of necessity, Gasmelbari allows those responsible to recede into the shadows. Much must be left unsaid and we are invited to fill in the gaps, He does, though, include telling TV footage of deposed dictator Omar Al-Bashir celebrating victory in the boycotted elections of 2015 (purportedly with 94.5 per cent of the vote: actually with a mandate from under half the electorate). Shortly before the London Film Festival began, Al-Bashir was formally indicted on charges of corruption and extortion. It's nice to think some of the $90 million he received from the House of Saud might trickle down to the Sudanese Film Group.
The four cinephile survivors sardonically mock prevalent religious mores and implicitly challenge the status quo by attempting to revive a derelict open-air auditorium in Omdurman on the banks of the Nile. They name the cinema 'The Revolution', dust down its screen, and seek official authorisation to show films. Though they persuade the cinema's owner of the merits of restoring it to its former glory, the Ministry of Culture is predictably obstructive. The Group remain steadfast in their commitment to provide films free of charge and stigma: 'No sponsors or advertising, no speeches or government ministers.' In a neighbourhood with six mosques, each of which call the faithful to prayer using loudspeakers, even their decision about when to screen films is fraught with meaning.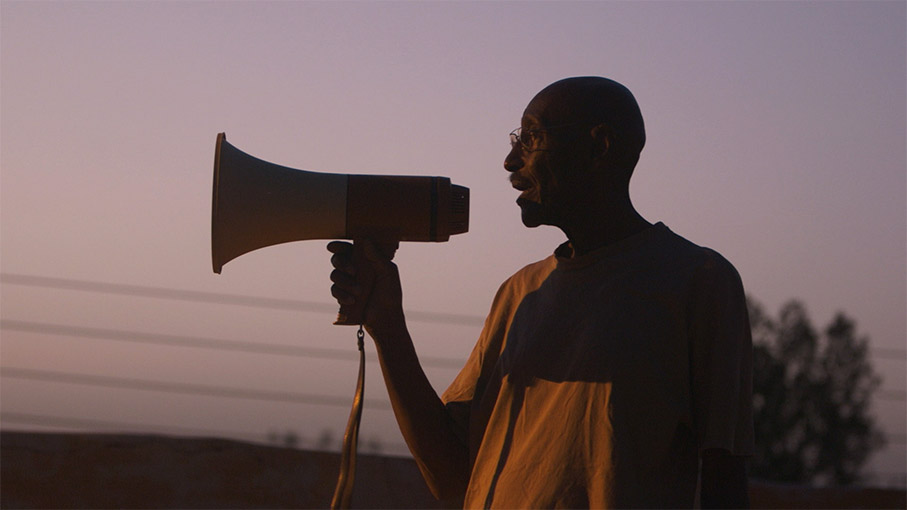 When they canvas local opinion on which films to screen, the popular vote is split between Bollywood and Hollywood. Their respondents tell them there's a demand for classics but advise them to bed audiences in with action. They opt to screen Chaplin's Modern Times and Tarantino's Django Unchained. In one defining sequence of the film, the camera captures young faces bathed in light and laughter as the loveable 'Tramp' tweaks the nose of authority. Once again, humour triumphs over adversity. Gasmelbari's bittersweet film about film and cinephilia, enduring friendship and solidarity entreats us to treasure the cinemas we take for granted. As one surveyed citizen succinctly says: 'Seeing a movie with friends is better than watching one alone at home.' Like Abdullah Al-Eyaf's Cinema 500 km, Shivendra Singh Dungarpur's Celluloid Man and Federico Veiroj's A Useful Life before it, Talking About Trees is an effusive encomium to the delights of cinema. It also serves as a warning about the heightened fragility of the medium in regions lacking either the means or political will to support cinemas and preserve films.
Nigerian filmmakers, like their Sudanese counterparts, have longed lacked for institutional support. Nollywood, as Nigeria's regional film industries came to be known collectively, has thrived on low-or-no-budget, hit-and-run filmmaking practices and straight-to-the-streets distribution (initially in VHS, now in DVD form). The phrase Imperfect Cinema might have been coined in Cuba but can readily be applied to Nollywood, which operates outside mainstream modes of production, distribution and exhibition. Its make-do-and-mend DIY ethos recalls that not only of Cuban Imperfect Cinema but also of the French New Wave and Italian Neo-Realism. Nigerian films tend to be made and sold fast, leaving behind a negligible carbon footprint. Derided though it often is for its low production standards and candyfloss content, Nollywood may nonetheless present a more sustainable model for the future of film than that offered by combines like Amazon and Netflix.
I fell in love with cinema at raucous open-air screenings and inside air-conditioned cinemas in Jos (hometown of Abba Makama), Kano (home of Kannywood, the Hausa-language film), Lagos (home of Nollywood) and Port Harcourt. Then, the films shown were exclusively from Bollywood, Hollywood or Hong Kong. Now, Nigerian films circulate throughout the country, the continent and the world. The celluloid era ended in the 1980s and the cinemas I knew as a boy closed in the 1990s. Sadly, there was no Nigerian Film Group to resist that decline but Nigerian filmmakers developed their own strategies for addressing audiences directly, by any means necessary. As director Bond Emerwua once put it, 'In Nigeria, we don't count walls, we work out ways to climb over them.' And how: the Nigerian film industry makes more money than Hollywood – an estimated $5 billion per annum.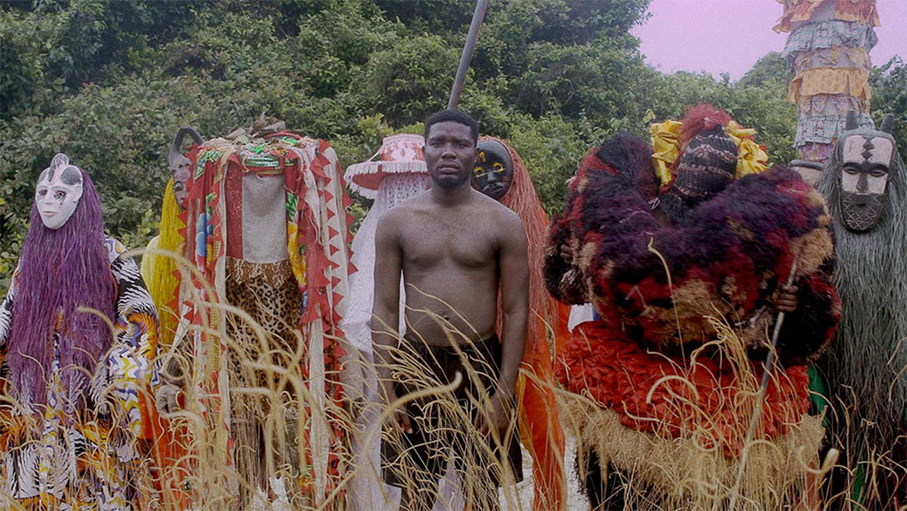 Documentaries like Ben Addelman and Samir Mallal's Nollywood Babylon, Jamie Meltzer's Welcome to Nollywood and Franco Sacchi's This is Nollywood captured the period, a decade or so ago, when the Nigerian film industries burst into teeming life. The thousands of films made by Nigerians for Nigerians in the interim have tended to be rough and ready, rudimentary by most international production standards. The products of an untaxed, uncensored and unregulated subcinema, these films found ready audiences in Nigeria and the African diaspora. The vast sums generated by early 'old Nollywood' generated an increase in public and private support for cinema and a partial revival of cinemas. More recently, that support has, in turn, translated into an increase in films made for conventional theatrical distribution and festival consumption. It is against this background that an unprecedented number of Nigerian films appeared at this year's London Film Festival: Abba Makama's The Lost Okoroshi, Aoife O'Kelly's Walking With Shadows and Michael Omonua's The Man Who Cuts Tattoos. The festival also featured My Friend Fela, Joel Zito Areújo's documentary on Nigeria's favourite son, the activist and Afrobeat giant Fela Kuti.
In his 1983 documentary Camera d'Afrique, Férid Boughedir notes that cinema was a by-product of colonialism and asks, 'What is African cinema looking for? Why is that since the mid-1970s more and more (African) filmmakers have been deliberately delving into the past to search the depth of Africa's soil?' Boughedir concludes that, 'The momentum of African cinema is now moving in search of a deeper Africa and the rediscovery of bygone values...whether they are political or simply for entertainment, African films seem to share a common theme, which constantly opposes the old with the new.' Abba Makama's The Lost Okoroshi draws on that filmmaking history and the ancient one of tribal masquerade masks to explore the space between modernity and tradition. His tragicomic satire on urban alienation and globalisation fuses Afrobeat with Eurosynth-pop, Nollywood with magic realism, and the interpretive imperatives of cinema with the spiritual symbolism of folk-art. Makama resists the appropriation and commodification of indigenous folk art much as Chris Marker and Alain Resnais did in their anti-colonial essay film Les Statues Meurent. The French filmmakers used analysis to set African art against 'the world of loneliness and the machine': Makama liberates it from the museum with humour. The Lost Okoroshi is a surreal screwball comedy in search of a deeper Africa.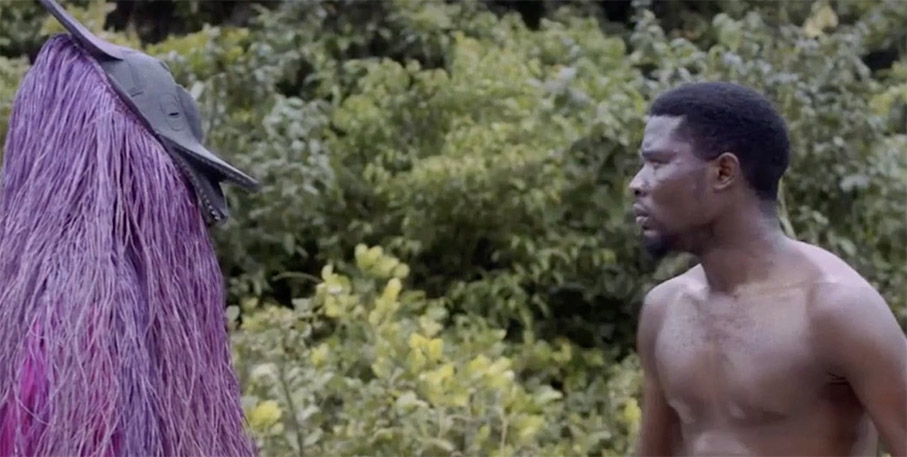 The film's protagonist, Raymond (Seun Ajayi), is stuck in a dead-end job as a security guard in an uptown Lagos highrise. Stifled by the soulless city and appalled by the vacuous corporate shills he guards, this lovable slacker yearns for a return-to-roots in the country and seeks authentic meaning in the ancestral ways of living he discusses, in Pidgin English, with a sagacious older mentor (Chiwetalu Agu). In the feverish, guilt-ridden dreams that bedevil his sleep, Raymond imagines himself chased through the bush by masked and raffia-bedecked spirits. His friend counsels him not to flee but face and embrace them. When Raymond subconsciously heeds his friend's advice, he finds himself transformed into a mute ancestral Okoroshi himself – to the hysterical horror of his wife, Nneka (Judith Audu). Once she's recovered from the shock and reconciled herself to the startling sight of her husband as apparition, she attempts to help. Amid the madcap antics that ensue, a hospital refuses to admit 'him' for treatment, Raymond's boss baulks at the idea of a return to work for the spirit-incarnate, a hailed okoda drives off in terror.
Finally Raymond-as-Okoroshi is seized upon by a streetwise hustler called Wily Willy (Ejetareme Ajotubu Micheal), an Afrocentric academic, and the self-promoting Igbo Peoples Secret Society of Heritage Restoration and Reclamation. Makama's co-writer Africa Ukoh has huge fun at the expense of earnest academia and squabbling folk purists in the hilarious scenes he crafts, and so do we. Spirits act against injustice too, though, and this revered one rescues hooker-with-a-heart-of-gold, Doris (Ifu Ennada), from Raymond's boss when he refuses to pay for services rendered. While Doris accepts the Okoroshi spirit (and the money he accidentally earns by dancing in the street) without batting a false eyelash, others only exploit him for their own commercial and cultural ends. The meek, Makama seems to say, shall inherit the earth. Meanwhile, the world-weary Okoroshi, drained of power by myopic greed and modern mores, wilts and fades away – leaving us to wonder if we mightn't have missed something vital amidst the laughter.
Adewale Akinnuoye-Agbaje and Shola Amoo are currently garnering praise for Farming and The Last Tree – their respective coming-of-age dramas about the struggles of young British-Nigerians in London. Perhaps the Nigerian film industry finally come of age in London with Makama's The Lost Okoroshi. His enchanting film and Suhaib Gasmelbari's equally engaging Talking About Trees contain more depth, soul and humour than many a bigger, 'better' film. Taken together they insist that small is beautiful and suggest that African cinema, having travelled far, will travel further still.