Filmed on location in the idyllic coastal village of St Mawes Cornwall, the setting of Elfar Adalsteins' Sailcloth is one of autobiographical recreation, and it's this element that visually persists over the holiday brochure compositions that typically result in such scenic settings. Writer/director Adalsteins grew up in a small Icelandic fishing village, not dissimilar to the one which John Hurt's elderly widower waves a last goodbye before stealing away from the carers at his nursing home and setting sail on a journey beyond this mortal coil. Raised by his grandparent, who spent his last seven years in a home and died there, Adalsteins' Oscar-bound short offers an alternate, glorious exit for the inspiration behind the film and its maker.
Surprisingly, the potentially downbeat subject matter belies the tone, which is free-spirited and celebratory. Never maudlin or miserable, it becomes apparent early on that Sailcloth is a 'tissues-at-the-ready' inspirational tale, a meditation on life lived to the fullest, rather than life wasted. The widower is a man who wants to go out on his own terms, railing against the indignity of living in a home and the burden of such an existence, outright refusing to be conquered by the unutterable advance of lonely old age. The film's emotional pull is such that it's already made the long list of nominees for the shorts category at next year's Academy Awards. Expect it to have made the short list before the year is out.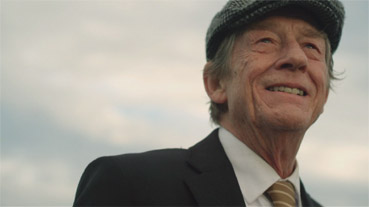 Having such an estimable star and all-round legend as John Hurt in the lead will certainly boast Sailcloth's chances—coming off the back of a banner year and continuing to ride a career hot-streak with the likes of Tinker Tailor Soldier Spy, Melancholia and The Immortals, still playing in cinemas and winning prestigious awards at renowned film festivals, it's incredible to think an actor of Hurt's stature would ever consider a low-budget short from an unknown director without an agent, let alone have the time to fit it in to an increasingly packed schedule. What happened next is straight out of the Hollywood dream factory. Won over by an impassioned letter from Adalsteins, stating he'd written the part specifically with him in mind, and what I can only guess must have been a beautifully written, instantly evocative script (hard to gauge without reading it, as the widower utters not a single line of dialogue), Hurt is every bit as considered and committed as he is in all the aforementioned high-profile feature films. Clearly so much more than just a 'lark' project done on a whim as a favour between features, it's evident from his incisive, finely-tuned performance that Adalsteins' very personal story quickly became personal for Hurt as well, who takes the role very much to heart. His poignant portrayal has resulted in yet more awards as early as the film's premiere at the Rhode Island Film Festival, taking home The Grand Jury Prize for best Short Film.
Hurt's performance is most remarkable for being stripped of his signature asset as a performer; his voice. So storied and graceful, no matter the role or size of the part, one ordinarily tends to hang on his every quivering modulation of tone. He's an actor who has never needed actions to speak louder than words, given that the slightest crack in his husky gravel-tone is enough to reduce a cinema to pin-drop silence. Even off-screen that voice has proved just as distinctive—and I'm not just talking about his instantly recognizable cadence being lent to numerous TV adverts and documentaries, but more specifically his role as the storyteller of Lars von Trier's Dogville, where the kind, wizened quality of his narration found the heart and soul in a film of bare-staged sadism, delivering what I've always believed to be the single best voiceover you're likely to find on film. Hurt's voice, perhaps more than any other attribute he possesses as an actor, is that which makes audiences fall in love with him again and again, and Adalsteins' move to willingly deprive himself of this asset is a bold one.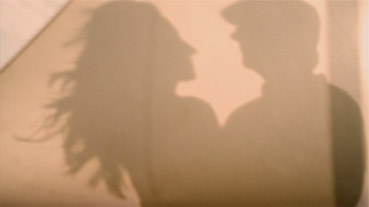 Hurt remaining mute throughout would surely have driven fans of his work to distraction had this been feature-length, but thanks to many a generous, telling close-up from director of photography Karl Oskarsson, the words come through loud and clear for every second of the eighteen minute running time. Often zeroing in on eyes pregnant with contemplation—eyes which are so vital and young at heart, despite the drooping musculature that entraps them—the widower always seems to be looking beyond his frail physicality to a place where he can re-live memories of happier times and be reunited with his beloved. Indeed, the evocation of his dearly departed wife as a ghostly apparition only ever glimpsed in shadow marks this very much as a metaphysical love story, one of two souls reaching out to one another across plains that can't co-exist. The urge to join his wife in the great beyond is ceaseless, and so his eventual suicide is simply a forgone conclusion devoid of tragedy. Hurt himself summed it up best following the screening: "Death may be inevitable, whereas love is a privilege."
The image most will walk away from this film talking about is that of the widower dancing behind a billowing bed sheet sail, joining his younger wife in waltzing shadow as the music swells. Spinning back out into the light, his arms wrapped around nothing but air, the widower keeps his eyes shut, prolonging the moment as long as he can. What we can no longer see we now feel, as he does, and in that instant the impossible is achieved, the worlds of the living and the dead suddenly becoming one. The shadow behind the sail is a blazing emblem of all he has to live for in the afterlife, an image which discards the apathy of his suicidal quest, looking forward to it as he does with giddy liberation.
Hitting heartfelt notes of courage, loss and love, I'd be remiss for not mentioning how mischievously funny Sailcloth is. The impeccable timing of the silent physical comedy has the charm of Buster Keaton and can proudly stand tall alongside the best moments of this year's critically adored silent movie pastiche The Artist, a film Adalsteins will no doubt find himself in the company of if his short makes it as far as the Oscars. The roguish humour of this strong-willed pensioner's great escape from the nursing home is a delight, Hurt often finding droll insouciance in the same breath as pathos. Setting off the toilet fire alarm in order to create a diversion and sneak out undetected, the widower sits for a spell and indulges in a final earthly pleasure, opening his umbrella to shield himself from the sprinkler system as he puffs on his last cigar. Such wily courageousness is indicative of a film that brings tears to the eyes, be it from laughter or a lump in the throat.
---