My fellow reviewer Gort is cringing as he reads that title. In a recent blog post, he ranted about dunderheads of the general population whose powers of articulation when responding to cinema fluctuate between  "awesome" or "it sucks" with nothing in-between. Not only do these one-size-fits-all declarations of doltishness seemingly account for ninety-five per cent of depressingly asinine film chatter across forums and message boards, the worryingly ubiquitous terms have now become increasingly common away from the keyboard as well.  
I certainly share his despondency about the overuse of lazy American English, which rarely communicates the word's true meaning. In the case of Quartet however, the sullied superlative is true to its dictionary definition, given how such an unassuming film both astonishes and amazes. For his debut behind the camera, American actor Dustin Hoffman isn't tempted into directorial showboating, wisely acquiescing to the subtler pieties, experience and high good humour of seasoned British thesps Tom Courtenay, Dame Maggie Smith, Pauline Collins and Billy Connolly. With unprecedented exuberance that calls to attention the artifice of their collective age, there's a rakish vibrancy to the ensemble's enviable chemistry that makes for cherishable, charming and charged company. Based on screenwriter Ronald Harwood's own 1999 play and with a cast equally at home on stage as they are on screen, it's not by accident that Quartet often feels like the fourth row of a glittering West End revival without the extortionate ticket cost.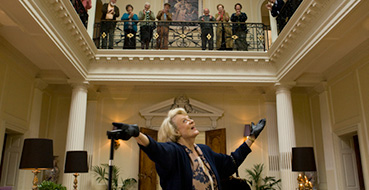 Beecham House holds the quixotic distinction of being a retirement home that caters exclusively to musicians. Gathered together amongst the real-life professionals who populate the place are Opera legends, leaders of the London Symphony Orchestra, and members of the San Francisco Philharmonic. All are given their due in an end credits roll call worth staying behind for just to see the wealth of historic talent that Hoffman and casting director Lucy Bevan were able to assemble under one roof.
Reggie (Courtenay), Wilfred (Connolly) and Cissy (Collins) are three such famed residents of Beecham, best remembered for their third act quartet from Verdi's Rigoletto. Tongues are soon set wagging when the quartet's estranged fourth member, diva-in-denial Jean (Smith) joins them in the home and the new arrival takes an especially hard toll on Reggie, once unhappily married to his former co-star.
Like all institutions of any worth in the community, Beecham has run financially dry and faces closure if the necessary funds aren't raised at the annual benefit gala. In the year celebrating Verdi's birthday, reuniting four major stars renowned for their renditions of his work is just the punter-packing hot ticket needed to keep Beecham's doors open, but with time failing to heal old wounds and Jean doing her best to put her operatic past behind her, the chances of getting the band back together for one last gig look doubtful.
Underneath its surface irreverence and the cajoling one-upmanship, of artists growing old disgracefully, Hoffman's study of love and aging is surprisingly unflinching and sharply observant. While dealing frankly with the symptoms of old age (loneliness, illness and fear of losing one's mental faculties), Harwood is quick to point out that for professional performers, the preoccupation is not so much a general diminished capacity of senses as it is the impingement of age upon their unique talents and capabilities. Pointedly, Jean's initial dismissal of the reunion concert is not due to her rocky history with Reggie but the inability for any of them at their age to hit the notes the way they used to. Not the touring woman of the world she once was, that world has been reduced to four walls and a roof and Jean is horrified to find that her dressing room now doubles as her bedroom. Refusing to adjust to her new surroundings, Maggie Smith lets us read the steady ebb of self-assurance between the wrinkles; perceivable twitches of underlying panic breaking the defenses of impregnable poise and a resolutely stiff upper lip. Jean's conceited admission that she never took less than twelve curtain calls is intended for comedy but undoubtedly double edged, a sour acknowledgement of her body no longer being able to take the physical strain of such self-indulgent egotism.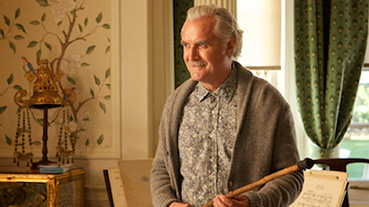 Dragging their bodies behind young hearts like inert appendages, Connolly's Wilfred opts to embrace the absurdity of his infirmity and mock his deteriorating state at every opportunity. When he's not indulging in inappropriate toilet humour over the dinner table, old age proves the perfect excuse for every libidinous impulse. His body such as it is, can't suppress the verbal – and facial – wit which charms manager of the house Sheridan Smith, even as she's been perved at. Crucially, Connolly never forgets to make us laugh as he's ogling.
Dementia has taken a firm hold of Cissy, who nevertheless seems not in the least bit bothered about growing older. She's a friend to all and not having a husband or children, her Rigoletto cast mates are the closest thing she has to family, a tragedy we're reminded of whenever reluctant grandchildren drop by for a visit and we see how good she is with other people's kids.
Reggie stays vicariously young through his position as a public speaker to school kids about opera. With generations between them, he chooses not to be dismissive of the rap music they favour, finding the emotional and expressive similarities between genres and not just talking exclusively about his own musical experience but also taking the time to ask the kids about theirs. It's a delightfully inspirational scene, curious rather than condescending, the close-ups of Reggie listening to and appreciating a freestyle rap showing that he has as much to learn from them as they from him.
Considering the august insights and sublime timing of each performance, the very act of putting these stars in an old people's home is an unwelcome reminder of the fact that they may not be with us much longer, so for those who appreciate the kind of film they soon won't be making anymore, best to savour this and every performance they give us thereafter.
No doubt Hoffman's own age has much to do with him having such an emotionally precise grasp of the material, though I'd also wager that his time spent making Last Chance Harvey, a film of quintessential English quality, both in it's congenial shooting style and bittersweet character, was a huge influence in tempering the mix of reserve and courage that serves him so well here.
Such wisdom and depth of feeling endows the film with a pathos just as heartwarming as the humour and though we never see any of the actors actually sing (Hoffman deftly steps around this problem with a simple and effective use of piano-led montage), like the very best sopranos, these old pros hit the high notes with ease.