It's love at first type when bum-slapping insurance salesman Louis Echard (Romain Duris) hires small town klutz Rose Pamphyle (Deborah François) as his new secretary.
It's the 1950s and with his ambitions to be a star athlete cut short after a sports injury, Louis has traded sweatbands for sharp suits (though as played by the hirsute Duris, Louis sports five o'clock shadow, even when freshly shaven). Years earlier, Louis suffered an even bigger disappointment, retuning home from serving in World War II's French Resistance to find his childhood sweetheart Marie (The Artist's Berenice Bejo) shacked up with his American best friend Bob (Shaun Benson), a rival in business and love who makes Marie happy in a way he never could.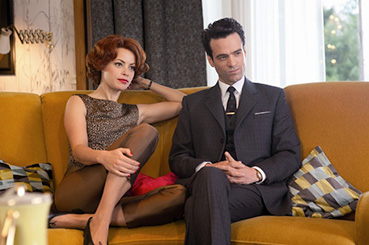 In the years since, lovelorn Louis has fallen into the role of office Lothario, a womanizing smoothie whose easy self-assurance hides personal regret behind dirty grins and glasses of dirtier gin. Shamelessly flirting with every girl with big hair and thick-rimmed specs, he conducts his interviews for a new secretary by having the girls line up in his office like actresses at an audition, sermonizing the importance of the right pair of glasses and how best to wear them in a way that makes you look "serious and invisible." Rose doesn't come equipped with this supposedly essential accessory (clearly the man has a thing for horn rimmed frames) but that's neither here or there once he's seen her WPM. In her flurry of fingers there's also an unexpected erotic frisson – as she pounds the keys, the shoulder of Rose's dress slips off, her hair comes loose and Louis is a goner.
And pound the keys she does. Getting up to speed, Rose types like a pneumatic drill, click clacking with such enthusiasm, the sound is enough to block all Louis' phone calls in the next room. This is one of many delightful screwball moments, but unlike say, the retro work of François Ozon with Angel and 8 Women, Populaire is not retro kitsch. We revel in the glorious costume and set design of Charlotte David and Sylvie Olive just the same (sometimes to the point of distraction) but their work is never so heighted that it plays as pastiche. Both the costumes and set decor look and feel like they could've come straight from the era depicted, despite Guillaume Schiffman shooting the film in the Technicolor hues of a Douglas Sirk Hallmark card.
In the same way that Duris finds poignancy behind his prankster, Populaire digs a little deeper with its period influence. The village Rose hails from is straight out of Chabrol's Le Beau Serge and Louis is suave in a way that's more Alain Delon than Don Draper. More importantly, the chemistry between the two stars is a sheer delight. It's easy to understand how Louis goes from eyeing up every woman he sees to only having eyes for Rose and you want them to get together the moment they meet.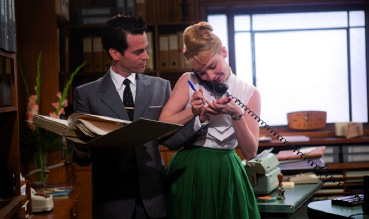 Clumsier than a heard of elephants and clueless as a secretary, Rose's determination to do something other than ring up groceries at her father's store is admirable and her determination to be great at a job she's not cut out for is sweetly endearing. The star of grim, psychologically punishing fare like L'enfant, The Page Turner and The Monk, it's a blast watching François having a ball and letting her hair down. She's always been a rare screen beauty, but due to her choice of darker material, up till now we've never seen her display quite such inner beauty. Adorable and charming beyond belief, Rose is a worthy successor to Audrey Tautou's Amélie. Warmly wide-eyed and whimsically mischievous, she's another iconic example of Gallic, gamine innocence. If Audrey Hepburn was an influence for Amélie she's an explicit role model for Rose, who has her photo tacked up beside her bed alongside other classic film stars. I didn't spot Rita Hayworth, but François comically summons the flame-haired bombshell in one scene where Rose puts herself in exaggerated lounged poses of seduction for the benefit of Louis, trying his best to ignore her attractiveness.
Recognizing that her incredible typing skills are meant for more than office work, Louis nobly puts his amorous feelings aside and takes it upon himself as Rose's new coach, to train her for the Speed Typing Champion of Normandy. Now living together under a strict regime, romance is put on the back burner as Louis attempts to shape Rose into the athlete he never was. Like a far less strenuous Rocky, many marvelous montage sequences show Louis to be a demanding, tough taskmaster. With demoralizing, snarky comments, Louis doesn't allow Rose to get comfortable, though he's lovingly attentive to everything that has to do with her hands, even painting her nails at one point.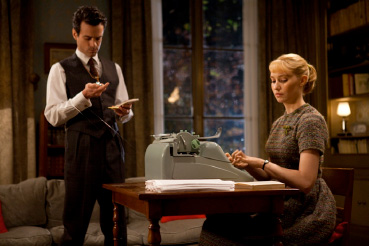 On paper the world of speed typing sounds stationary and visually tedious, but by the time we get to the National Championships, first time director Regis Roinsard is pulling out all the stops. With a table clamp to keep the typewriter in place, competitors' hands hover agitatedly over the keyboard, waiting on the whistle like revving drag strip racers at the start line; indeed, the way the sequence is rhythmically cut to the slamming of the carriage return through a series of rushing pans and close-ups, it often feel like watching a French American Graffiti. The sound design is just as expressive, a slight rumble on the soundtrack, building into a furious cacophony of stampeding fingers.
No matter how tightly edited or amped up, the rhythmic "Chik-chik-cha, chik-chik-chika" of typing could quickly get repetitive, so Roinsard uses distinct combinations of lenses, camera moves and angles to make each of the various competitions feel unique.
After many victories and much celebrating, there's also a fascinating tonal bump in the road in the third act.The film could've easily ended with Rose winning the Nationals, her hard won journey being about the push and pull of a working relationship where each person resists their feelings for the other. Louis' restraint at not wanting to distract Rose from winning the title, and then finally getting the girl when she becomes champion and being embraced with a passionate kiss would've been a perfectly acceptable feel good ending, but the film then goes on for another half hour.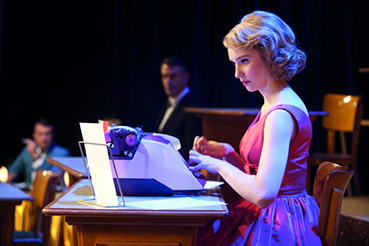 The couple break up before they've got together, and Rose goes on to the World Championships, now backed by the people behind her number one rival, becoming the face of their new typewriter that gives the film it's title. As a Pygmalion tale, it quickly becomes about the disorienting rush of celebrity, and how that so easily gets in the way of what's important. The world of speed typing at the highest level is shown to be a big money popularity contest, as exploitative as any other sport, the typewriter itself an albatross, with hints in the midst of this rom-com of the darker, psychologically compromised characters François is best known for.
Roinsard not only excels in period recreation and in giving this bizarre, little-known sport a sense of pace and excitement, he has the good sense to know it's not enough to build a world, you have to tell a an engaging, surprising story. As love stories go there are very few like Populaire and even when he purposely associates himself with the genre conventions of sports films and romantic comedies, Populaire's narrative feels as unexpected as its subject.
---
Timothy E. RAW talks to lead actor Romain Duris at the 4th Rendez-vous with French Cinema Festival in London. This video is best viewed full screen at 720p.
Timothy E. RAW talks to lead actress Deborah François and director Régis Roinsard at the 4th Rendez-vous with French Cinema Festival in London. This video is best viewed full screen at 720p.